Santa Fe sculptor Debra Baxter presents a new series of sculptural artworks in her solo exhibition, Tooth & Nail. The show opened on April 27, 2018. Baxter will appear at an artist talk on Saturday, May 19, 2-3 pm, and a closing reception on Saturday, June 15, 5-7 pm. On a studio visit this winter, she talked about her work as a sculptor and jeweler, her influences, and the new body of work. 
You moved to Santa Fe from Seattle almost three years ago. How has your practice changed since you got here?
I feel really happy here, and solid. That solidity and happiness and the sunshine all make a massive difference in my joy. I feel like there might be more levity and light in me that might come out in the work.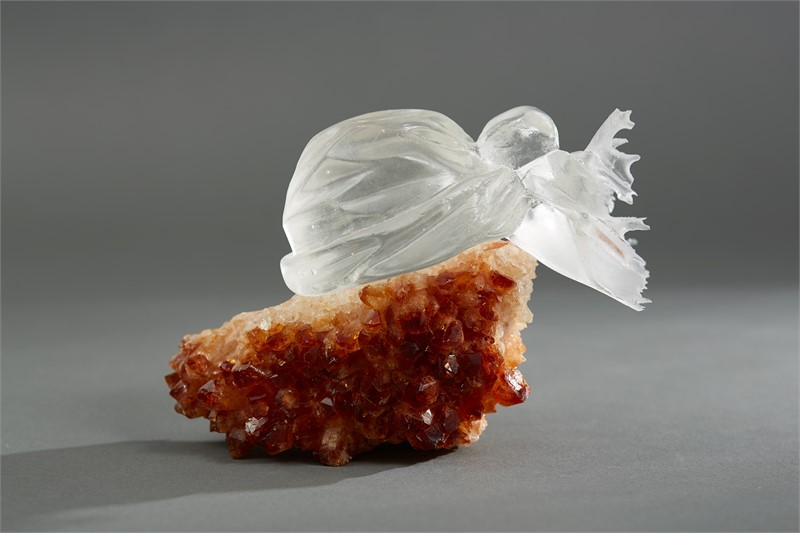 That makes sense. It seems like part of your practice is about bringing your emotional world into the third dimension.
A good example of that is this idea of attachment. My husband is a woodworker. In order to make the things connect correctly, they have to both be flat. There's a level of detail that's insane that he's really good at and  can advise me about.
In an emotional sense, I feel like I'm looking for a secure attachment and I almost get too attached to people and things. The thing about attachment is that you try to control it. That's when it gets dangerous, when you're trying to control someone else or the relationship. I made a sculpture once that was called It'll Stop Screaming if You Let Go of It. 
Sculpting seems like a good way to work through those feelings. You're constantly picking up new materials and swapping and combining and dropping them. 
Yeah, I'm always trying to figure out new, different materials. I'm trying to manipulate them, to figure out the edges of what I can control and what I can't. It's about realizing that sometimes you can only control so much, and after that you have to let it be what it is.
My art would get very stagnant if I stopped playing around and pushing. The thing about play that's important is that failure is fine. It's the risk-taking that's important. This thing can fail and it could be a nightmare—maybe I wasted time and money—but who cares? Sometimes the failure is like, "Oh, now it looks better because I dropped it."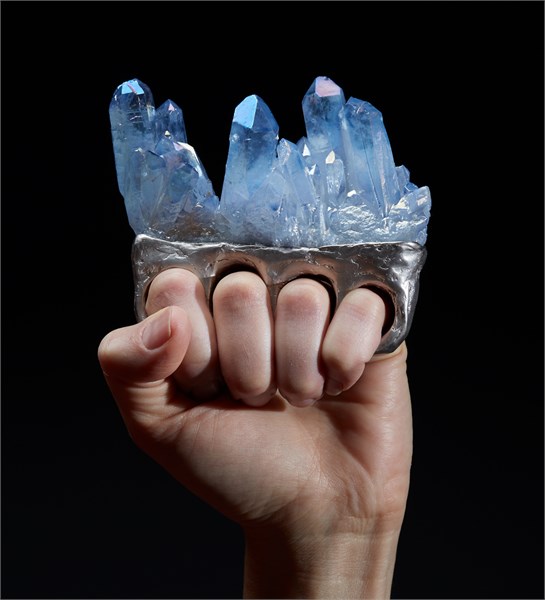 Does your work as a jeweler help you take bigger risks as a sculptor?
The processes definitely influence each other. I use sculpture processes on my jewelry—like using an angle grinder to grind things, which no one in their right mind would do. On the flip side, If I took some of my sculptural stuff to a jewelry caster, they would probably say, "That's way too big! That's not going to happen!" The possibilities open up a lot more, the more processes you learn.
The reason I got interested in jewelry, as much as I wanted to make jewelry, had to do with the fact that certain objects are more powerful on the body. Your body brings a certain power to it. With the crystal brass knuckles series, it's so much more powerful on the hand.
In addition to jewelry and adornment, you've recently taken a big interest in drapery.
I'm really interested in the history of drapery in art. It's such a weird ancient practice, to draw drapery. Sculptors have been carving drapery out of stone forever. It made me wonder how else I could translate fiber into other materials, like the bronze throwing stars that are cast from lace.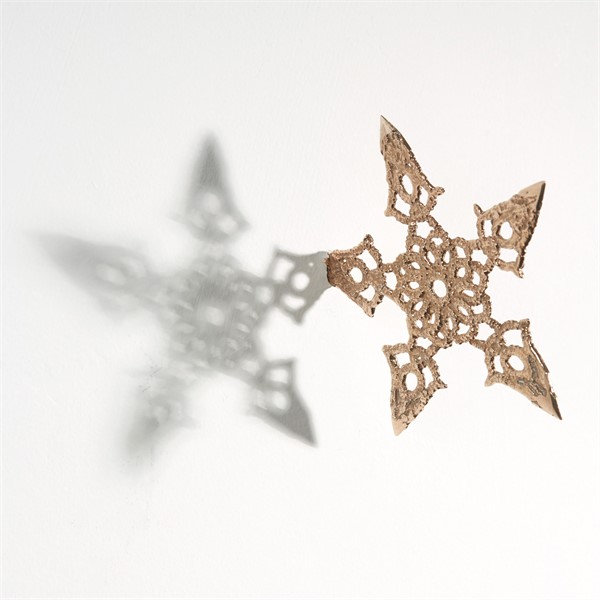 How does all of this play into your solo exhibition, Tooth & Nail? 
I'm doing a lot of inversion in the show. It's about the relationship and the tension between two objects. Sometimes they're almost touching, but not. 
I've been thinking a lot about how can art be transformational. That's a hard thing to control. Maybe my art can give other people power to make their art. I love that idea, that your power is giving other people power. Again, it's about letting go.
Click here to browse all of the artwork in Tooth & Nail.