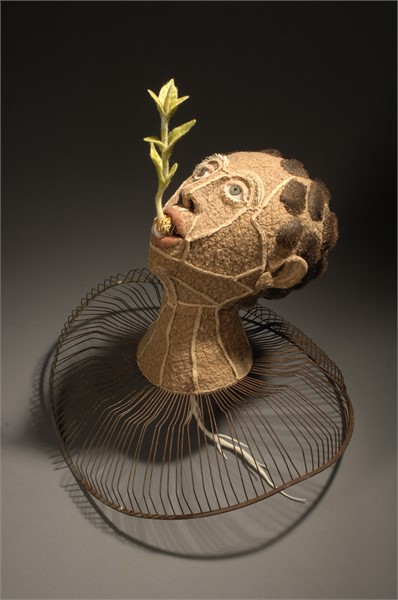 Lisa Klakulak | Since Taos
February 22, 2019 - April 20, 2019
"The works are really segmented into these different chapters of my life," Lisa Klakulak says. Her new solo exhibition, Since Taos: Contraction of Mass, Concision of Thought, is an autobiography rolled into felt and shaped into 13 affecting sculptures. The collection reflects the artist's life starting in 2001, when she left Taos, NM, to work as a studio assistant for the fiber concentration course at the Penland School of Crafts in Penland, NC, and ending in the present day. "I was so into fiber, because of its comforting and protective qualities, but at the same time it is a medium associated with struggle and women's work," she says. "Then I got into the whole concept of felt, because it's incredibly strong but it presents in this soft, vulnerable way." The artist's mastery of the medium and her emotional language-building express the deeply personal in a way that holds broader relevance to humanity, voicing ideas about growth, human connection and personhood. Since Taos opens on Friday, February 22 from 5 to 7 pm and runs through April 20, 2019. Preview Artist Talk: Friday, February 22, 4-5 pm | RSVP on Facebook.Opening Reception: Friday, February 22, 5-7 pm | RSVP on Facebook.Felting Workshop: Feb. 23-24, $315 | SOLD OUT.
Ryan Singer | Childhood Mythologies
March 29, 2019 - May 25, 2019
Albuquerque artist Ryan Singer unveils a solo exhibition of acrylic paintings of Navajo Nation landscapes populated by cultural icons. The artist's vivid imagery showcases original narratives inspired by dreams and childhood memories while interweaving subtle socio-political commentary. My older sister was really into sci-fi. If she wanted to see a movie, she had to drag me along," says Albuquerque painter Ryan Singer. "I remember watching Star Wars, Godzilla, and old black-and-white movies like Frankenstein or The Mummy." Pretty soon, the iconic beasts had traveled from the silver screen into the artist's psyche—plaguing Singer with vivid nightmares of monsters standing outside his bedroom window or chasing him through his neighborhood. Years later, the artist still has intense dreams, but they're a welcomed occurrence. "It keeps my mind focused," Singer explains. "It feels like there's a spirit or muse guiding me and influencing me." Opening Reception: Friday, March 29, 5-7 pm Artist Talk: Saturday, March 30, 2-3 pm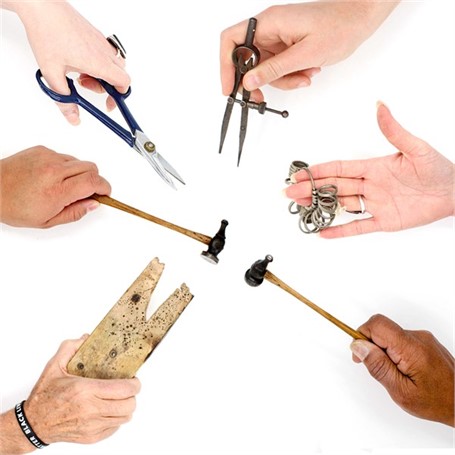 The Bench: Southwest Makers Symposium
July 26, 2019 - July 28, 2019
Marissa Saneholtz and Sara Brown, co-founders of the Smitten Forum residency project, collaborate with form & concept gallery on this dynamic symposium and group exhibition in Santa Fe, New Mexico. Unfolding on the final weekend of July 2019, the event series will unite over 70 makers who have participated in Smitten Forum, along with an international creative community that surrounds them.