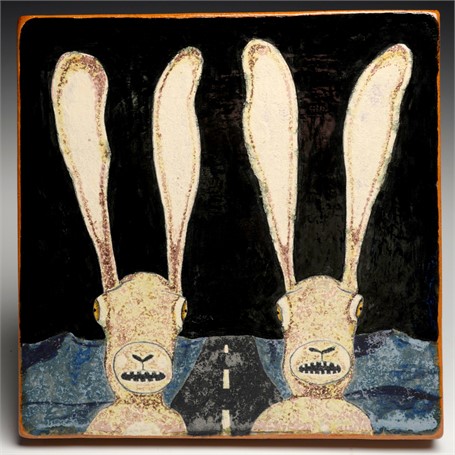 Wesley Anderegg: ARIZONA
March 30, 2018 - May 19, 2018
"Everybody that lives in New Mexico goes to Arizona every once in a while," says Wesley Anderegg. "That's the only reason Arizona exists, is to drive through to go to California." It's a particularly sacrilegious statement for a born-and-raised Arizonan, but Anderegg hasn't lived there for decades. He's also never directly revisited his wild childhood through his figurative ceramics—until now. "As you get older, you kind of get reminiscing," says the California-based artist. "It's like, oh man, I'm on the downslope these days. Time to look back." In a new series of diminutive ceramic tiles, Anderegg flattens his tragicomic sculptural figures with a playful nod to Pop Art paintings and comic book panels. The painted compositions evoke Anderegg's experience growing up in the sun-drenched and lawless Sonoran Desert. Wesley Anderegg: ARIZONA debuts at form & concept on Friday, March 30 from 5 to 7 pm, with an artist talk on Saturday, March 31 from 2 to 3 pm. The show runs through May 19, 2018.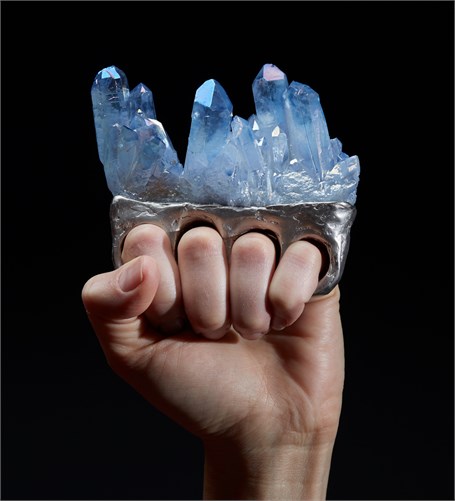 Debra Baxter: Tooth & Nail
April 27, 2018 - June 16, 2018
"This thing could fail, and it could be a nightmare," says Debra Baxter. "But who cares?" The Santa Fe sculptor makes artworks that combine divergent materials—metal, glass and stone, for example—so there's always a risk that they'll split apart during the creative process. Informed by her passion for armor and weaponry, Baxter charges ahead fearlessly to create elegant and sometimes dangerous objects. Her new solo exhibition at form & concept, Tooth & Nail, includes flowing bronze breastplates that hold glittering minerals, and metal throwing stars that are cast from lace. There's also a wicked bronze-and-quartz sculpture from her Smithsonian-collected brass knuckles series. "I'll often emerge from these crazy material experiments bruised—but I'm never broken," says Baxter. Tooth & Nail opens on Friday, April 27 from 5 to 7 pm, and runs through June 16, 2018. Baxter conducts an artist talk on Saturday, May 19 from 2 to 3 pm, and hosts a closing reception on Friday, June 15 from 5 to 7 pm.