Nika Feldman | Spirits in the Material World
January 25, 2019 - March 23, 2019
Opening Reception: Friday, January 25, 5-7 pm | RSVP on Facebook Artist Talk: Saturday, January 26, 2-3 pm | RSVP on Facebook Tees & Tabs Workshop: Saturday, March 16, 1-5 pm | Register Nika Feldman unveils a series of seven garment-like works along with accompanying objects of adornment, made from recycled t-shirt parts and salvaged aluminum can pull-tabs. Representing over 2,000 hours of handwork by the Nova Scotia artist, the intricate pieces are inspired by the coded language of clothing. "It's an attempt to create a new dialect," Feldman says. "In today's world what does contemporary clothing say about North American culture?" The artist's ubiquitous materials communicate concepts of status, currency, convenience, and disposability. By presenting quotidian materials in a dazzling new context and giving them a human shape on the wall, Feldman brings viewers face-to-face with the cultural value systems that they embody. Learn more about the opening reception.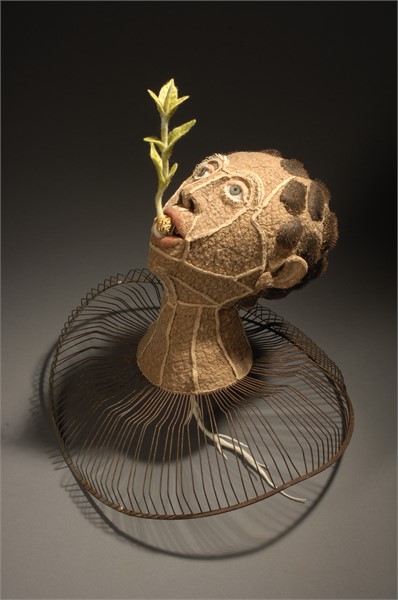 Lisa Klakulak | Since Taos
February 22, 2019 - April 20, 2019
Lisa Klakulak presents Since Taos: Contraction of Mass, Concision of Thought. The solo exhibition of 13 felt-based sculptures was created over a period of nearly two decades, since the freewheeling artist moved away from Taos, New Mexico in 2001. The collection simultaneously acts as a vivid portrait of Klakulak's emotional journey and manifestation of her unique way of processing the world through fiber creations. "Like any piece of art you make, you are releasing an idea into the object," Klakulak says. "It's a completion of a certain cycle, and it's interesting when someone on the other side spins it into their own emotive universe." Klakulak will appear at a preview artist talk of Since Taos: Contraction of Mass, Concision of Thought on Friday, February 22 from 4 to 5 pm. The opening reception directly follows, from 5 to 7 pm. Klakulak will present a registration-only felting workshop on February 23 and 24, 2019. Additional details are below.