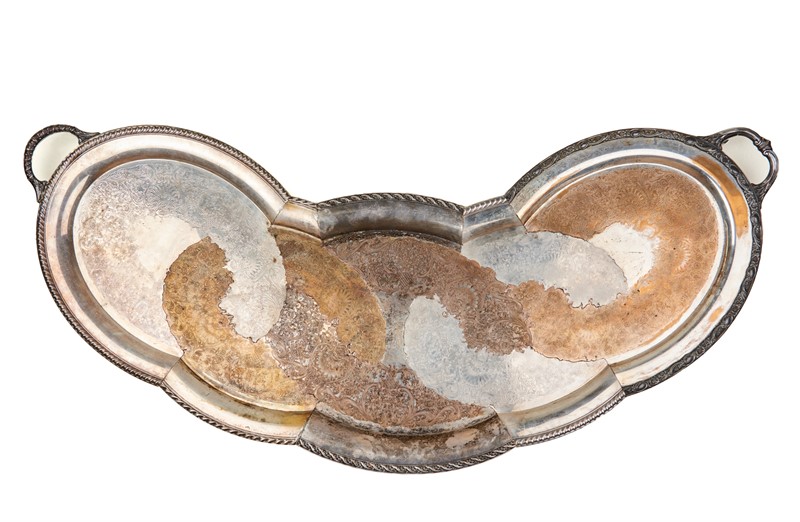 Jaydan Moore's solo exhibition DUST opens tonight (Friday, 6/29, 5-7 pm), coinciding with our special reception Introducing Robin Waynee & Ryan Roberts. Jennifer Levin of Pasatiempo covered Moore's show in a gorgeous piece titled "Fragmentary Masterpieces." Check out a tidbit below, and make sure to read the whole article in print or online.
Moore holds a master of fine arts degree from the University of Wisconsin – Madison and teaches at Virginia Commonwealth University. An exhibition of his work, DUST, opens at Form & Concept on Friday, June 29. "I like to think of these silver-plated platters as having three weird little histories, or little lies," he said. "The platters were mass-produced, made to look like they were from the 1800s—made to look old even though most of the stuff I use is from the 1940s through the 1980s. Then, there is the silver-plated material, which is usually brass or copper. This is the platter trying to look more valuable than it really is. Thirdly, there is the wear, the care thing. Some people polish or clean it all the time, and that can be an image of the value it had to them."
Levin's piece ends with this dazzling quote from Moore:
"I've been thinking about the show title and reading about dust—about how it's this slow accumulation of everything. You don't notice it until it's built up over time, and it's something we are always trying to clean and change. But dust is valuable because it contains the environment that it is in. Dust is everything that has happened."
We'll see you tonight from 5 to 7 pm! Make sure to RSVP on Facebook to show your support.