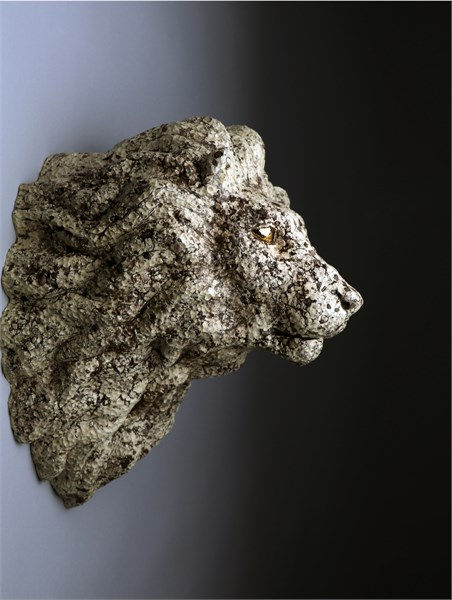 A menagerie of golden-eyed, ceramic creatures has arrived at form & concept for Wookjae Maeng's solo exhibition BALANCE this Friday. The animals were accompanied by a small media circus this week. BALANCE was prominently featured in Santa Fe Reporter's calendar section, and Emily Van Cleve covered the show in Santa Fe Arts Journal. Here's an excerpt from her write-up:
"The theme of my work is to represent the complex, ambiguous and uncomfortable relationship between man and animal," says Wookjae Maeng, a South Korean artist whose porcelain wall hangings and pedestal pieces of deer, rhinos, lions, bighorn sheep and other creatures are on display in form & concept's show "Balance" that opens on October 27.

Some animals are presented like hunting trophies, while other sculptures highlight the invisibility of the animal world to the human eye. All of Maeng's animals have golden eyes that confront the viewer.
Click here to read the full piece, which includes a quote from our director Frank. This Friday, Pasatiempo covered the show in its Exhibitionism section. Here's a snippet of Michael Abatemarco's write-up:
Maeng's wall-mounted portraits of deer, rhinos, lions, and bighorn sheep, beautifully rendered in porcelain, call our attention to animals brought to the brink of extinction and crises in biodiversity. Hung in a trophy-like manner, they also underscore the separation between humankind and the rest of the animal kingdom.
Read the rest of the blurb here, and make sure to swing by the opening reception on Friday, October 27 from 5-7 pm. Make sure to RSVP on Facebook to show your support!