"This thing could fail, and it could be a nightmare," says Debra Baxter. "But who cares?" The Santa Fe sculptor makes artworks that combine divergent materials—metal, glass and stone, for example—so there's always a risk that they'll split apart during the creative process. Informed by her passion for armor and weaponry, the artist charges ahead fearlessly to create elegant and sometimes dangerous objects.
Baxter's new solo exhibition, Tooth & Nail, includes flowing bronze breastplates that hold glittering minerals, and metal throwing stars that are cast from lace. There's also a wicked bronze-and-quartz sculpture from her Smithsonian-collected brass knuckles series. "I'll often emerge from these crazy material experiments bruised—but I'm never broken," says Baxter. Tooth & Nail opens on Friday, April 27 from 5 to 7 pm, and runs through June 16, 2018. Baxter conducts an artist talk on Saturday, May 19 from 2 to 3 pm, and hosts a closing reception on Friday, June 15 from 5 to 7 pm.
Baxter has exhibited her sculptures and jewelry at form & concept since the gallery's founding in May 2016. She helped lay the foundations of the gallery's mission: to challenge preconceived notions about art, craft and design and blur their borders. "Debra is a master of what I call 'material inversion,'" says Frank Rose, Gallery Director at form & concept. "She might pair soft materials with hard ones, or take it one step further and make a dense medium look like it's light and flowing. She creates invigorating visual and tactile experiences, but there's also a boundary-shattering conceptual element to the work."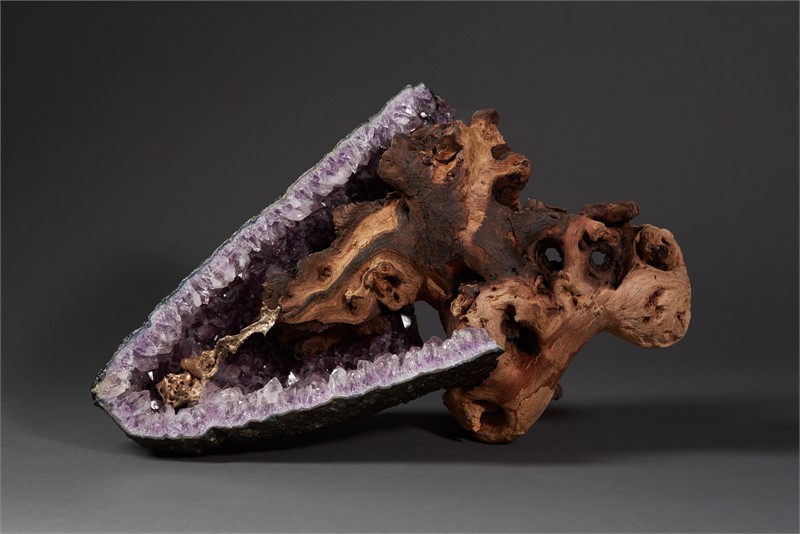 The artist moved from Seattle to Santa Fe in August 2015, a radical leap away from the city where she established her career. Originally from Nebraska, she earned her MFA at Bard College and moved to Washington State in the late 1990's. Baxter drew inspiration from Seattle's legendary punk rock scene to create a series of wearable sculptures. Her crystal brass knuckles, made from gemstones and bronze, caught the eye of a curator at the Smithsonian's Renwick Gallery. One of the artworks landed in the permanent collection of the Smithsonian in 2016. Baxter's passion for bodily adornment also lead her to create a long-running jewelry collection called DB/CB, consisting of bronze pendants that cradle gems and minerals.
"The reason I got interested in jewelry had to do with the way that certain objects are more powerful on the body," says Baxter. "Your body brings a certain energy to the object." Not all of the works in Tooth & Nail reference personal ornamentation, but every piece carries a certain talismanic force. "Art can be transformational. It's a hard thing to control, but no matter what medium I'm working with, I want to give people that experience," Baxter says. Her process always begins with freewheeling experimentation.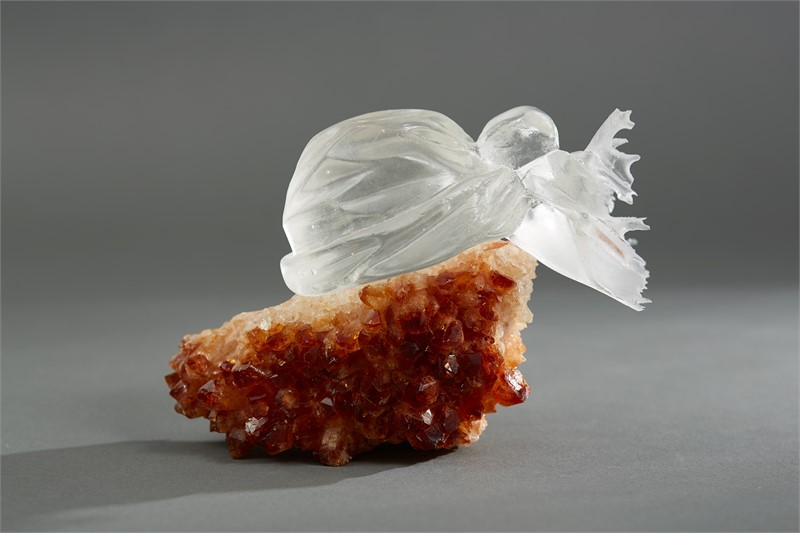 The artist frequently picks up materials she's never used before, searching for novel ways to engage the histories of sculpture, jewelry, weaponry or drapery. For Tooth & Nail, the events of the #MeToo movement have fed into her continued interest in the strength, vulnerability and the raw power of the female voice. The courage of these women has activated work with a blend of toughness and vulnerability. "These contrasting materials carry a similar spirit," she explains. "My sculptures sometimes look delicate, but when they're finished, they are structurally resilient."
Tooth & Nail features artworks made from glass, bronze, minerals, wood, bone and alabaster—often in surprising combinations. "It usually starts with a seemingly impossible question: 'I have this piece of lace, how do I make it metal?'" Baxter says. "Then it's about play. My art would get very stagnant if I stopped playing around and pushing. It's the risk-taking that's important." It's inevitable that some of her experiments will collapse, but sometimes she finds unexpected success while wrestling with entropy. "Sometimes the failure is like, 'Oh, now it looks better because I dropped it,'" Baxter says.\
Preview the full exhibition.
RSVP on Facebook.