"The conversation is in every piece," says David Forlano. "The input is the journey." He and Steven Ford have collaborated for nearly four decades under the moniker Ford / Forlano, creating wearable artworks from polymer clay, sterling silver, gold leaf and many other materials. Over the years, their designs have undergone a spectacular evolution—as has the nature of their working relationship. Forlano moved to Santa Fe in 2005, putting almost 2,000 miles between the longtime collaborators. "It has actually made the work more dynamic, with an even bigger range," Ford says. form & concept presents Introducing Ford / Forlano, featuring the artistic duo's latest work, on Friday, February 23 from 5 to 8 pm. 
Ford and Forlano met in Rome, where they were both in a study abroad program through Philadelphia's Tyler School of Art. "We had studios next to each other, but our styles of painting and thinking about art were worlds apart," says Forlano. "I had never met someone like him." Forlano had a passion for color theory and aesthetics, while Ford was more focused on structure and materials. After returning from Italy, they moved into a big house with some college friends. "I think because we were in art school and hungry, we were fascinated with the opposites," Forlano says. "It opened both of our worlds to looking at things from the perspective of the other."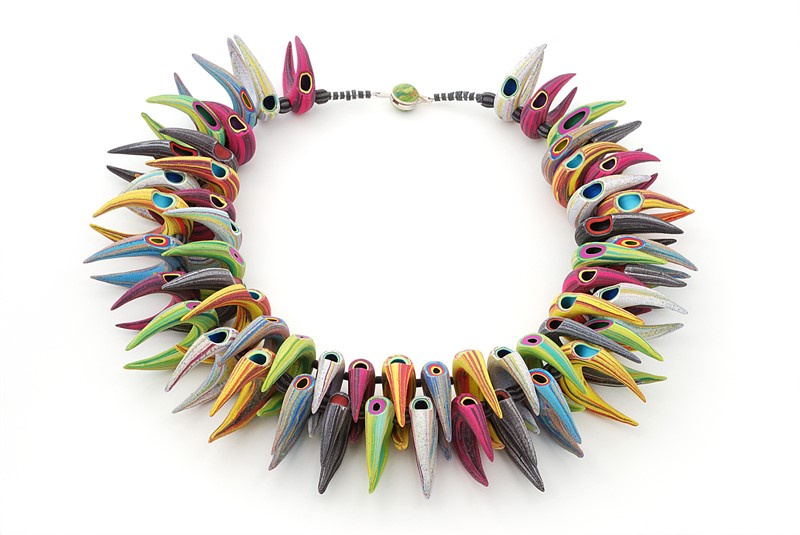 Not long after they graduated, a friend of Ford's sparked his interest in polymer clay as an artistic medium. At the time, the material was widely considered a toy for children. Ford had studied glass art early in his college career, and was interested in applying that skill set to polymer clay artworks. He and Forlano set about experimenting with the material, using a technique called caning (known in the glass world as millefiori) to create and scale patterns in the clay. "In the beginning, we really promoted the work as 'hey, look at this interesting material and what we can do with it.'" says Ford.
They built a successful business teaching workshops and selling polymer clay jewelry to shops and galleries across the nation. "Eventually, we found that our work was not evolving because we were teaching the same things over and over again," Ford explains. The artistic use of polymer clay had also become more popular—in large part due to Ford and Forlano's work—and they were looking to distinguish themselves in the burgeoning market. "We stopped teaching, which was scary," says Ford. "But our work took off then and got really interesting."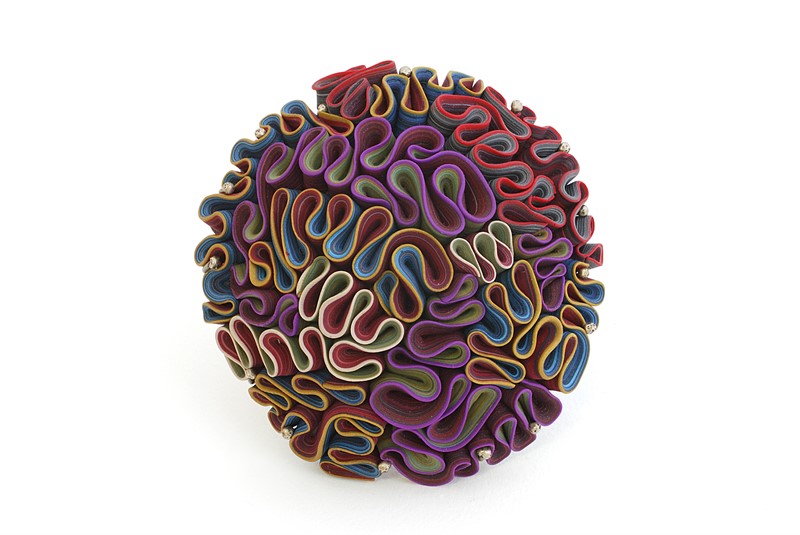 In 1999, Ford / Forlano began working with a metalsmith to incorporate sterling silver and other precious metals into their polymer clay designs. The move vaulted them into the world of fine jewelry. "The best galleries, the ones we had watched at craft shows for years, stopped at our booth," says Forlano. "They said they'd been hoping we would do that for years." Their transition from wholesale to high-end was successful, and the duo zeroed in on a signature aesthetic. "In particular, the way we use color is a voice. That's something that I feel like kind of secures a little corner for us," Forlano says. "I think that's how we got to be who we are."
Both artists like to compare their use of color to mixing paint on a palette. "Ultimately, polymer should be like paint, it's just a material for expression," says Ford.  "I want to think about color, line and texture—all of the things that a painter thinks about." Towards the beginning of their careers, when they'd just left art school, the duo took this quite literally. "At that time, we really had no idea what jewelry was or meant," Forlano says. "We just made basically little paintings."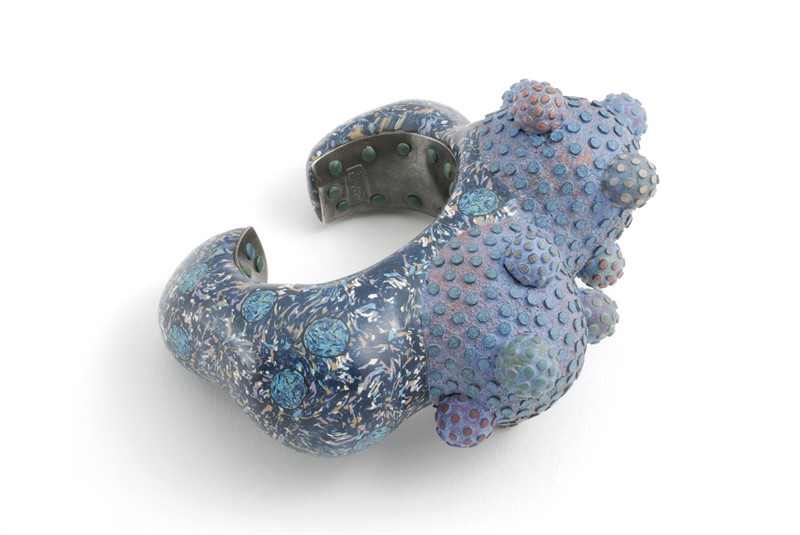 Then came Forlano's big move. In 2005, he decided to resettle in Santa Fe to live with his partner, actress Debrianna Mansini. "Frankly, I thought we were doomed when he did that," says Ford. "We'd been working literally side-by-side up until that point." Forlano cleared out his workstation in their Philadelphia studio, a building that filled an entire downtown city block, and headed Southwest.
Ford and Forlano's ability to provide instant feedback to each other was replaced by phone calls, emails and the U.S. Postal Service. It slowed the pace of production, but took their work in compelling new directions. "When Dave moved to Santa Fe, I noticed that his colors got really desert-like and dusty," says Ford. "I wanted cool, bright gem tones and he would send me these sandstone-looking things."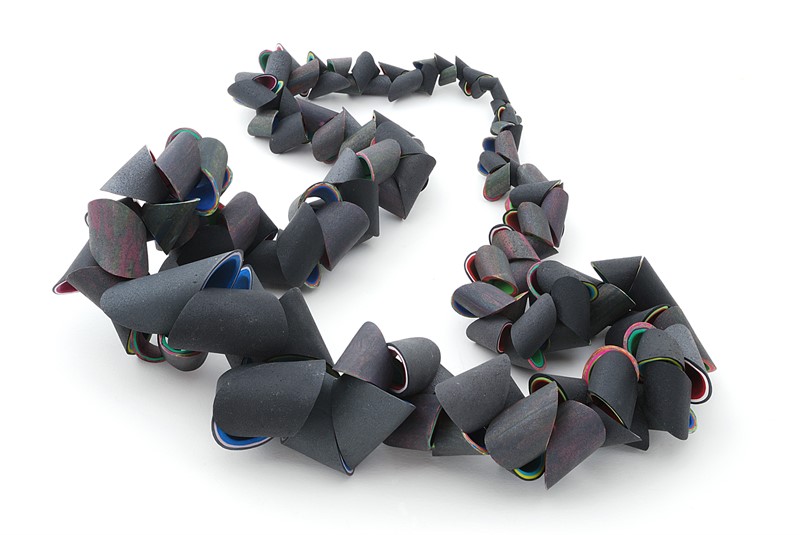 Ford has since left their old space for a smaller studio nearby, and Forlano married Mansini not long after his move. Through transitions large and small, their collaboration has endured. "We have lots of battles, we're kind of like an old married couple," says Ford. "But when he says something, I understand it in a way that I don't think many people would." Forlano adds, "As artists, we of course bring our egos to the table. We have a voice, we want to be heard. In a really healthy collaboration, that's not going to get pushed under the table or pushed aside. It's going to enhance the other person's vision."
This special event coincides with the opening reception for Strangers Collective's Mirror Box group exhibition. Click here to learn more about both events.