Decommissioned firearms aren't the most pliable artistic medium, but that hasn't stopped faculty and students at Santa Fe Community College from reshaping them into stunning artworks. They've been hard at work bending, slicing, shredding and melting old guns into sculptures, jewelry and even apparel. Tonight, the art will appear at a special reception, live auction and silent auction, along with juried works by artists from across the world that reflect on gun violence prevention. Part of the proceeds from the Guns to Art Benefit Show go to the artists, art and welding scholarships at SFCC, and the 501(c)3 non-partisan organization New Mexicans to Prevent Gun Violence. Come to the event tonight (Friday, 11/17) from 4-7 pm. The live auction starts at 5:30 pm sharp!
Sara Yingling of KRQE News 13 drove up from Albuquerque to report on the exhibition in a segment that debuted today (embedded above), and we've appeared on the Richard Eeds Show and The Big Show with Honey Harris to talk it up. Santa Fe Reporter featured the show in their calendar last week, and Megan Bennett of Albuquerque Journal North penned a preview of the show. Here's a tidbit from her piece: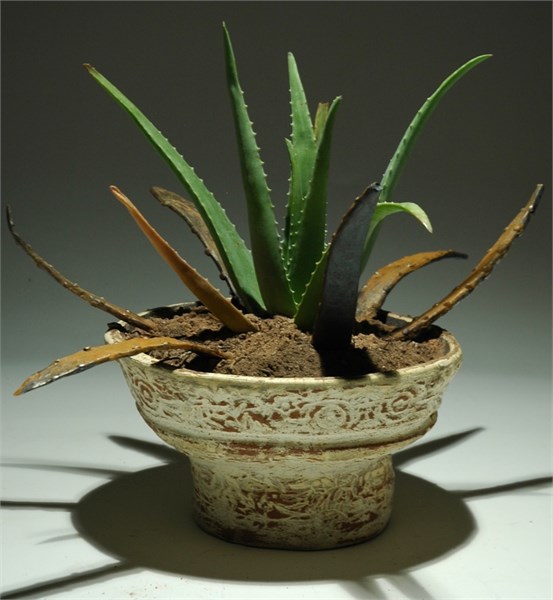 When told that his art class at Santa Fe Community College would be using guns as work material, Marty Helldorfer said it at first felt "overwhelming and threatening."

"My initial reaction was what could you possibly do … What in God's name can you do to turn this into art?" Helldorfer said.

A retired hospital administrator who now spends most of his time making ceramics and steelwork, Helldorfer said the gun material is very different from the mild steel most artists work with. It's difficult to forge and takes more time to change its original form. But in his "Forging for the Artist" course this spring, he manipulated three gun barrels to resemble aloe leaves and placed them alongside an actual potted plant.

[…]

Helldorfer, his classmates and dozens of other students at the community college over the last year were given decommissioned guns to turn into art as part of the New Mexicans to Prevent Gun Violence's gun buyback program. Selected student works, along with a juried show of art commenting on gun violence, will be shown and auctioned off at form & concept gallery starting Tuesday.
To top it all off, Jennifer Levin of Pasatiempo wrote a beautiful report on the show in this week's issue. Here's an excerpt: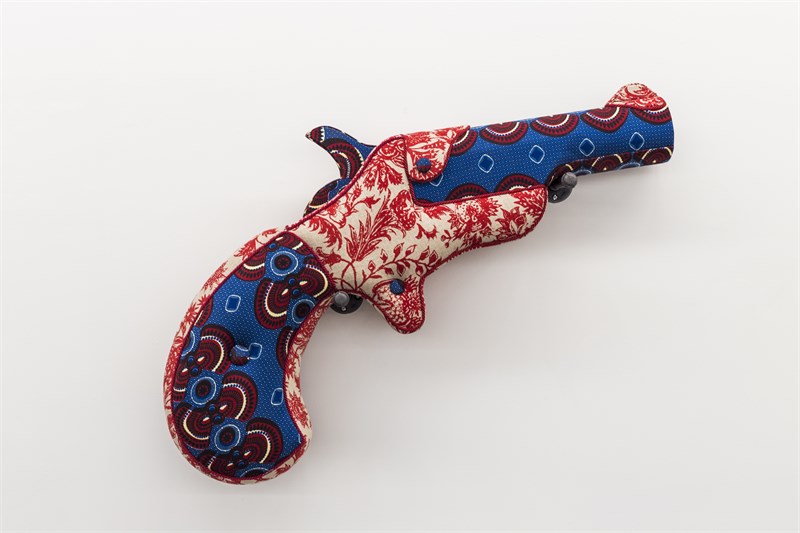 NMPGV obtained the guns that got turned into art at SFCC by holding gun buyback events around the state, at which they gave food and gas cards to members of the public who turned in unwanted guns. Each gun was checked by law enforcement to make sure that it wasn't loaded or stolen, and hadn't been used in a crime. "We've never actually gotten a crime gun," said Miranda Viscoli, co-president of NMPGV, which was founded in 2013 in response to the Sandy Hook Elementary School shooting. "Once the guns go through that process, we hand them off to be cut in half, according to ATF standards, so that they can never be used again."
Jeremy Thomas, a sculptor and SFCC faculty member, started working with NMPGV a year ago when his students began using the decommissioned gun parts as raw materials. As one of the show's juried artists, he used stainless-steel gun parts to make inflated and deflated forms that fit in with his larger body of work. Thomas, himself a gun owner, now privately volunteers to decommission guns that NMPGV buys from the public.
"There is a big difference between owning a firearm and being responsible for it, and allowing an excess of firearms into society," he said. "There's been a real shift of focus over the past 30 years — from guns being a tool used in ranching and hunting or things like that, to a tool that is used in self-defense, or claimed to be used in self-defense. I own guns personally because of my family, my history — and that also brings about the idea that gun culture is passed down generation to generation. It's not like it's a brand-new thing. Culturally, I'm involved in that, whether I like it or not."
Learn more about the exhibition here, and check out this preview of the artwork. Make sure to RSVP on Facebook for more updates!