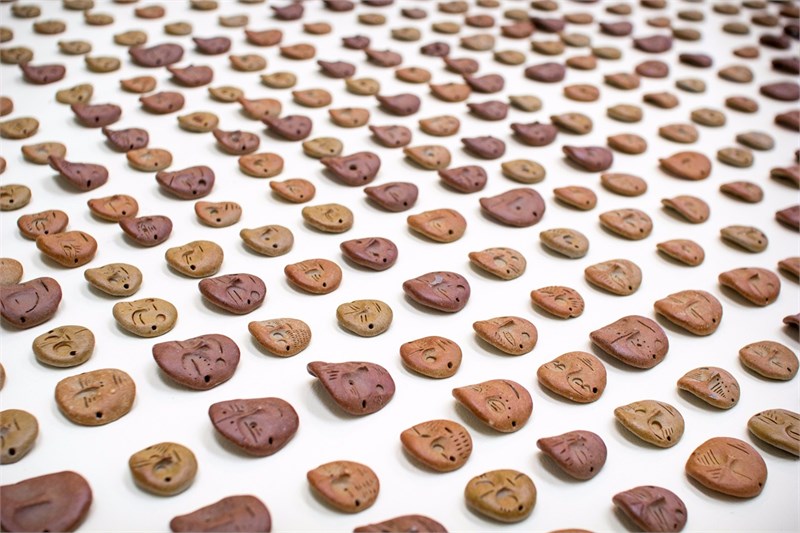 Thais Mather's Reckless Abandon is not an exhibition that you would call "on view," in a passive sense. In fact, it's a show that views you in many cases. It unfolds and evolves, pulling viewers and other artists into its orbit in compelling ways. For example, gallery visitors are free to interact with the ceramic masks in Mather's installation 200,000. During the opening reception, there were audible gasps in the crowd as people reached across the platform and plucked faces from the vast field of sculptures. If a visitor decided to acquire a mask, they were allowed to take it with them that evening, leaving a gap in the grid. In this sense, the arrangement of artworks in Reckless Abandon has changed every day since it debuted late last month.
The exhibition will transform yet again on Friday, December 15, when Mather unites feminist and activist artists for a series of performances among the artworks. Todd Ryan White, David Mcmaster, Tim Reed, Ekalos Reed and Niomi Fawn will each add their artistic voices to the show. "I feel like the concept of the male genius artist presenting his solo magnum opus is a Greenbergian farce," Mather explains. "Everything you create is influenced by other artists, by your mentors, by your relationships, by the music and literature you adore."
This new paradigm could also redefine the role of the storytellers who have reflected on Reckless Abandon since its opening. Perhaps they too should be considered collaborators, directing channels of the show's conceptual river in fresh directions. In her review of Reckless Abandon for Pasatiempo, Iris McLister analyzed the show's sweeping scale and individualized impact:
Feminist and universal, political and primitive, ancient and hyper-contemporary. Alchemical. These are just a handful of words that aptly describe artist Thais Mather's exhibition Reckless Abandon, now on view at Form & Concept. Though the entirety of the gallery's cavernous downstairs is filled with her work, the art's intentionality never seems compromised by its quantity. During a recent tour of the show, Mather said, "I want to make art that will last. It feels really important to me to have the discipline to make things that endure."
Comprising sculpture, drawing, video art, printmaking, and more, Reckless Abandon could feel sprawling, but instead it's immersive and intimate. Describing a central theme for the show, Mather wrote in her artist statement, "I'm really contemplating humanity: how culture began, where we are now, and where that might evolve."
McLister also touched on the show's highly collaborative ethos:
Mather is transparent about relying on the knowledge and help of others in making this show a reality. Friends and peers, including local artists Sandra Wang, Ron Pokrasso, and Chris Collins, were instrumental in helping Mather learn and execute new techniques. This must partially inform why she doesn't like what she has called the "farce of the solo show." For her, the experience of art — whether making it or viewing it — is most rewarding when it's collaborative in nature.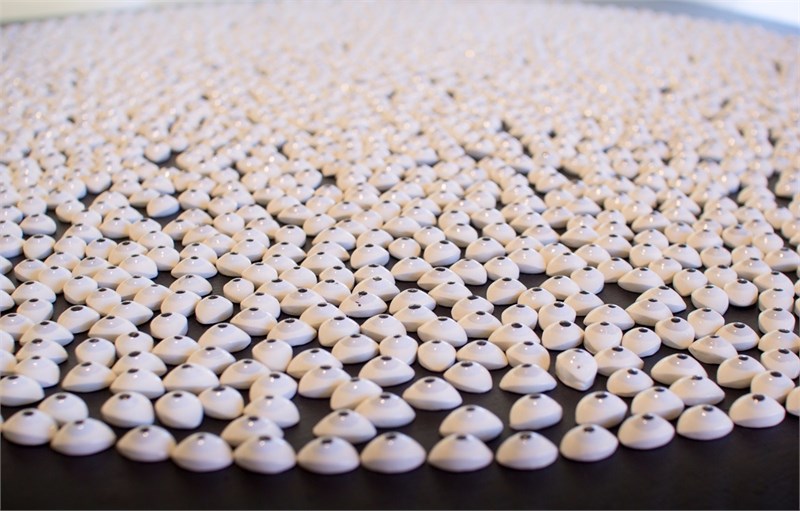 Mather spoke with John Shannon of KSFR about the importance of empowering her audience:
I'm trying really hard… to not give too much information, because I really think that what viewers perceive in the work is a really valuable asset to the work itself. The one thing that I will say about it is that I deeply researched feminism, and that's where my background comes from in terms of the theoretical aspect of what I'm interested in.
Kathryn Davis also interviewed Thais, for THE Magazine's online feature about Reckless Abandon. She talked about her hopes for the ultimate impact of her work:
 I find social change important in work, trying to change and challenge my audience and myself… We are learning, we are failing, and sometimes we get it right. Mostly I hope we can think about the rest of the world—not just humanity, but the planet. 200,000 years is a short time within a four-billion-year-old process. I just keep looking and asking, and knowing very little in return. It feels good, so I just keep doing it.
On a similar note, Eliza Lutz of Matron Records talked about the show's ability to inspire across mediums and disciplines in the record label's December newsletter:
Though Matron Records is clearly an entity with music front and center, we are constantly exploring the many ties between various disciplines and perspectives, ranging in everything from sound and design to performance art and printmaking to storytelling and feminism. Reckless Abandon, the multi-discipline exhibition by Mather featuring hundreds of artworks, navigates the space between these ideas, dismantling traditional & patriarchal art narratives to create a show that re-imagines human history and what it might become.

[…]

Given the current political climate, with a recent resurgence of the #MeToo campaign setting the tone for a radical cultural shift in many male-dominated fields, Reckless Abandon could not come at a better time. The immense body of work and interconnected series of performances and events tackle the full weight of the past and present while still offering a magic and radical vision for the future. "I think people are getting these catastrophic feelings, that this is the end," says Thais Mather. "I don't believe in that. I think this is a beginning."
Join us for Reckless Abandon: Performance this Friday, and return on Saturday for an improvisational performance by Tara Khozein and Rhonda Taylor in the exhibition.
Learn more about this event.
RSVP on Facebook.