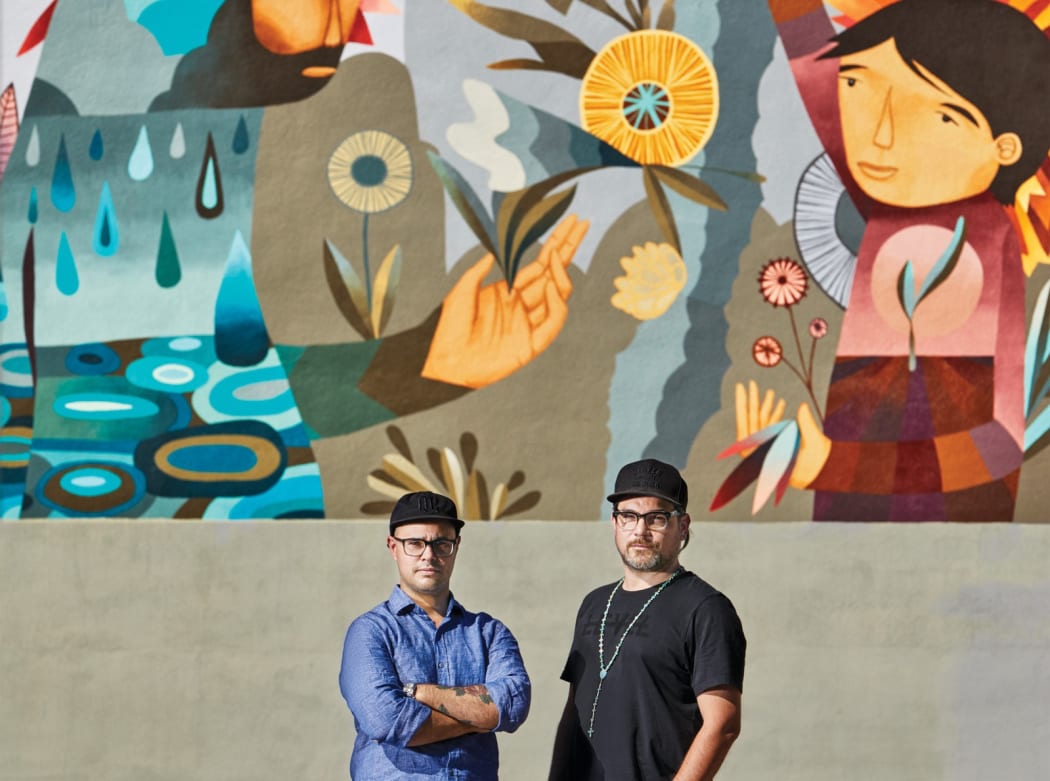 form & concept and Zane Bennett Contemporary Art are proud to announce Flags of Resilience, a long-term, artist-run project featuring commissioned work by local and internationally-known artists in response to their unique and communal experiences in today's global climate. Each artist design, printed on limited edition 3 x 5 foot flags, addresses global topics of isolation, community, family, fear and hope in this historical moment in time. One hundred percent of the proceeds of each flag go to the charity of the artist's choosing.
The project, founded by form & concept represented artist Thais Mather in response to the global pandemic, will also address the nation's longstanding struggles with systemic racism and police brutality, including the tragic deaths of George Floyd, Ahmaud Arbery and Breonna Taylor, among others. The artist's chosen for this project will lead the dialog on these subjects, with both their imagery and unique perspectives on this moment in history. The series of original flag art commences with a joint design by acclaimed Denver-based muralists Pedro Barrios and Jaime Molina (aka The Worst Crew). Here's their design:
Pedro Barrios & Jaime Molina, Flags of Resilience- July Edition, $50.
Through the creation and dissemination of iconic imagery emblazoned on flags, the project asks: Who have we lost and how do we honor them? How does the pandemic exploit and reveal important ways we're all connected? And perhaps most critically, how can we affect broad socio-political change in the best interests of humanity? Read on for Barrios and Molina's thoughts on those open-ended questions.
How did you two meet, and how did your first creative collaboration come about?
We had both been secret admirers of each other's work for quite some time in Denver. Finally, we started conversing through Facebook and decided to trade artworks. The art exchange was our first time meeting in person.
The first time collaborating was for a mural project in 2013 sponsored by New Belgium Brewery. The thought was that it might make more sense to work on this project together seeing as Pedro had never painted anything to this scale previously and their work had the potential to be complementary. What was supposed to be a one time collaboration has turned into seven years of laughter and friendship.
You've worked on so many major projects together, in your home city of Denver and elsewhere. Could you describe your (pre-pandemic) collaborative process? Who does what? How do you bring your ideas together into a finished piece?
Our process has evolved over time with the intention of producing the best work possible. All of our public art projects are site based, so we begin by taking in the architecture and surroundings. We then typically work with the client to get a feel for the intention of the piece. We do the creative concepting together, and then Jaime has become the lead illustrator of the team. When we first started working together we would generally split up this task, but over time we've come to realize that process sometimes felt a bit disjointed. We have always worked together to pick out the palette and execute the project. Our brainstorming sessions usually involve a coffee shop, iPads (an evolution from napkins and pencils), and plenty of banter.
How have each of you weathered the ongoing Covid-19 pandemic so far, and has it changed your approach to collaboration?
When the lockdown started we were set to begin work at a new construction site. Because of those circumstances, we were required to work during that time. At first while we were navigating through the situation, we decided to stagger our work schedule to try and keep our families safe. After we had quarantined from each other for two weeks we transitioned to working together while taking protective measures.
We have been fortunate that we had some great projects scheduled before the shutdown and we are currently working on them. Unfortunately, we have had numerous projects fall through due to financial concerns from our clients and we just hope that they can weather these trying times.
Our collaborative meetups are mainly via phone/emails currently. Thankfully our families have stayed safe and healthy.


As a duo you're best known for your murals, which are displayed at a monumental scale in public spaces. Flags also often appear in public spaces as sky-high focal points. What are some similarities you've discovered between composing a mural and a flag? What are some differences?
Certain considerations need to be taken for any given design process. When you are trying to translate an image onto a large wall, you have to consider how it will look from afar as well as close up. How will this read from 50 yards away? How will this read to someone passing by quickly in a car or on a bus? How will this photograph from up close as a backdrop for personal photos? These things always dictate and inform the overall design. We always try to keep the design interesting from both vantage points, both up close and from far away. The same was true for our flag design.
Obviously designing a flag has completely different considerations, but we think certain things ring true for both. With our flag design we tried to keep the key compositional elements simple even if they have a fair amount of detail inside of them. From far away the designs on each side of the hand read as a gradient, but when seen from up close you notice the intricate shapes on each side. On closer inspection you begin to decipher letters and words. Our hope is that this multi faceted way of looking at our work will let the viewer be able to look at it again and again and take away different things each time
What were some sources of inspiration for your flag design, and how did the design evolve throughout your process?
For much of our work a big starting point and inspiration is color. We both absolutely love playing with color. By this we mean just experimenting and having a palette to start with, but just start mixing things and seeing what happens. We let the work evolve and do our best to manage the twists and turns as the piece changes, but it's more fun for us to let it happen without controlling it too much. Often times we can use one color in one area of a mural or painting and when we use it in another area it looks completely different because of what colors it is adjacent to. There can also be a narrative element to our work, but this is always supported by the color palette. If this key element is off then the whole thing doesn't look quite right to us.
For this project we wanted to deliver a soft and calming message so naturally our palette followed suit. We made several color studies for this piece and the one that seemed the most appropriate was the one that fit with our story the best. To us, these colors portrayed a sense of quiet permanence. The long haul of a marathon versus a sprint.
Flags bear iconic images that represent a collective identity. They're often intended to reflect a community's highest ideals, and memorialize those who've fought for those ideals. What or who does your flag represent or memorialize?
Our concept wasn't to memorialize in the sense of loss, but more to illustrate and document the important moment we are all currently living in. When the lockdown first started several months ago, we felt like there was much potential for us to have a massive collective shift. Everyone was faced with hardship as well being stripped of their routines and, in a sense, their lifestyles. This drastic change forced people to see through to what was most important to them and their families. It exposed many things that have been broken and ignored in our society. Our original concept came from this opportunity of regrowth. It was in many ways like the replanting of a garden that had become overwrought with weeds and choking vines. When you get the opportunity to start over, what kinds of seeds would you plant?
The symbols we chose to use for our flag stayed true to this concept. We chose to use a hand surrounded by leaves and flowers to convey the message that we have the power to change our future. In this moment of collective pause, we can control what seeds will be planted and what will be cultivated. These symbols of growth intertwined with a human hand were the starting point.
With the killing of George Floyd and the nationwide protests against police brutality and racial injustice that have followed, we are still in this crucial moment of, "Where are we going to go from here?" Staying true to our idea of regrowth we decided to add to our original concept. We added the words, 'People' and 'Solidarity'. These words were meaningful during the height of the Covid-19 lockdown, but they are especially poignant now. To move forward and to plant the seeds for a more equitable, sustainable and healthy future we must do it together in solidarity. This is a pivotal moment for us all and our hope with this design is that it can be a reminder of where we are in time. We have to stay aware of this moment and how we handle it. The seeds we sow now will determine our collective future. This fight to control this proverbial garden will no doubt be a marathon and not a sprint and it will take everyone moving forward together to realize it.
This is a remarkable moment in history in which so many Americans are confronting systems of white supremacy and racial oppression that have defined our past and present. In this moment of revolution, does it feel particularly impactful to design a whole new flag? What are your hopes for the future?
We're going to use the answer for question 6 on this one and let us know if you want us to elaborate.
What organization have you selected to receive the proceeds of your flag sales? Why did you choose this particular organization, and do you have a personal connection to it?
The charity we are choosing to support is the International Rescue Committee. While they are an organization that does work all over the world, they actually have a branch here in Denver and help to transition and settle immigrants/refugees as they arrive in Colorado. This organization is special to us specifically because of the work they do to help refugees and immigrants. This hits close to home with Pedro since he immigrated from Venezuela to the US in Miami, Florida with his family when he was young. Jaime and his family did not immigrate from anywhere but they have been involved with the IRC in the past by donating physical goods to them. The IRC is not an organization that has a donation center per se, but there are things that are useful to their families such as housewares, bicycles, and items for baby nurseries that they have gladly helped out with.
This organization provides help in many different ways for people that have been affected by disasters in most parts of the world, but we feel strongly about our support for them because of what they do for our community in Denver. It would be hard to imagine the difficulties of living in a place ravaged by war or famine or some other disaster, but to have to flee and leave everything and everyone you have ever known behind would be just as hard. The work that they do to get these families here and help them transition into a new life and culture is very important. Often times, these refugees and immigrants are seen as dangerous outsiders and are met with prejudice and contempt especially in our current political climate. The IRC's support and network of resources for these families helps to offset these hardships and allows them to find their place here in our community. This is something we completely support.
We have reached out to our contact at their Denver office about getting a statement from them about their specific role to their families in Denver. Our summary of what they do almost certainly leaves out some important details. We will pass this along as soon as we hear back from them.
Learn more about Flags of Resilience.