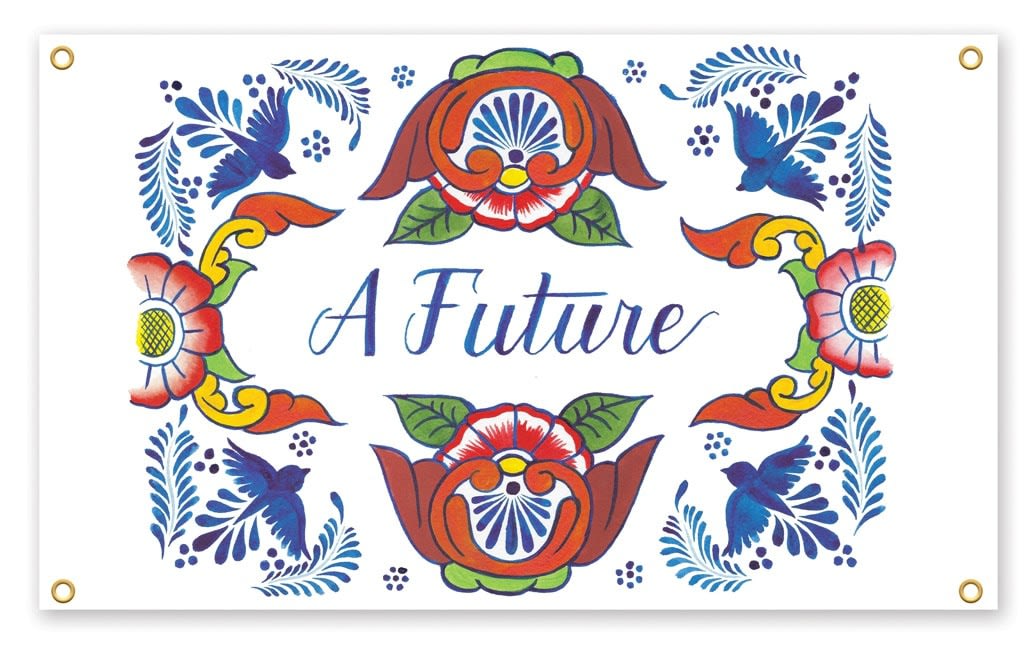 Tamara Santibañez is a multimedia artist living and working in Brooklyn. Her work spans many mediums, from sculpture to installation to tattoos to independent publishing. For the gallery's Flags of Resilience project, she adds another medium to her arsenal. Santibañez created a flag design for the August edition of Flags of Resilience, drawing inspiration from the aesthetic of Talavera pottery.
Read our written interview with the artist below, with questions from project founder Thais Mather and Gallery Director Jordan Eddy. You can also watch a video interview with Santibañez on IGTV, and read a story about the project from Santa Fe Reporter. All proceeds from sales of this flag go to F2L, a relief fund for incarcerated black, indigenous and people of color who are queer, trans and/or two spirit. Please support if you're able!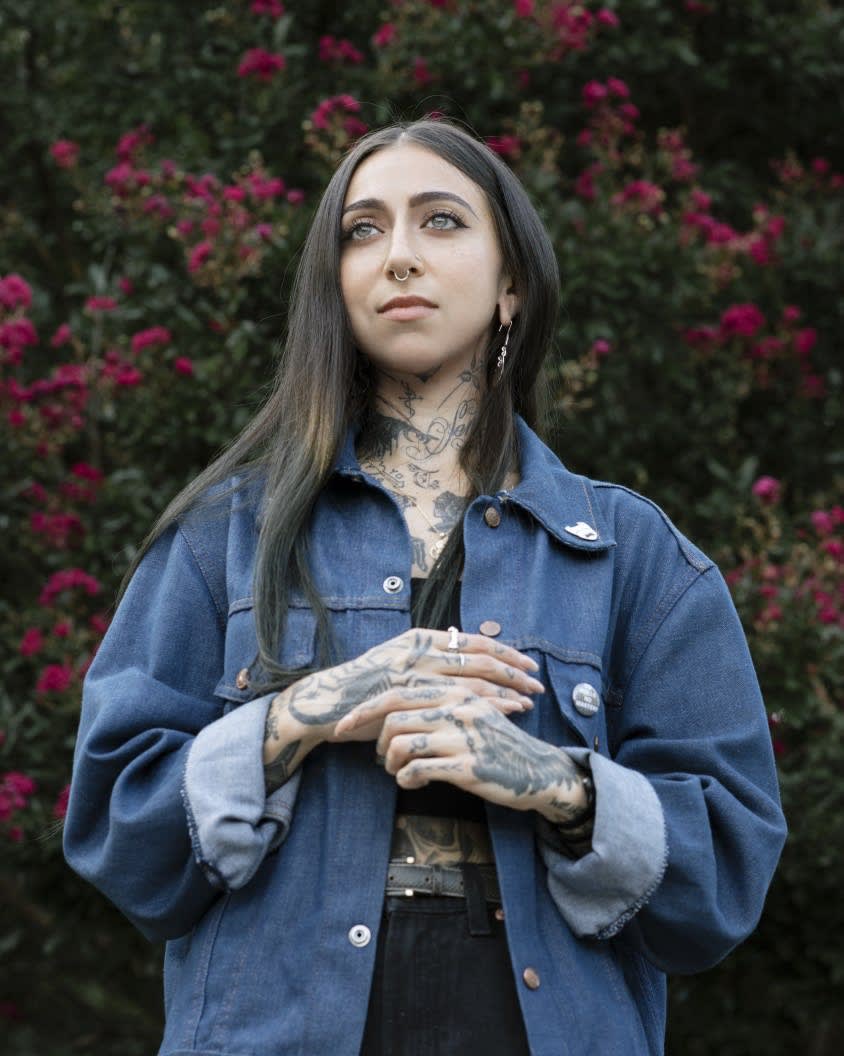 Photograph by Carlos Jaramillo for Revolver Magazine.
YOU ARE A VISUAL ARTIST, A TATTOO ARTIST, AND YOU ALSO RUN THE INDEPENDENT PUBLISHING HOUSE DISCIPLINE PRESS. WHEN YOU'RE APPROACHING A NEW IDEA, HOW DO YOU CHOOSE THE MEDIUM THROUGH WHICH YOU'RE GOING TO EXECUTE IT? WHAT IS VITAL TO YOU ABOUT MOVING BETWEEN MEDIUMS?
Much of my work tends to be medium specific. I would say it's only been in the last few years that I've tried to work towards a more integrated and holistic body of work, and to weave subjects and visual language through all the arenas I work within. What I like most about working in different mediums is that they each offer something different in terms of collaboration. In tattooing, you're working with clients and their concepts and in publishing, I'm often working with other artists or writers to help make their vision a reality. My own visual art practice is where I feel more individual creativity and freedom to experiment.
YOU EXPLORE SUBCULTURAL SEMIOTICS IN YOUR VISUAL ARTWORK, EXAMINING OBJECTS AS STAND-INS FOR HUMAN FIGURES AND RELATIONSHIPS. HOW DOES THE FORMAT OF A FLAG FIT INTO THAT EXQUISITELY LAYERED APPROACH TO UNDERSTANDING MATERIAL CULTURE AND HUMANITY?
A flag is a fascinating object because it goes beyond individual wearability or use. Flags are public facing, and can run the gamut of being divisive or being hopeful and awe-inspiring. A flag can be a symbol of imperialism or a symbol of rebellion. There's a large amount of pressure and sense of responsibility in designing a flag. The viewer's relationship to it also changes depending on how the flag is being flown or displayed – is it at half mast on a flagpole? Is it being burned at a protest?
TELL ME ABOUT YOUR FLAGS OF RESILIENCE DESIGN. WHAT INSPIRED THE AESTHETIC, AND HOW DID YOU CHOOSE THE PHRASE "A FUTURE" AS THE CENTRAL ELEMENT?
The aesthetic is based on Mexican Talavera ceramic signage that is often seen in and around home spaces and businesses. These signs can display a business name, a street name or number, or a phrase or witticism that describes the home environment. I like its function as situating place, but also as being declarative. In this moment of political uprising, we are urgently being asked to consider what a future looks like and conceiving of a future reminds us of our contemporary, moment-to-moment responsibility in moving towards it. It felt important to say "a future" rather than "the future," and to leave space for multiple visions of future to exist simultaneously, or for our concept of future to shapeshift as needed in response to current conditions.
I AM SO FASCINATED BY YOUR WORK IN TALAVERA, BECAUSE IT IS LADEN WITH MEANING. I FEEL LIKE YOU ARE MIXING THE VERNACULAR OF TALAVERA WITH YOUR OWN ANARCHIST SUBTEXT. HOW DID YOU BECOME INTERESTED IN TALAVERA, AND AM I CORRECT THAT THERE IS SOME LEVEL OF TENSION OR SUBVERSION BETWEEN TALAVERA AND YOUR OWN VISUAL LANGUAGE?
Talavera pottery is something that is common in Mexican households alongside other types of Mexican ceramic goods. The style of ceramic is often found in somewhat mundane and functional home roles, from vases to tiling, kitchen and bathroom decor. Working with the materials and visual themes of these ceramics has been a way for me to engage with concepts of home, and to envision aspects of queer identity as quiet, necessary facts of home life rather than point of conflict or exclusion from home.
HOW DO YOU THINK THE WORLD OF TATTOO HAS CHANGED IN THE LAST TEN YEARS, AS SOMEONE WHO HAS BEEN IN THE INDUSTRY FOR A LONG TIME? ARE THE CHANGES POSITIVE IN TERMS OF INCLUSIVITY?
I see the tattoo world becoming increasingly decentralized with regards to shop operations. Because of the Internet, artists can build a somewhat placeless following, as evidenced by people who travel year-round and tattoo all over the world or people who work alone out of private spaces. Because of this, people have been able to bypass the traditional methods of entry into the craft and business. I see this being hugely beneficial for the inclusivity of the industry. We are currently seeing a great reckoning in the tattoo world and people demanding more just practices from artists.
HOW DO YOU THINK THE EXPERIENCE OF COVID-19 WILL CHANGE THE TATTOO INDUSTRY IN THE LONG TERM? WHAT HAS YOUR PROFESSIONAL LIFE BEEN LIKE SINCE THE PANDEMIC HIT NYC?
The pandemic doesn't seem to have slowed people's desire to be tattooed – if anything, I think tattooing has brought people comfort and a sense of agency over their bodies at a time when there is so much fear of bodily vulnerability to illness. I do see more people moving towards private studios and wanting a control over their space and safety practices. Unfortunately several shops have closed permanently as a result of the shutdown.
I WANTED TO ASK YOU ABOUT THE INTERSECTION OF TRAUMA HEALING AND TATTOO. I SEE A ZINE YOU HAVE PUBLISHED ON THE SUBJECT, AND I KNOW YOU'RE ALSO WORKING ON A BOOK THAT EXPLORES THIS IDEA. I WAS CURIOUS ABOUT HOW THIS CONCEPT CAME TO YOU, AND WHAT IT MEANS TO YOU PERSONALLY.
I believe tattoos can achieve a wide scope of healing effects for people getting them done, and that the emotional work that lives behind tattoo exchanges is not spoken about as much as it should be. I believe this often comes from a place of fear- fear of taking on more than we can handle, fear of being activated In our own trauma, fear of being asked to act as therapist when we know ourselves not to be qualified to do so. Despite all of this, I believe all tattoo artists are doing emotional labor around trauma whether they consciously name it as such or not. I think it's important to honor the magnitude of what we are doing in our work lives and to do it as responsibly as possible. The book I'm writing focuses on this and on how we can shape of a more justice centered and trauma informed tattoo industry.
Learn more about Flags of Resilience.