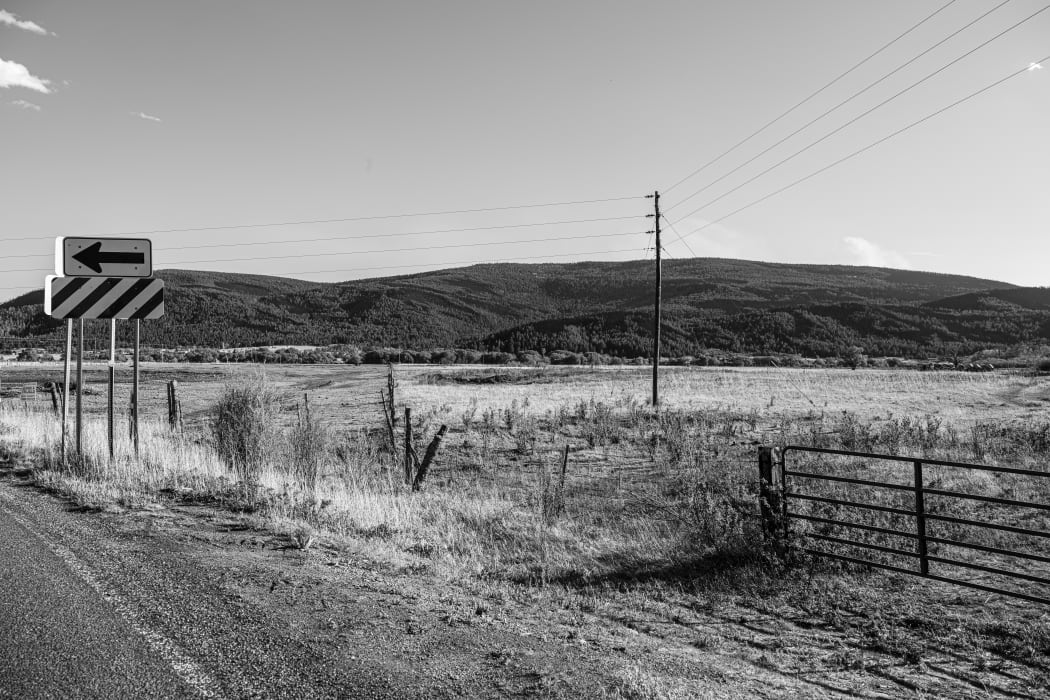 This year, New Mexico experienced the worst fire season in the state's known history, with over 340,000 acres consumed by inferno. In the face of this monumental tragedy, photographer Eric Cousineau, who spent the bulk of the pandemic crafting humanizing portraits of essential workers in stark black and white, decided to turn his lens on the people and the landscape in the midst of the blaze. Traveling through Mora County, Cousineau delivered meals with World Central Kitchen staff vying to keep emergency responders fed. He documented skies dangerously saturated with wildfire smoke, and fatigued but resilient rural firefighters and populations on the near-front lines. The resulting images are sensitive, attentive portrayals of the reality of climate disaster in New Mexico that manage to center the communities bearing the most devastating impact.

Read our interview with the local photographer below, and support those affected by the catastrophic event by purchasing a print. A portion of sales of the series directly supports the important work of All Together NM Fund, launched by Gov. Michelle Lujan Grisham, whose funds go to emergency shelter, food and water distribution, and other critical services for New Mexicans.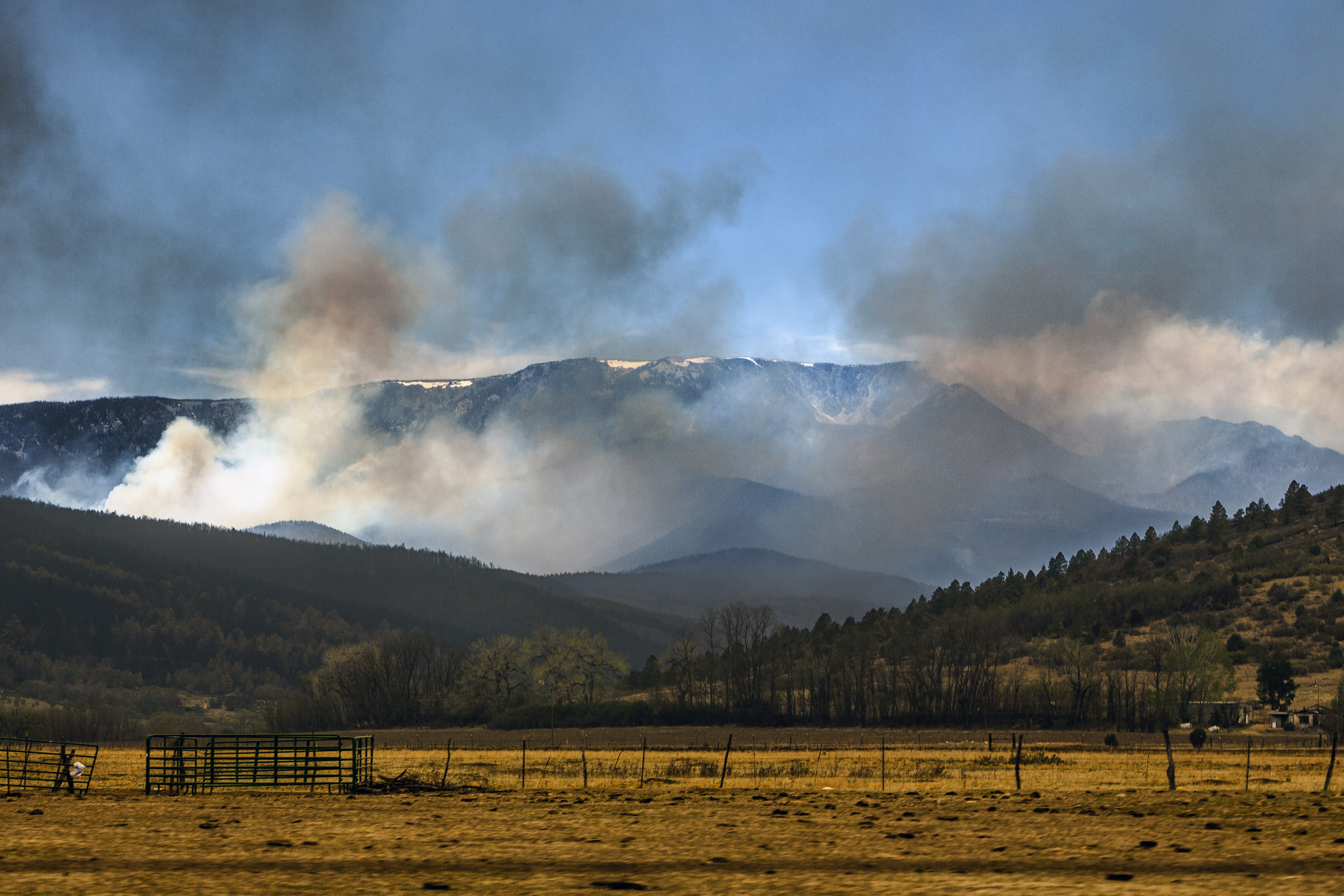 Eric Cousineau, En route to Ledoux Fire Station, HWY 94, Day 2, archival pigment print.
One origin point for this project was a series of portraits that you made of essential workers during the pandemic. What did you learn from that project that helped you navigate this one?
I had to learn how to be quicker, for the most part, with taking photographs, especially portraits. When I started the Essential Worker Series in April of 2020, for most places it was easiest to walk in the front door and just ask. I told them in under a minute what I was doing and if they said no I didn't try to argue with them. Most people said yes, but asked me to go as quickly as possible. So I got pretty efficient at finding a spot to pose the person and did about 3-4 frames. On average each person was photographed in two minutes or less. When I traveled to Michigan for the Essential Worker Series I made about 45 individual portraits in just over an hour. This was at a food bank with a warehouse-size building.
What inspires you to pick up your camera in the midst of crises, like a global pandemic or record-breaking wildfires? Would you call this a photojournalistic instinct?
While I didn't take a course in college for photojournalism, I did attend lectures by photojournalists and have always had an interest in it. One of the first photography lectures I attended while at Oakland Community College was by Alex Webb. He inspired me to go to Haiti, which was the first country I traveled to outside of the United States. Things didn't go the way I had planned, but I've never lost the urge or inspiration.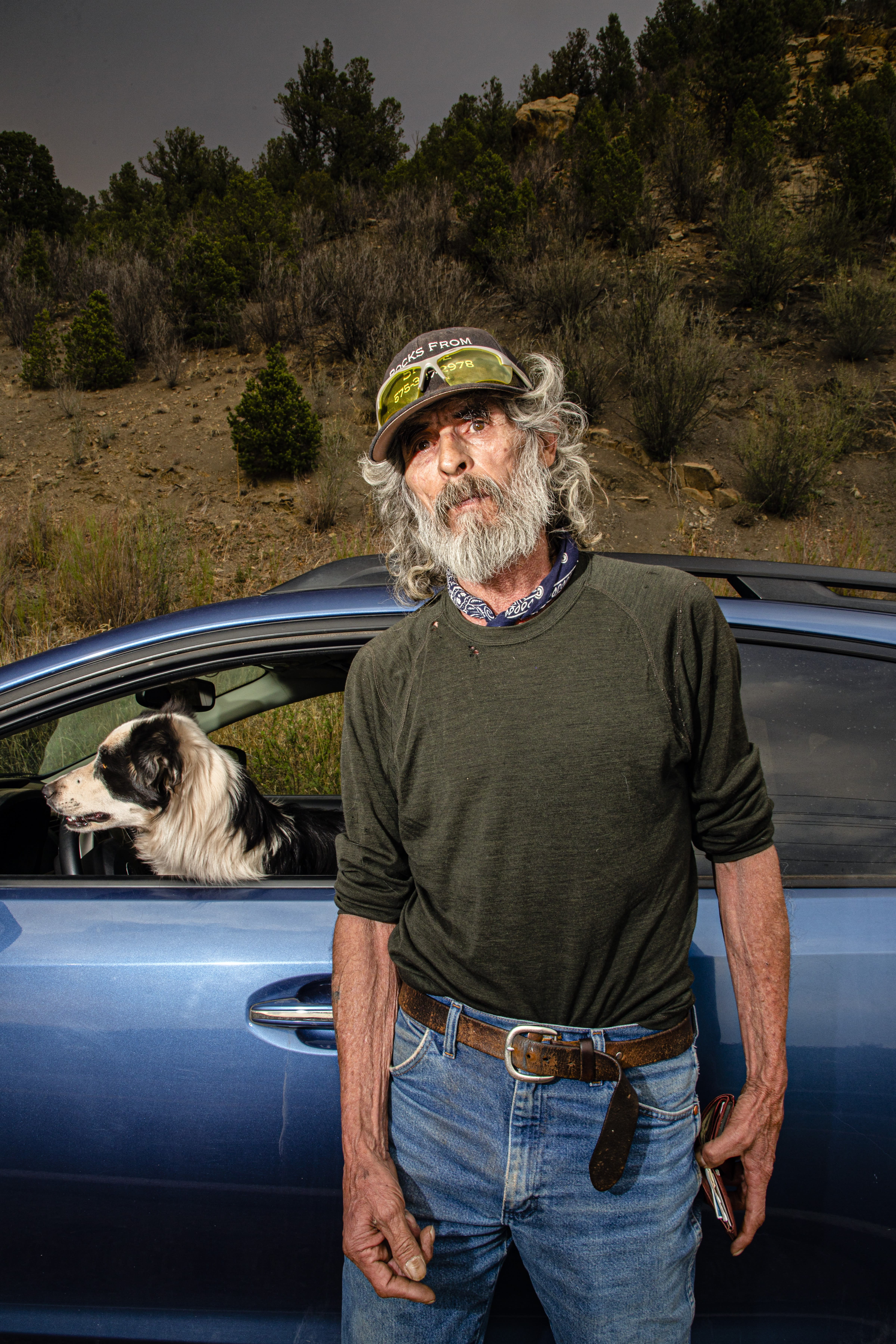 Eric Cousineau, Rocks from space hat, HWY 518, Mora, NM, archival pigment print.
How did you gain access to the people and places who appear in the new series, and was this particularly challenging due to the rapidly evolving nature of the crisis?
One day at work (Trader Joe's) my friend/coworker Randy Castillo came in to shop and during our conversation I asked what he had been up to because it had been a while since I had worked with him. He told me he had been helping deliver meals to people that were affected by the wildfires. Without really thinking about it I asked him if I could come with him to photograph. He said he would ask someone at World Central Kitchen if it was okay for me to ride along.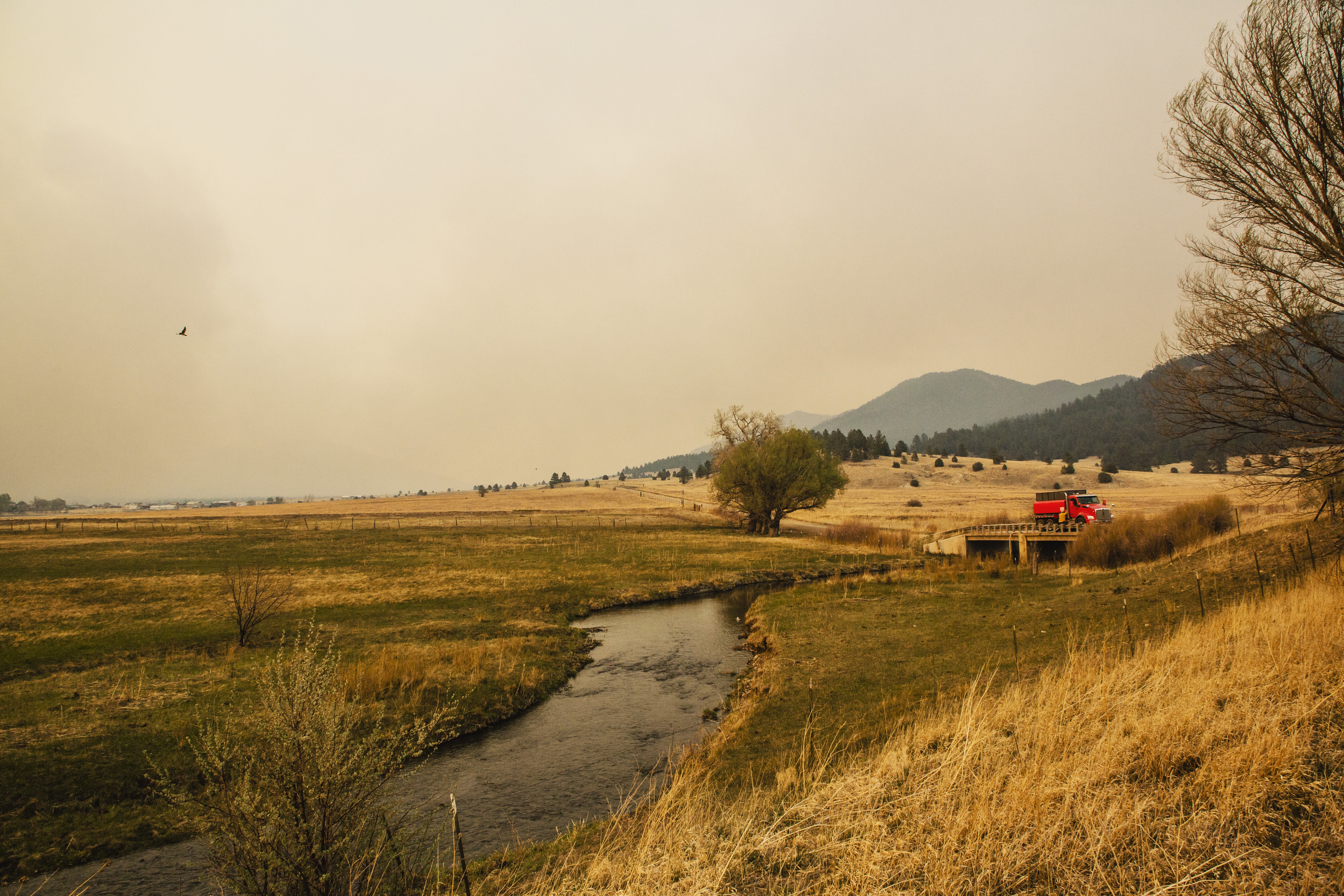 Eric Cousineau, Water transport truck, Eagle Creek just outside the town of Mora, HWY 518 and El Alto Rd, Day 5, archival pigment print.

A few days later Randy said I had permission and to be at the Santa Fe central kitchen at 9 am. I really didn't know what to expect or what I was doing other than just showing up. When I got there Randy gave me a choice of going with Bryan, who was going into an evacuation zone to deliver meals to an area with less stops and more smoke, or go with Adrian to Las Vegas and hit more stops and have more people to possibly photograph. Without hesitation I chose to ride along with Bryan.

Some days there were a number of people at the stations, other days it was just one or two people that were there waiting for us to deliver the meals. I could have gone on different delivery routes but I thought it was best to keep going to the same three stations to get to know the people I was photographing. We did two runs a day and just within a few hours everything changed.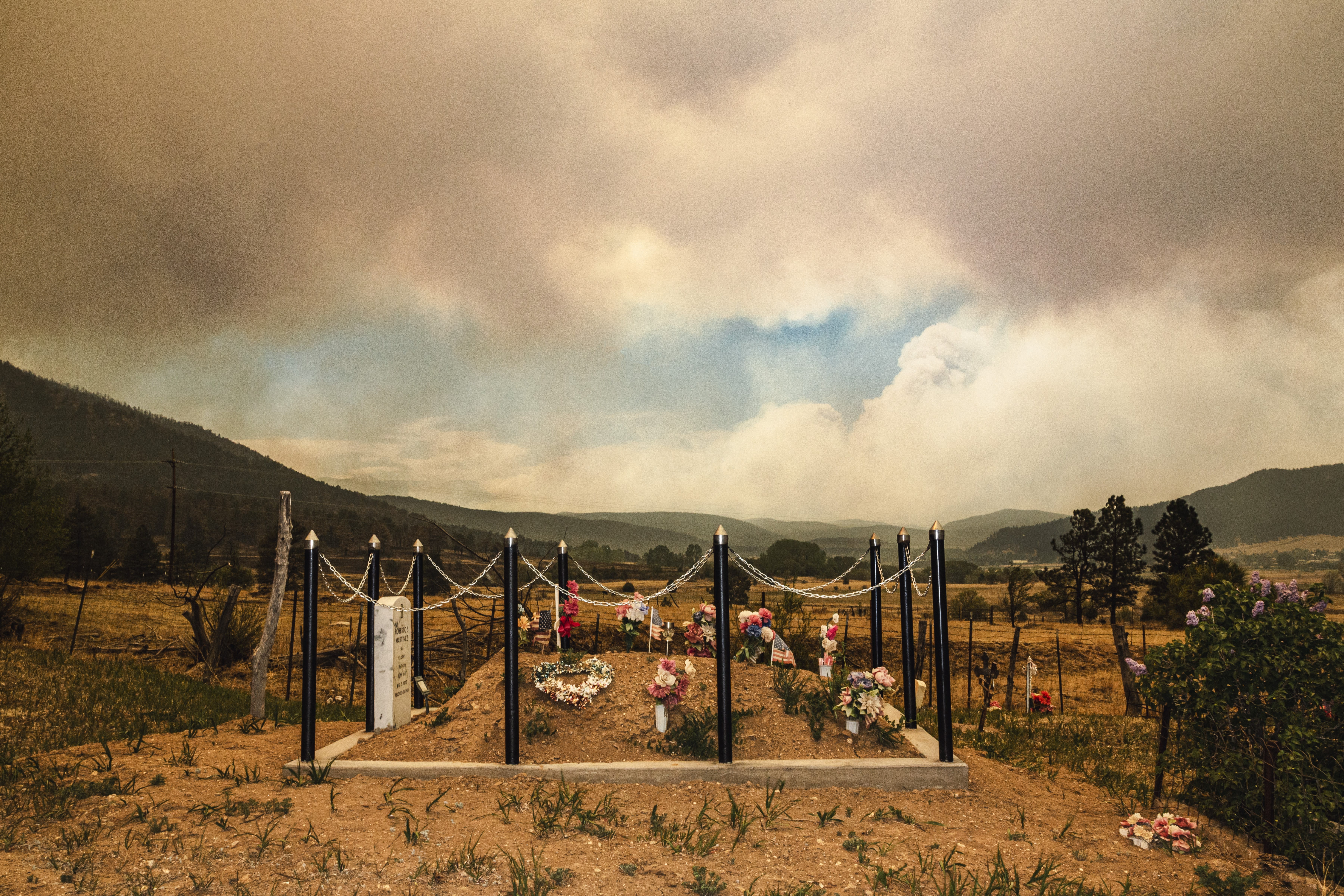 Eric Cousineau, Cemetery, HWY 94 en route to fire station, Day 2, archival pigment print.
WHAT IS SOMETHING YOU LEARNED WHILE WITNESSING AND DOCUMENTING THIS SITUATION THAT COULDN'T BE CAPTURED BY HEADLINES OR STATISTICS?
Kindness.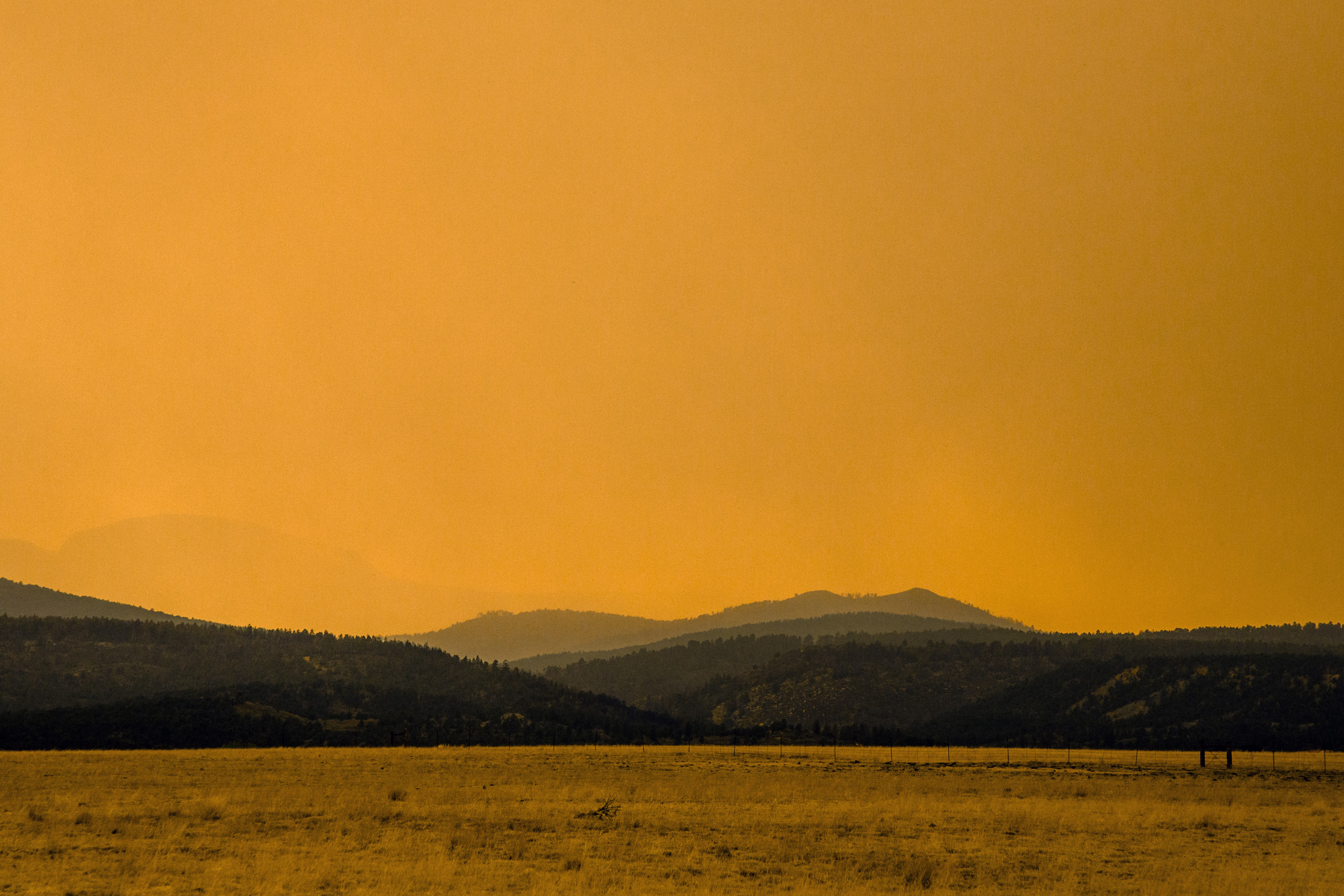 Eric Cousineau, Smoke-Filled Skies No. 1, HWY 518 near Bonita Ranch, Day 5, archival pigment print.
There is a fierce beauty to some of this imagery that belies the devastating nature of what's actually going on. Could you tell me about wrestling with that dichotomy as a human and artist?
This is something that I especially struggled with when looking at the images that I took. I really questioned what I saw and if anyone else saw the same things. The hardest part was on the days we were in smoke that was as thick as pea soup. Was the sky really that dark of a yellow, like a cigarette filter? Am I giving an accurate representation of what I was capturing? Do I really care about things like that? All of these questions would swirl around in my head, and then someone would be yelling at me, "We have to get going!"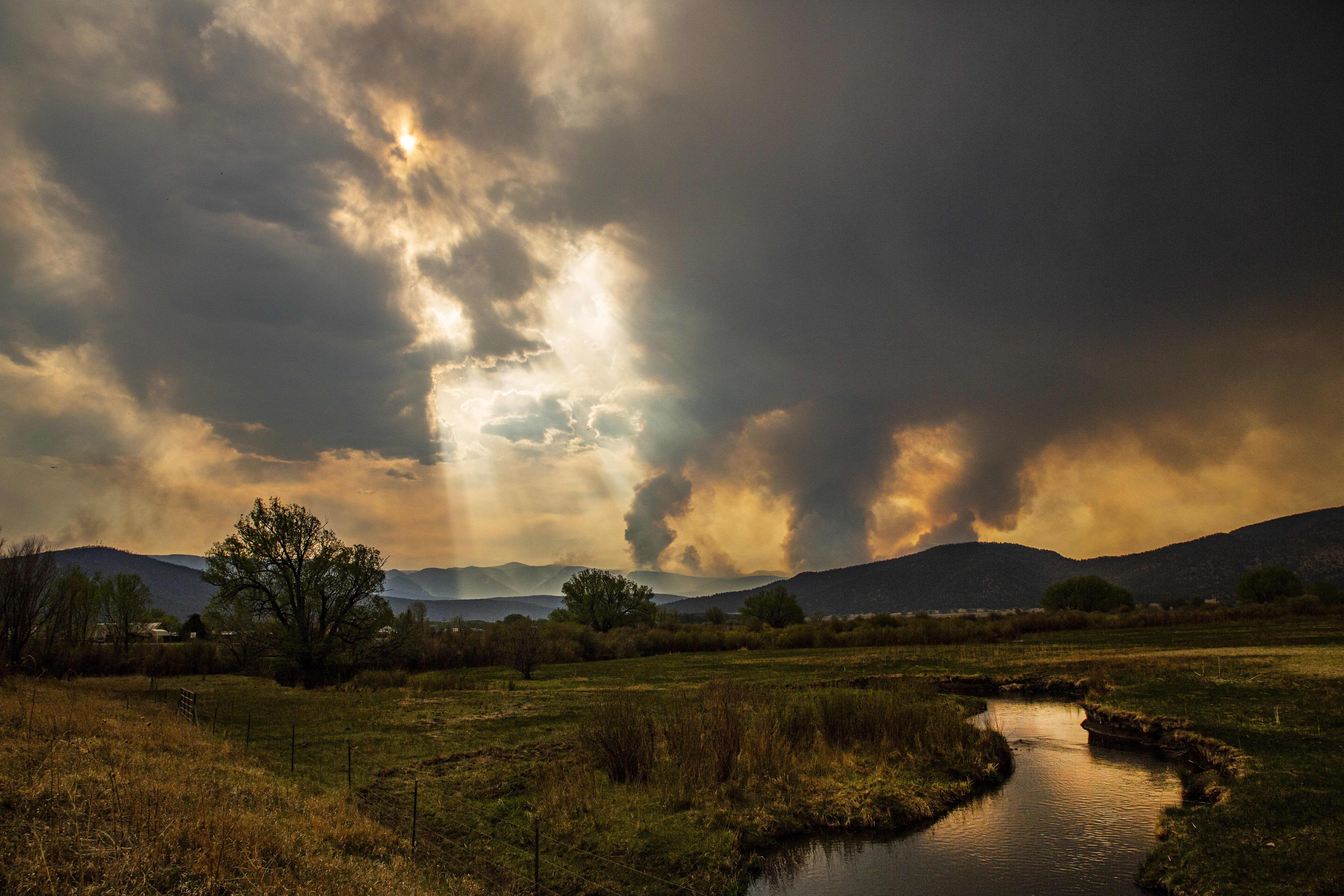 Eric Cousineau, Lines of Light, Eagle Creek just outside the town of Mora, Day 6, archival pigment print.
What is one of your favorite images in the series, and what's the story behind it?
Lines of light would have to be my favorite image of the series. We were heading to our second stop to deliver meals and as we were going down Highway 518 towards Mora I pointed out to Bryan that there were a couple very strong beams of light coming through holes in the clouds. He asked if I wanted to go to "the spot" about two miles up or stop where we were at. I just looked at him and pointed. So he gave it some gas and we went to one of the spots I had stopped at every single run for the past six days. When we rounded the bend and I could see everything happening I knew this was going to be my favorite image I made in the past six days. I had about a five minute time window before Bryan told me we needed to get moving so we weren't late with our delivery.
Read our previous interview with the artist on the Essential Worker Series.