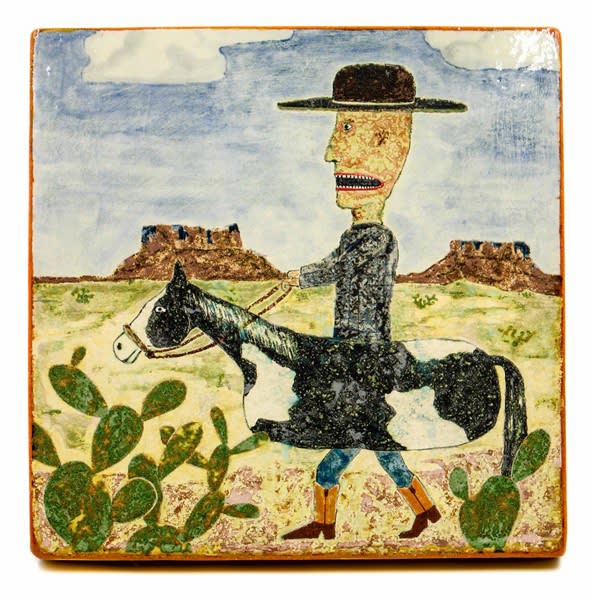 "Everybody that lives in New Mexico goes to Arizona every once in a while," says Wesley Anderegg. "That's the only reason Arizona exists, is to drive through to go to California." It's a particularly sacrilegious statement for a born-and-raised Arizonan, but Anderegg hasn't lived there for decades. He's also never directly revisited his wild childhood through his figurative ceramics—until now. "As you get older, you kind of get reminiscing," says the California-based artist. "It's like, oh man, I'm on the downslope these days. Time to look back." In a new series of diminutive ceramic tiles, Anderegg flattens his tragicomic sculptural figures with a playful nod to Pop Art paintings and comic book panels.
The painted compositions evoke Anderegg's experience growing up in the sun-drenched and lawless Sonoran Desert. Wesley Anderegg: ARIZONA debuts at form & concept on Friday, March 30 from 5 to 7 pm, with an artist talk on Saturday, March 31 from 2 to 3 pm.
As Anderegg tells it, his mosaical visual memoir started as a happy accident. "I had a bunch of these ceramic squares made, and they were just sitting there," he says. Anderegg is known for his sculptural depictions of somewhat impish figures who are often in comical conflict or cartoonish peril. He also has an ongoing series of figurative paintings on circular platters, but the fresh stack of ceramic tiles inspired him to play around with more complex 2D compositions. "I got this idea to make these markers of my time in Arizona, the dusty palette and everything," he says. "It's just memories of my childhood, all the crazy crap we used to do."
The works document all sorts delightful mischief: there's an inner tube voyage down a lazy river, and a romantic rendezvous in the bed of a pickup truck. Rakish cowboys sip cold cans of Coors, bug-eyed jackrabbits scurry across sizzling highways, and strangely human cacti flash spiny, gaping smiles. "You can see this evolution of techniques through the series," Anderegg says. "The first desert scenes were glazed, while the last ones are dry with a matte surface." It's as though the artist had to ease into this gritty universe of memories, slowly bringing the Arizona of his youth into focus. "One thing that's the same in all of them is the sky, which is glazed with these really cool blues," he says. "I had to get that desert sky just right."
Anderegg's tiles measure just under 12 x 12 inches each, and they'll span form & concept's stairwell and catwalk spaces for the solo exhibition. Though the series represents a new direction for the artist, form & concept director Frank Rose sees a clear link between old and new. "Every figure that Wes makes represents a little part of him and his story," Rose says. "Arizona is a more direct expression of that—even the desert creatures in the paintings have these bold personalities that evoke personal allegories." Anderegg recognizes the humor of mounting a show called ARIZONA one state to the east, but it's a simple matter of personal preference. "I thought about actually having it in Arizona, but I like you guys better," he says with a grin.