Inspired by her indigenous Mexican culture and research into Native American patterning, Houston-based ceramicist Gabriela "Gabo" Martini wields terracotta clay and vibrantly colored slips. Reminiscent of the Mexican towns and terrains where she spent her summers, each hand-carved piece—made with the sgraffito technique—evokes the artist's ongoing reconciliation of civilizations, languages, and generations.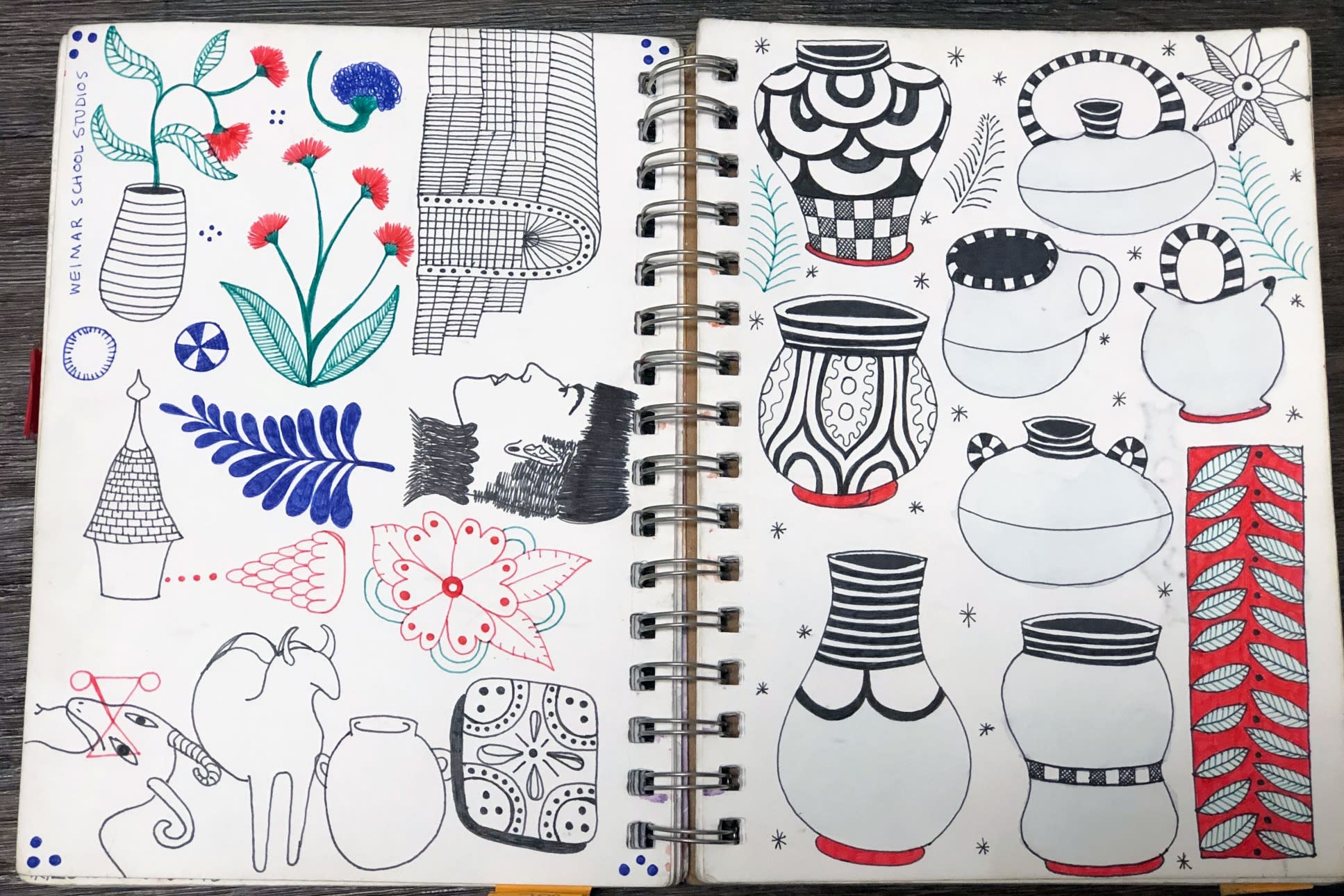 Gabo's work is new to the form & concept collection. Look below for more behind-the-scenes peeks at the artist's sketchbook, and then visit her artist page to see the finished works. Gabo answered three questions the early stages of her process and her sources of inspiration.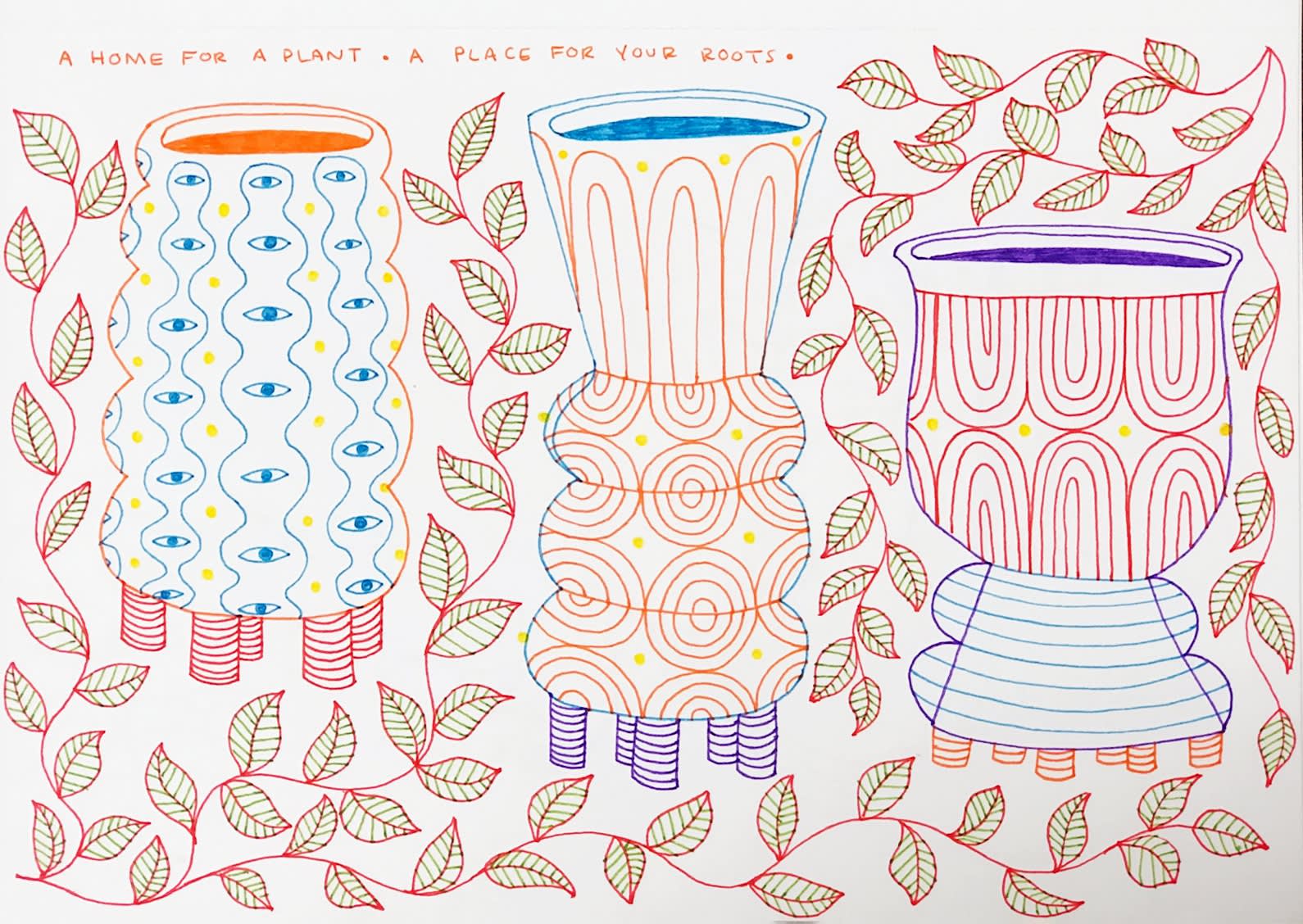 DESCRIBE YOUR DRAWING ROUTINE, AND HOW IT RELATES TO THE REST OF YOUR STUDIO PRACTICE.
I don't have much of a drawing routine, it's more like a spontaneous itch to draw that will suddenly happen. I enjoy ideas happening organically and I give myself room to draw anything no matter how unrealistic or weird it is. I always keep a sketchbook at hand and a felt pouch full of ball point pens of all different colors. I used to use pencil to draw guides so my pots wouldn't be so lopsided but I no longer seek to make perfect drawings and only use archival ink pens to draw now.
DRAWING ALLOWS YOU TO CONCEPTUALIZE PRETTY MUCH ANY FORM, BUT DO THINGS EVER GET TRICKY WHEN YOU'RE MOVING FROM THE PAGE TO CLAY?
I would say about 75% of my drawings never translate easily to clay, but I really enjoy that challenge. It's so interesting to figure out how to create something dimensional from a silly drawing. Sometimes when I'm just trying to figure out how to marry the surface design with the form, I do draw with the intention of making it easily translatable.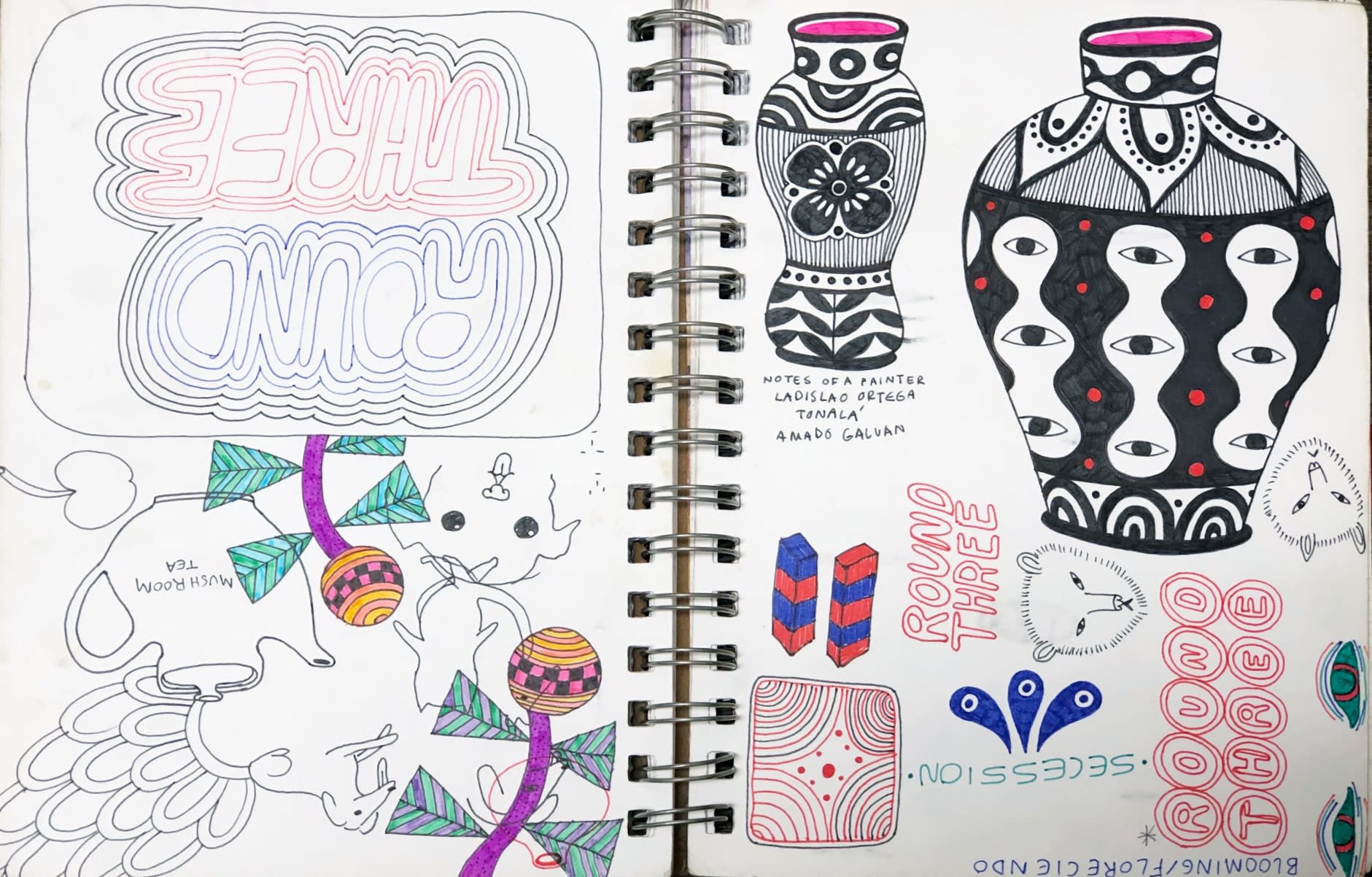 YOUR WORK EVOKES SO MANY HISTORIC MOVEMENTS, FROM MEXICAN MODERNISM TO PATTERN AND DECORATION. COULD YOU TALK A BIT ABOUT YOUR INFLUENCES?
I'm very influenced by the full forms of Native American pottery, especially the San Ildefonso potter Maria Martinez. Another source of inspiration is Pre-Columbian artifacts from museums. I enjoy going to museums and sketching these forms and designs, which then inspire a fusion between traditional and contemporary.
View Gabo Martini's artist page.