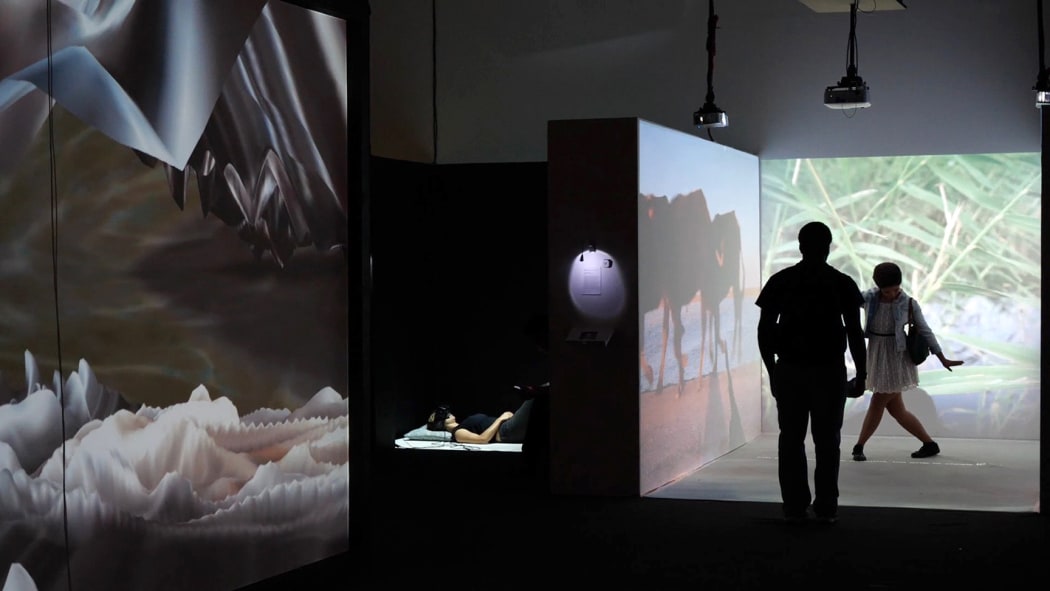 "We were quite excited, really," says Frank Ragano. That's how he and his partner, Mariannah Amster, responded to the challenges of hosting an international new media festival in the midst of a pandemic. The duo launched the CURRENTS New Media Festival in 2010, so this would have been the tenth year of the Santa Fe-based summer showcase. Instead, the CURRENTS team was forced to move the show completely online.
As new media curators and artists, they were perfectly suited to the blend of innovation and flexibility that the Covid-19 era has required. Read our interview with Frank and Mariannah below to learn more about the past, present and technicolor future of CURRENTS.
This spotlight is part of our Partners in Art series, designed to support arts organizations in the midst of the Covid-19 crisis. As part of the program, CURRENTS is offering a selection of artworks by Anne Farrell, which are currently on view in their Canyon Road project space. All proceeds go to the artist and CURRENTS, so please consider acquiring a piece if you're able. You can also help them out by donating directly to the project.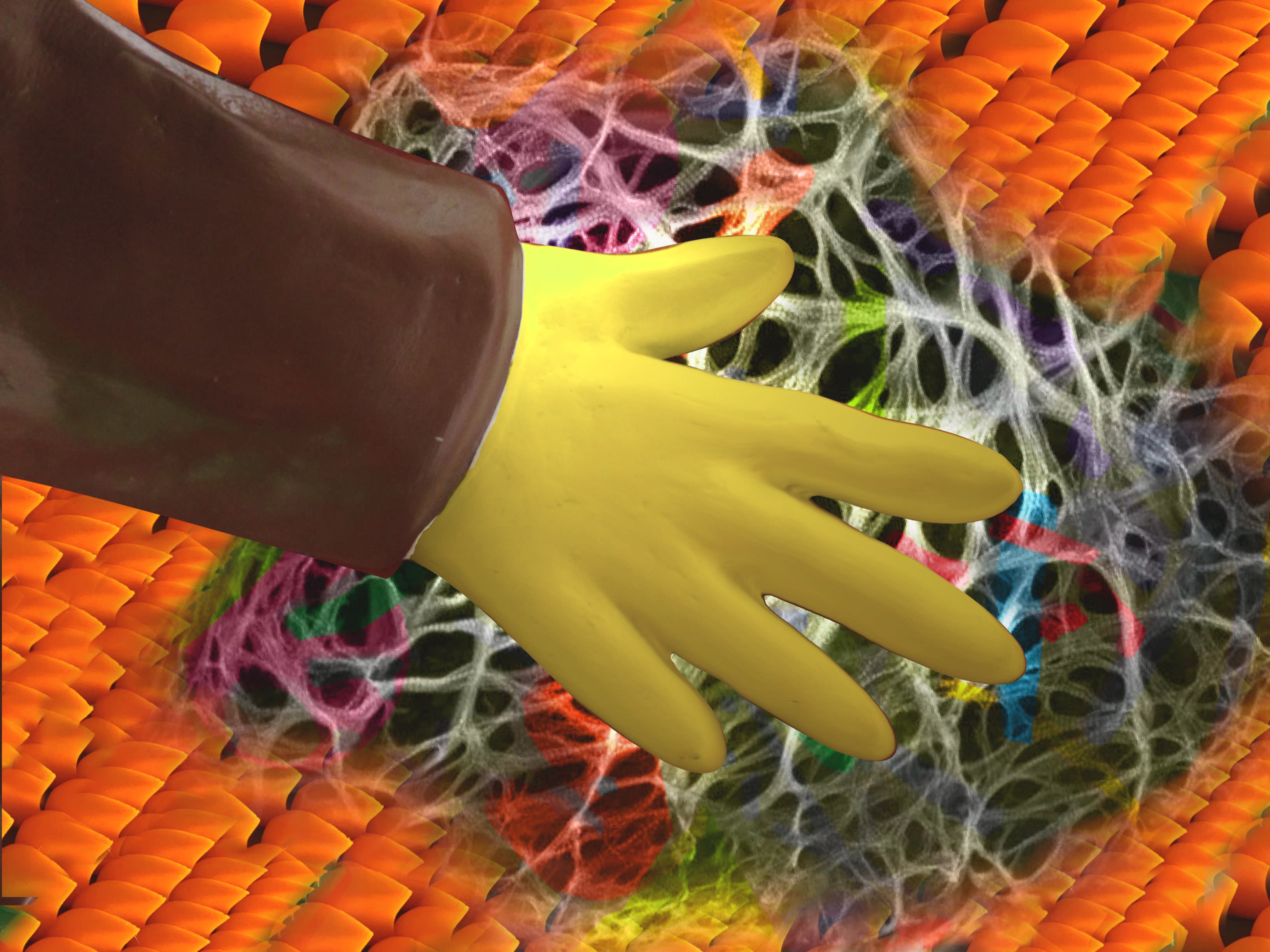 Anne Farrell, Blue Hand 10, currently on view at CURRENTS 826.
What was your initial reaction to the prospect of holding CURRENTS during a pandemic, and how did the event evolve and take shape?
Mariannah Amster: We went into brainstorming mode. Of course initially we weren't clear if by June things would have lifted enough to allow us to proceed as normal. But it became clear pretty quickly that if, wherever, and whenever the festival was to take place we would be creating a totally different experience for the audience and the artists. Both Frank and I love a creative challenge.
Frank Ragano: We were quite excited, really. We thought, well, this'll be a really interesting experiment.
MA: We tried out a few different approaches. Different venues, different dates, different floor plans and traffic flows that would allow us to create a safe environment.
FR: Finally, we said "Let's go virtual." We had already in a way been prepping for it, because in June we started the idea of creating what became the virtual reality platform. We had a lot of different content for a virtual festival.
MA: We and our staff moved into the task of creating our first 100% online festival, which meant building a new website, selecting work from artists who had applied for 2020 or who had worked with us in the past, who had work that would translate well to an online environment. The biggest challenge was working to find ways to make the website an experience space that inspired exploration. (In six weeks.)
FR: We started lining up performances, desktop experiences that people could visit, videos that we could show, talks and panels. For me, the VR platform, where people could have their headset from home, or on a desktop version, was quite exciting. I feel like we learned a lot, and I feel very happy with the outcome.
Anne Farrell, Cave Relic, currently on view at CURRENTS 826.
I'm so fascinated by your approach to measuring attendance, wherein virtual clicks around the site became your "walk-in traffic." Was it inspiring to see your international audience unite online?
FR: It's odd because we're used to being at the festival and seeing people walk in, being able to talk to them. This year it was a removed kind of feeling. With analytics, you can see that people are there, and you can see where they are on the site. I could see that there was somebody there from Romania who had been on the site for like 25 minutes. That's really cool.
MA: I can be obsessive, so I have to admit I spent a good deal of time watching the real time counts of folks entering and leaving the website. It didn't take the place, however, of being able to welcome folks into the physical festival. It was exciting to know the online festival had the capacity to reach people who lived in all parts of the world and share what new media artists are doing with folks who might never be able to travel to Santa Fe or have the opportunity to see this kind of work in their home environments. CURRENTSVIRTUAL had over 6,000 visitors to the site from 95 countries and every state in the US – of course with varying levels of engagement.
FR: We'd say, "How did this one person in this country happen to stumble across this? Here they are!"
CURRENTS seems uniquely positioned to adapt in this way, and to continue to grow in this direction even after the pandemic settles down. Could you talk about future plans for CURRENTS in this vein?
FR: In the future, I hope that we can have a physical festival. But I think we'll always have a virtual component. We're continuing the VR platform, so that will be an ongoing and revolving exhibition. We'll continue to have live streaming performances, presentations and talks from around the world.
MA: We love the fact that we can reach new audiences with the online festival and embrace the challenge of using technology to create a vibrant human experience. We're holding on to the hope that we will be able to launch an on-site festival in 2021, but the online festival will continue as an ongoing element of CURRENTS one way or the other.
FR: I can see us doing a whole virtual conference, because you can gather people from all around the world. Talk about savings, especially when there's a big funding crunch coming up.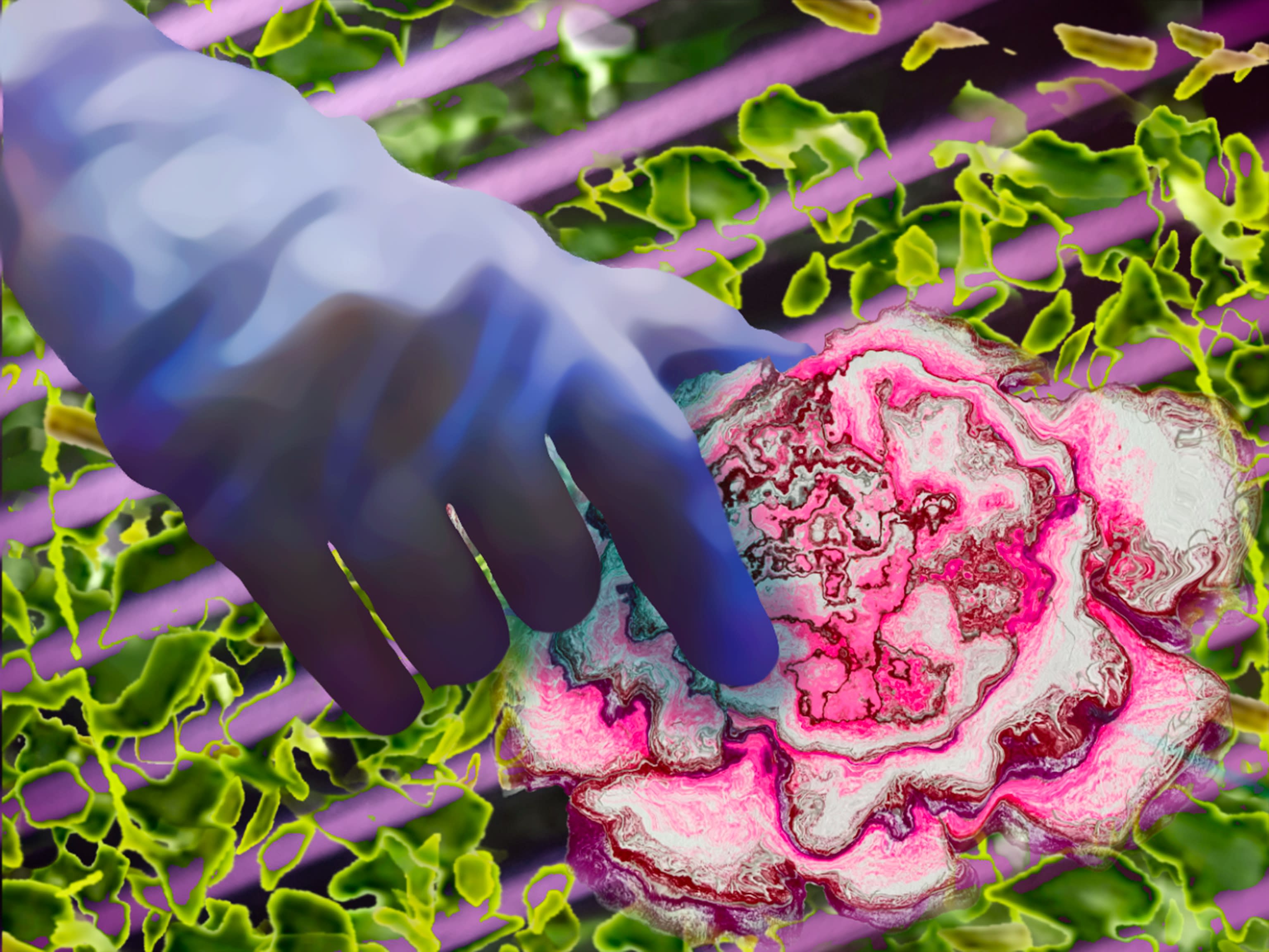 Anne Farrell, BLUE HAND 04c, currently on view at CURRENTS 826.
CURRENTS weathered the last recession and was able to find funding sources. What are some things you learned from that experience that may help during the current economic downturn? How does this moment feel similar or different?
MA: For me there is a lot more uncertainty this time around. It's unclear if or when the funding we normally receive from the city, county, state, and federal government will return to previous levels. There are so many human needs and challenges that the pandemic has created or revealed that deserve to be priorities. Reaching out for new funders seems daunting right now, but of course we're doing it.
FR: The last recession and this one are really two different situations. That longer-term recovery didn't have nearly as immediate of a devastating effect on city, state and federal funding opportunities. It didn't wipe them out. This kind of wiped them out. Gross receipts tax went away, lodger's tax went away. This is a totally different environment. But one of my philosophies in life is to follow the problem. That's not to minimize the effect on our population, but I feel that this is an opportunity to move in a different direction, to explore new possibilities.
MA: However, as with the recession, we have loyal foundations and individuals that have supported us through several crises and who also believe that the arts are essential, at moments like this, to keep the human spirit filled with a sense of possibility.
FR: The arts are such a vitalizing and important part of human experience. For me, it seems like people could really use some uplifting.
Anne Farrell, CREATURE, currently on view at CURRENTS 826.
CURRENTS 826, your Canyon Road project space, is a totally different endeavor from the festival. How are you approaching your physical exhibition program on a famous art street that depends on walk-in traffic? What's ahead?
MA: CURRENTS 826 is really an anomaly in the gallery universe. 826 is as much an experience space as an exhibition space. As with the festival, we do not rely on sales to keep us going, though we are happy to make them. Thanks to a generous donor, we pay very little for the use of our lovely building.
FR: In terms of what's ahead, we just opened a show by Anne Farrell. Then we're opening a window show in December. We're using mostly local artists for that one, to keep things simple and cut down on costs.
MA: We are committed to showing local artists, as well as bringing in a type of work that will not be seen elsewhere in Santa Fe. We aim to provide the public with a unique view of the arts in the 21st century, a view that embraces risk taking and innovation, while still speaking to the emotional, beauty loving, playful nature of humans.
FR: Anne's show is really exciting. Nobody else does anything quite like she does, and her imagination is just incredible.
MA: [826] will continue with our usual schedule - 3 to 4 rotating shows a year. With Covid safe practices in place, we will be welcoming visitors 4 at a time.
In a moment where it often feels like technology is turning on us, why is CURRENTS an important project for fostering a sense of possibility and hope for the future?
MA: Well, I'm not exactly sure what you mean by technology turning on us. It is not the technology but how it's used and who is using it.
FR: Technology is not going away, unless society collapses. There's always going to be bad players that are going to use anything for evil. The hope is that the good players outnumber the bad players
MA: I see CURRENTS' role in several ways – to present excellent, innovative, sometimes challenging work in an environment that is welcoming to the general public, supportive to artists, and to stay committed to creating affordable access and an empowering and enjoyable work environment for staff, volunteers, artists, and interns.
FR: I feel like the work that we present is very enlivening, invigorating, hopeful. When people come out of a CURRENTS show. When I come out of any show, the way that I gauge success is if I feel inspired, with new ideas, feeling more alive than when I went in a show. A good majority of the people who visit CURRENTS feel like that when they leave a show.
MA: I don't believe that art itself can change the world. It can, however, impact individuals. It can cultivate a sense of openness that nurtures in all of us a willingness to explore and keep an open mind, that can transfer to how we view the world around us. Personally, I believe that it's not necessarily the work, but an artist's willingness to take the risk of making the work, to venture into unexplored territory that speaks to the future.
FR: I think the art is at least 50% of the power of CURRENTS, and the other 50% of it is the people and the people coming together. One of the things that is really special about digital art is that it's extremely collaborative. There's that sense of open source and sharing, and part of that is because it hasn't become totally commodified. For me, it's as much about the people as the art. People doesn't just mean the artists - it's also the visitors. It's all kinds of people.

Explore artworks from CURRENTS.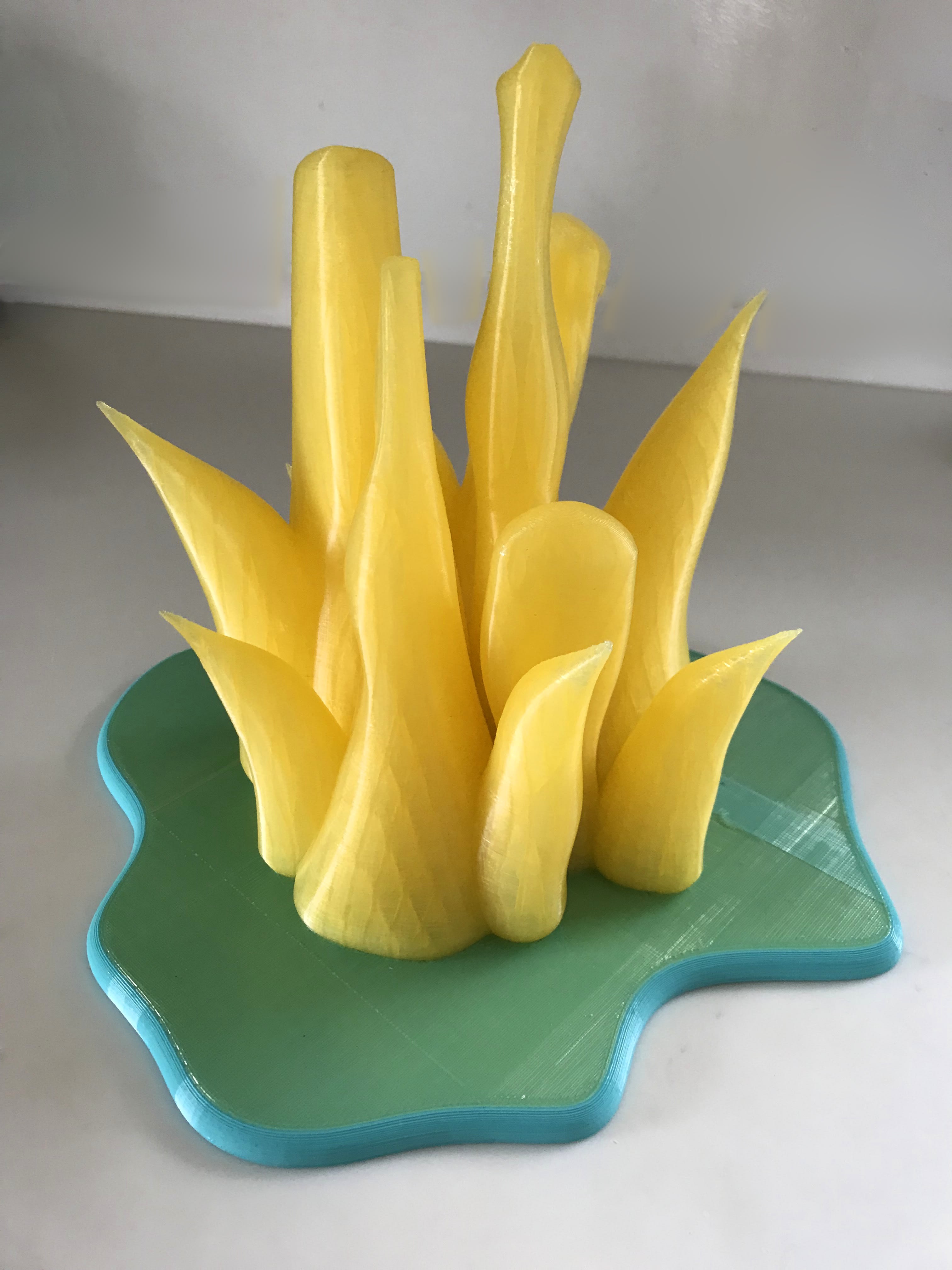 Anne Farrell, Conglomerate, currently on view at CURRENTS 826.