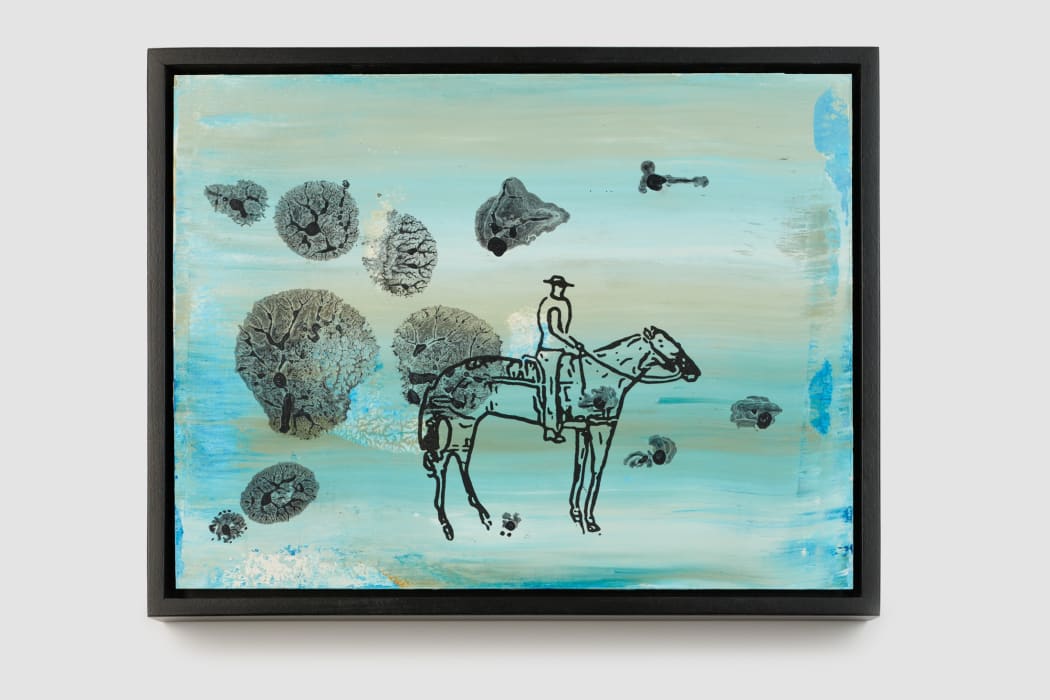 New Mexico-based artist Holly Roberts, b. 1951, forges intriguing links between intuition and intention in her blend of found imagery, original photography and painting. Through her painted embellishment of photographic work (and, in turn, photographic additions to acrylic and oil paintings), Roberts beckons viewers to an intersection of the eye and hand. She challenges us to deeply examine the earth's inhabitants—both human and animal—from her singular viewpoint.
In this interview, Holly discusses her lifelong connection to horses, similarities between horseback riding and art making, and how her creative process has evolved recently. Throughout the conversation, you'll see new artworks that are available now at form & concept. View Holly's artist page to browse all of her work.
Holly Roberts, Awkward Rider, 2018, mixed-media, 24 x 36 in.
You grew up on a vast tract of land just outside of Santa Fe. How did the culture of 1950's Santa Fe shape you?
Santa Fe in the 50's, was an open, generous place for a kid to learn about taking care of each other. It was a good place to grow up. My stepfather was an artist, and he'd have openings on Canyon Road. So I grew up thinking being an artist was normal. It wasn't anything that was weird or rarified. I loved going to shows at the fine art museum, especially the shows that had pictures with horses in them.
I had an art practice—I was a kid that did art. I could do the best horses in the third grade so I had a strong identity as an artist, and I always went there. That was my safe and happy place, and it's what naturally led me to my career in art.
Another childhood hobby of yours was horseback riding. You'd go on these long, solitary rides through the high desert. Tell me about the horses you've known.
My first horse was named Rio Grande. My mom had purchased a property outside of Santa Fe in Arroyo Hondo so we could actually have horses. When I was four, I traded my baby bottle for a pair of cowboy boots, and I started riding lessons about that time.
As I got to be a better rider, I got better horses. I probably had 4 or 5 horses growing up. Then my husband and I ended up living on the Zuni Indian Reservation, where he worked as a doctor and I did my art. I bought a horse during the 8 years we were there and it was fantastic. You could just ride forever, through thousands of acres of beautiful high desert. That was the last time I owned a horse.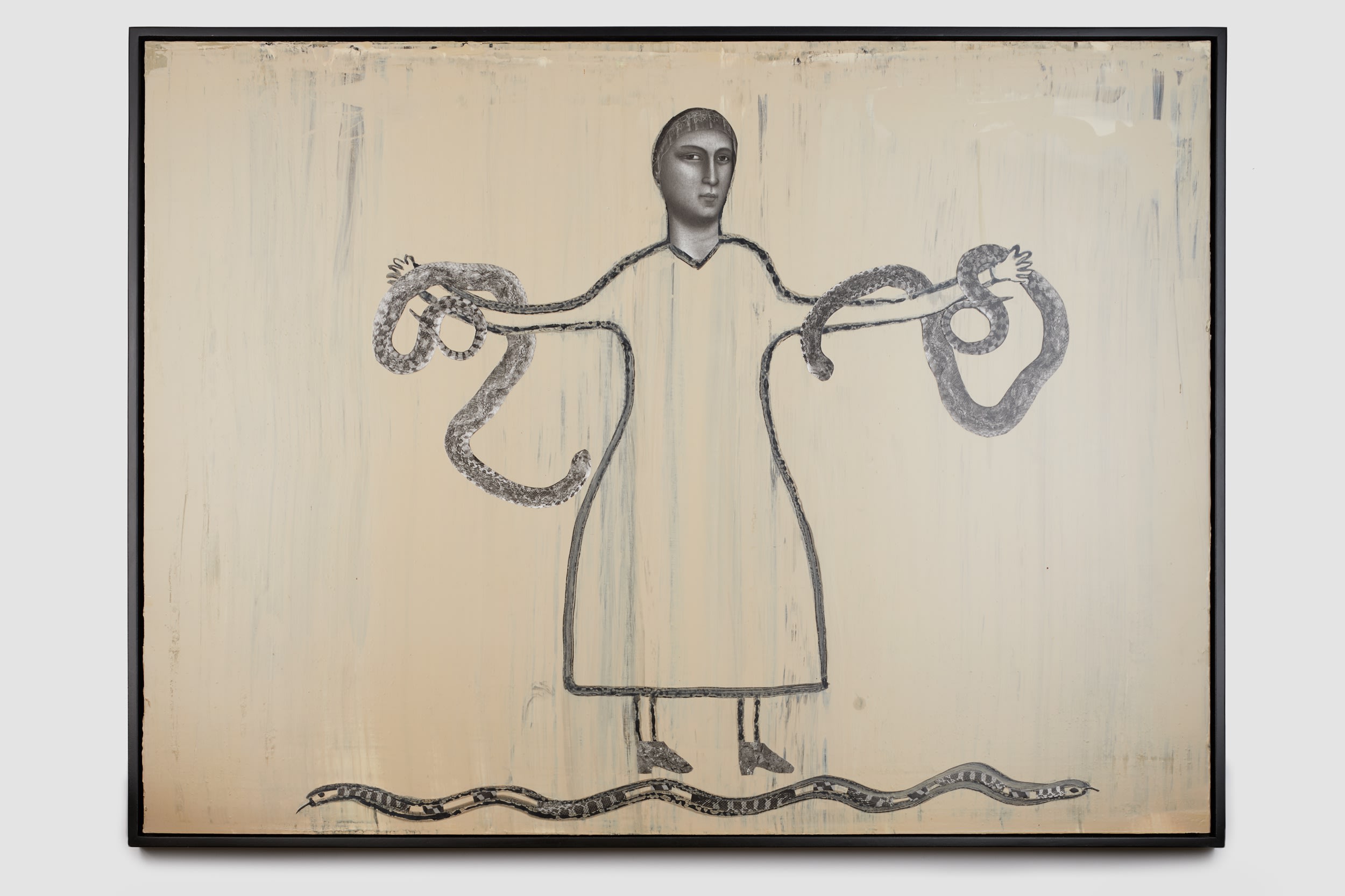 Holly Roberts, Snake Handler, 2016, Mixed-media, 29.5 x 40 in.
What happened after that?
When my daughters were little we moved to Chicago for a year so my husband could do postdoc study and I had to sell my horse. When we returned, I thought my daughters would be horse-crazed girls, but no, no horses for them. I tried to get them interested, but it just never hit and I was too busy with my career and raising them to be able to have the time for another horse.
My oldest daughter is now 33, so that would be about 28 years since I'd really been with horses. When the pandemic hit, I had a number of shows and teaching gigs that were canceled. I stopped making art for a couple of months, and during that time I connected with a woman who needed her horse ridden. It was something I could do safely outside, and it really kept me sane during those first awful months of the pandemic. I started riding a few times a week, and also teaching his owner to ride. The world was falling apart, and I had this thing where I just had to be fully present.
What a full circle moment! Are there similarities between your riding practice and your art practice?
When you're with this animal, you don't know what's going on in his brain. They are sentient beings and very intelligent, but not like dogs, and they are big and can be very dangerous, so you have to stay present, all the time. The horse I ride, Stormy, is a young guy, really just a teenager with a teenage brain so he can do goofy stuff and put us in danger, so I can't not pay attention all the time.
But still, working with a horse is about touching, communicating, responding to, being responded to. You're out there looking around at the rabbits and the chamisa and the wind and the sun. It really is this multi-sensory experience, and you're sort of doing it unconsciously. I think that's the same way with art, you're connecting to something else, unknown, and other than yourself, and letting it take over.
Holly Roberts, Man with Small Man Inside (Red Lips), 2017, Mixed-media, 10 x 8 in.
You've stated that the core of your practice is about exploring personal and collective concerns—everything from daily anxieties to the degradation of the environment. When there's so much chaos in the world, does it become difficult to also channel that in your work?
This is less common now, but when I was younger I would often be a mess when I arrived in my studio to work for the day. I'd flop around, being emotional, depressed, anxious, but the minute I hooked into that art making space inside me all of that stuff just disappeared-poof, gone! It's always been my way of going to a better place, keeping me present, and sane.
I don't know what I'm going to make when I start a piece, I don't know what's in there until it makes an appearance. There's this persona inside me that's so much smarter and better than the regular Holly and I really have to listen to her. If I ignore that creative voice, the next thing I know is I'll be doing Hallmark Cards.
In regular times, you're a prolific teacher of art workshops in all corners of the country. How does your own artistic process influence your teaching methods?
When I teach, I'm half therapist and half art teacher. I have this ability to morph with a person that I'm working with. I can sense where they're struggling to go, and I can give them these little pushes to get there. I love that I'm in charge of the group, and that we can have fun, but at the same time it may end up being some of the hardest work they've ever done.
Holly Roberts, Bucking Broncos, 2019, Mixed-media, 21 x 31 in.
It seems like that your dynamic approach to teaching is nearly impossible in a Zoom format. Has that been frustrating?
Last year, I taught 8 or 9 workshops, and I think I was burning out. So it felt okay to slow down this year, and Zoom classes seemed out of the question because of needing that physical proximity to really be effective. I miss it, though. I love having those students in my life.
You're also a notorious blogger, which wasn't hindered at all by the pandemic. How long have you been art blogging?
A long time, I want to say 6 or 7 years. When I first started doing it, it was such a big realization that I could reach people beyond what a show in a gallery can do. A gallery show is only up for a few months. The blog was a way for people to respond to me, and provide immediate feedback. Remember, with a show it's only if you sell something that you feel approval. It's really good to talk about what went into the pieces, what their meaning is to me. I think it keeps me on track. It makes me think about what I'm doing, where I am with my artwork and life right now.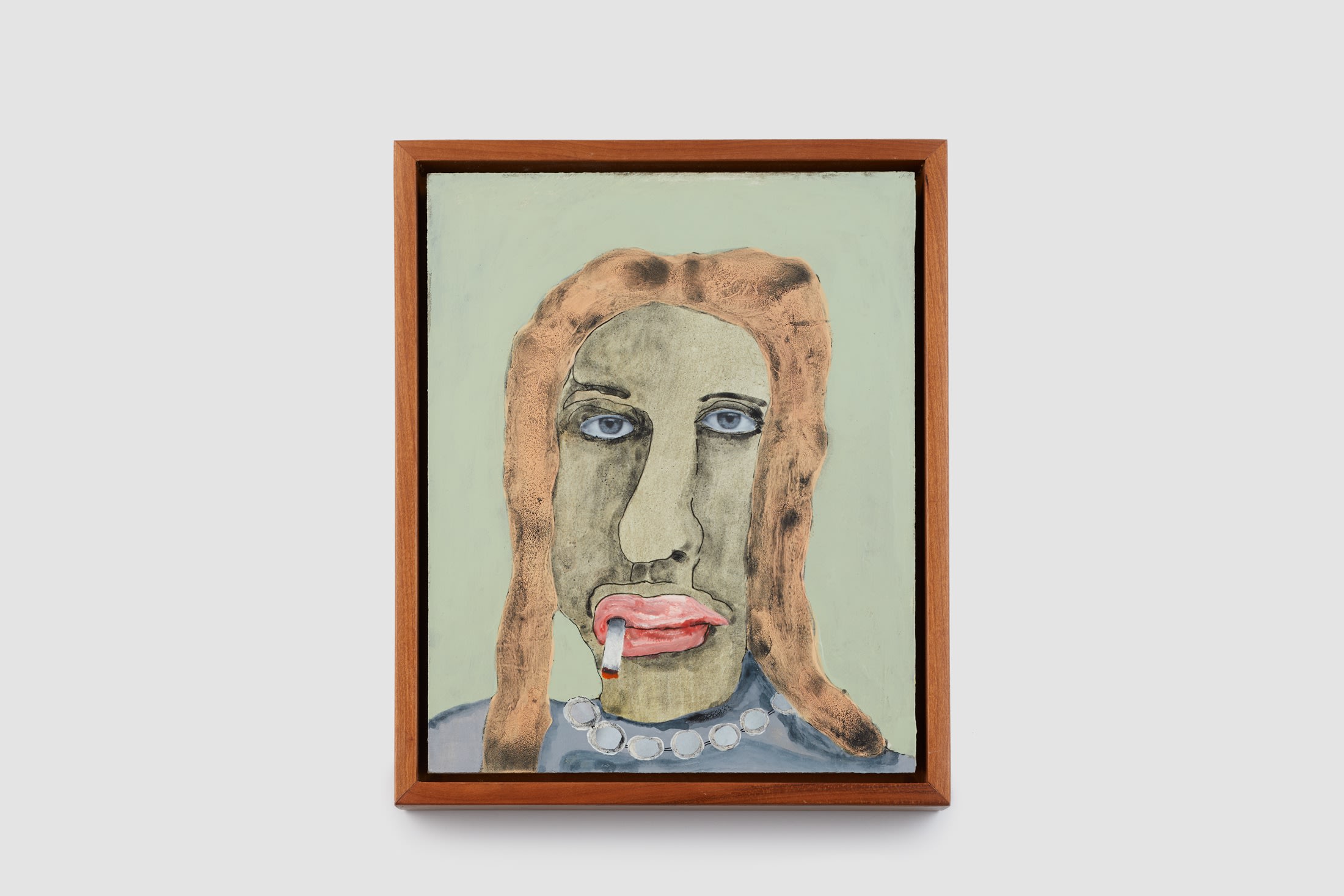 Holly Roberts, Woman with Pearls and Cigarette, 2019, Mixed-media, 8 x 10 in.
And where are you with your artwork right now?
It's interesting, because I'm in a transition stage. Before, the paint always led me. I'd start with a painting and then add collage. This most recent body of work, I build the collage first and then came back in with oil paint. When I lay out the collage now, there's no paint to guide it. It's just the white background, so the collage has to guide me. Then I'll come back in and paint in the background. I have about 6 to 10 hours to work with the oil paint, because once it dries, I don't like to go in there again.
Painting, for me, is like that fairytale of the girl with the red shoes. She wants to dance and she gets these magical red dancing shoes, and then she can't stop dancing and they have to cut her feet off. I'm like that with painting. Once I get going, I just can't stop.
You collage all sorts of fragments together, from cutouts of your own photographs to images that you stumble upon online. How would you characterize the dynamic between serendipity and control in your compositions?
It's really a matter of what I can get away with? I've got this thing and I've got that thing. Sometimes it's just too much, I have a studio full of so much stuff. And as well, I'm printing more images out on my printer, to have more backgrounds and images. You have to have things to guide you, but at the same time you want to play into the chance of it.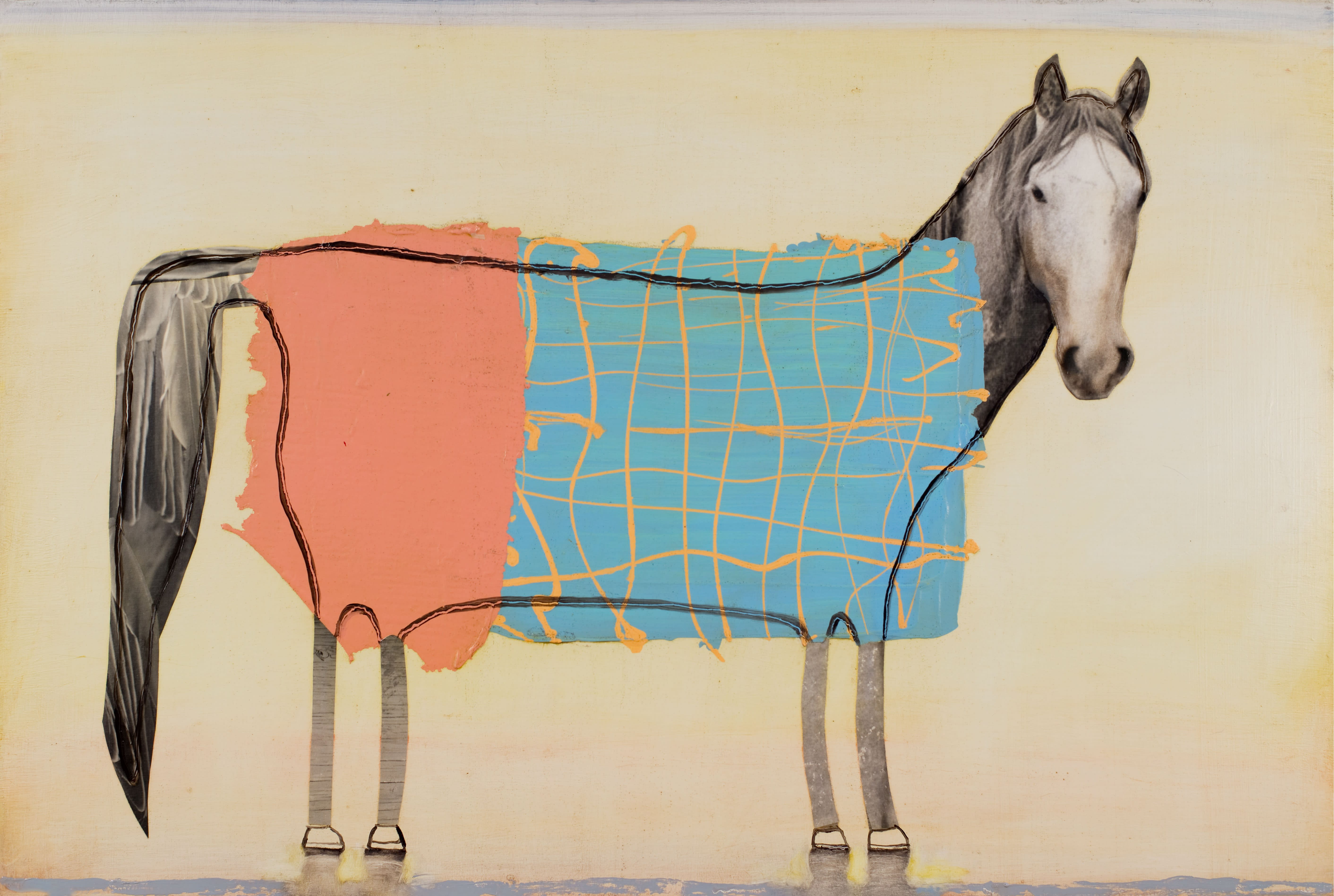 Holly Roberts, Painted Horse, 2020, Mixed-media, 36 x 24 in.
What are some of your favorite pieces that you've made recently?
I really like Painted Horse. Its complicated technically, so that was fun challenging figuring it out, and it really personifies the personality of this horse I've been riding lately: Big, sweet, and slightly goofy. Rabbit Walking was a surprise for me, since I don't really do rabbits. In working it out I came up with a new way to apply the oil paint in the background which I think is really lovely, plus it's a partial self portrait of me(my legs and torso), so I liked this new persona that appeared.
Do friends and family often make cameos in your work?
Yes! You have to be careful what you tell me, because there you'll be.
What are you envisioning next, as this crazy year comes to an end and you look forward to 2021?
Every painting I start I want to be the best I've ever done, and I want it to be seen. I'm hoping that form & concept will be a part of that story.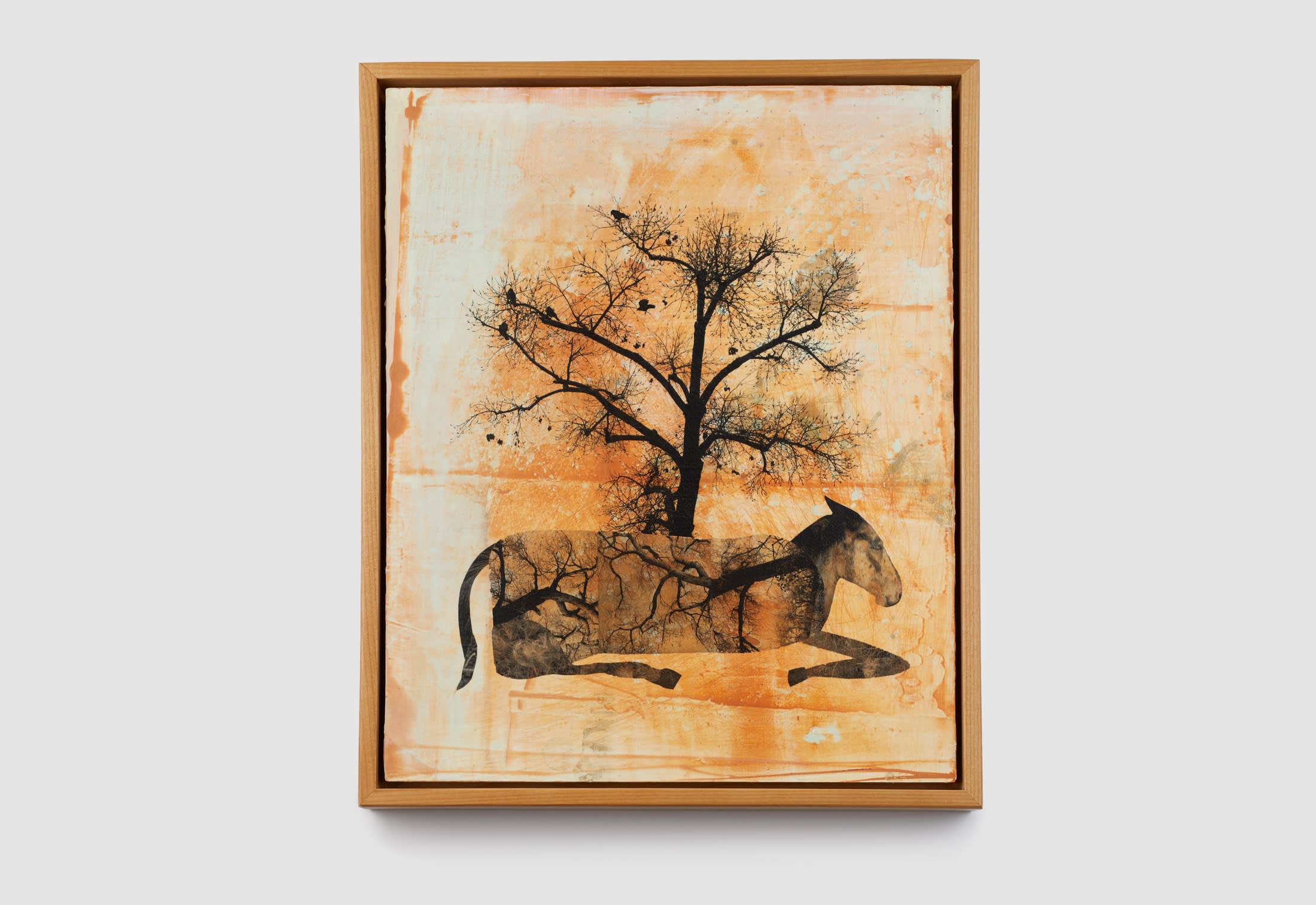 Holly Roberts, Horse Resting, 2019, Mixed-media, 12 x 15 in.