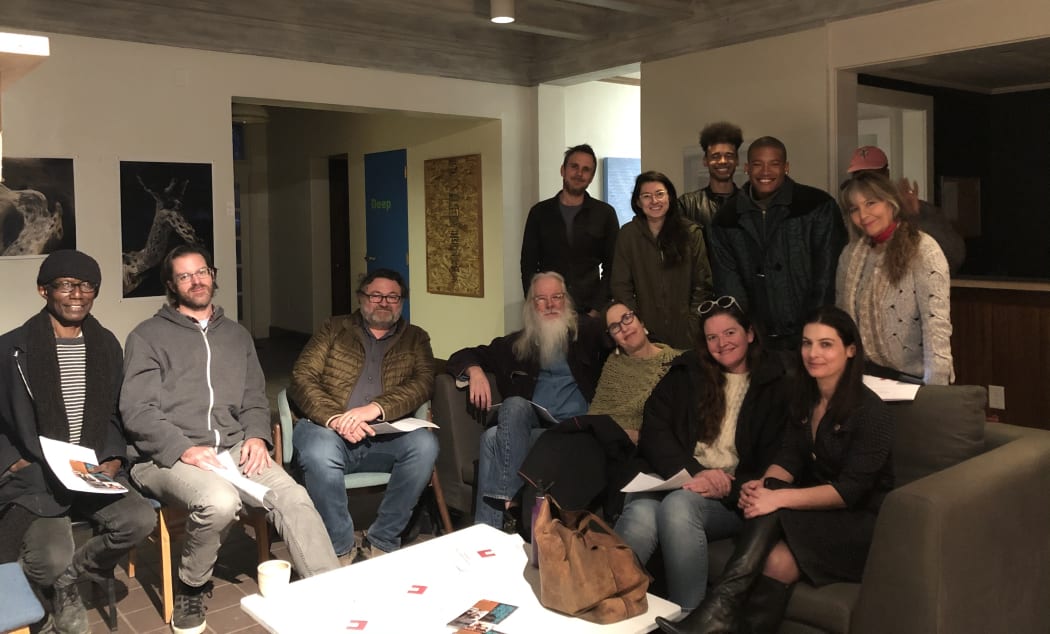 "Things can be back to normal, or we can map out an entirely new future," says Raashan Ahmad, co-executive director of Vital Spaces. "We never would have thought about this unless we were in this scenario."
Ahmad and his fellow co-executive director Hannah Yohalem took the helm of the nonprofit in September 2020, not long before the onset of the Covid-19 crisis. The central mission of Vital Spaces is to create affordable studio and exhibition spaces for artists in Santa Fe, but the pandemic inspired a period of rapid evolution for the organization. Ahmad and Yohalem discuss their holistic approach to supporting artists and the arts community in the following interview.
This spotlight is part of our Partners in Art series, designed to support arts organizations in the midst of the Covid-19 crisis. Work by artists and writers who maintain studios through Vital Spaces are featured throughout the conversation, and all proceeds from sales go directly to them. You can also help out by donating directly to Vital Spaces, dropping off art supplies at their Community Art Closet, or chipping in to their Power to the People utilities fund.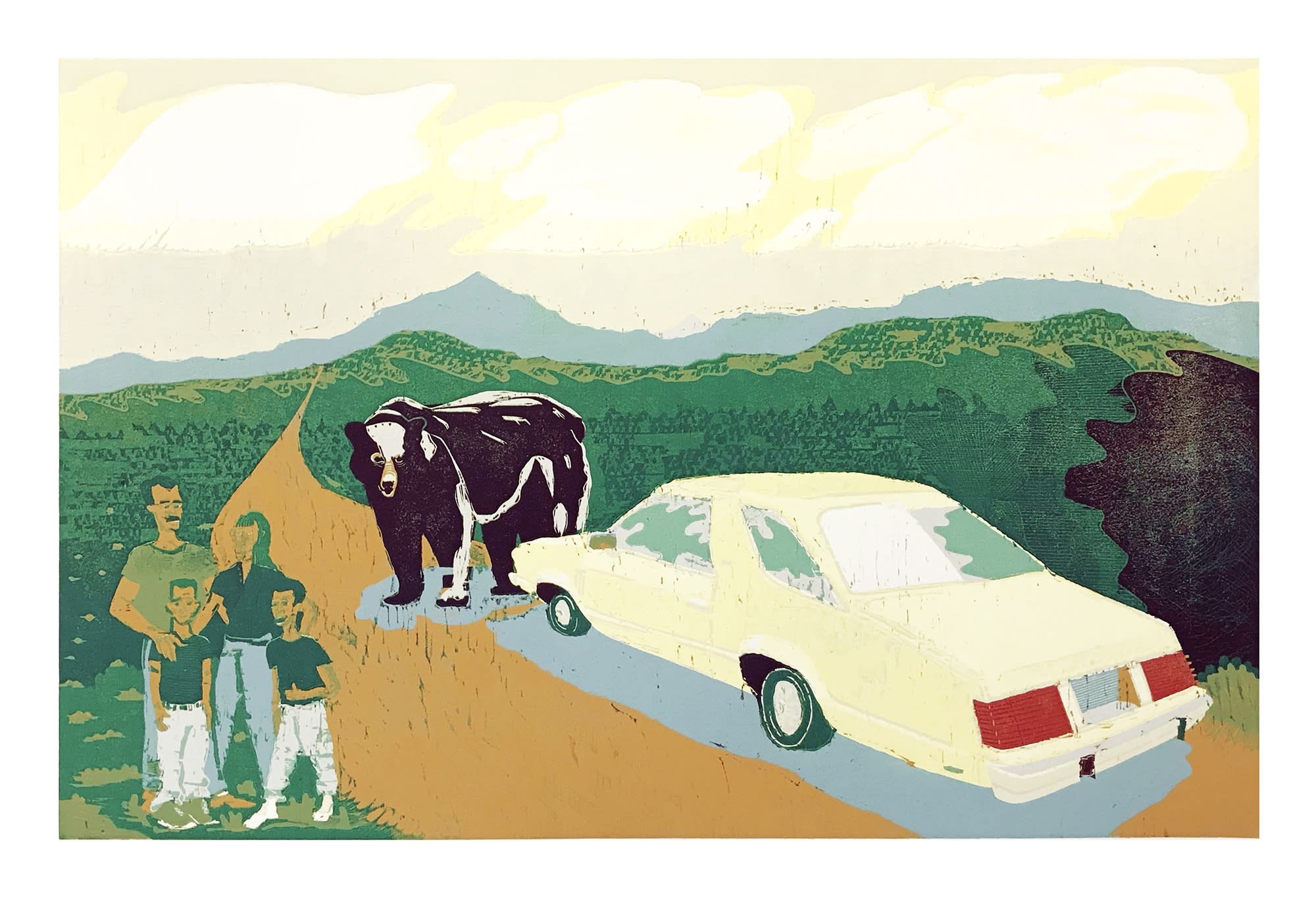 Enrique Figueredo, América, 1986, 2019, color reduction woodcut, 22 x 30 in, edition of 5
When and how did you become co-executive directors of Vital Spaces?
Hannah Yohalem: We became co-executive directors in September, so fairly recently. I had been the program director, and Raashan had a studio through Vital Spaces, so we'd been talking about all sorts of things already. He was thinking about joining the board before he started in this role. [Vital Spaces Founder & Board President] Jonathan [Boyd] and I had also been talking about how just giving people space wasn't enough. When Raashan came on, we decided that we were going to actualize it.
Raashan Ahmad: We were interested in so many things outside of just providing a space. Sometimes it might look like we're doing a whole bunch of different things that don't fit together, but I think the root of everything we do is making a collaborative, creative community and boosting underrepresented art forms in Santa Fe.
HY: Raashan and I felt like cultivating those relationships and building those bridges is as important as finding the spaces.
It really is a much broader charter than just providing affordable studio and exhibition space for artists, which was the starting point for Vital Spaces. Was that expanded mission based on what you were hearing from artists?
RA:When people apply for space, the thing they say over and over again is, "I just want to be part of a community." That's the tie-in for this bigger vision that we want to share, and it involves all sorts of different programs. There's room to do so many things.
THE MULTI-PRONGED MISSION STATEMENT ON YOUR WEBSITE CERTAINLY REFLECTS THAT! WHAT WAS YOUR EXPERIENCE OF WEAVING TOGETHER A STATEMENT FOR SUCH A PLURALISTIC PROJECT?
HY: We rewrote the statement over the summer as Jonathan, the board, and I were grappling with how to articulate the more expanded mission that Raashan and I are really working on enacting now. Every time I'm asked what Vital Spaces is, it does feel like the answer needs a whole page. Raashan and I are continuing to work on how to more succinctly describe what we're doing.
RA: I don't think there's another organization that we can base ourselves on at this point. We're good at pivoting. We're just wrapping up a project to pay peoples' utility bills.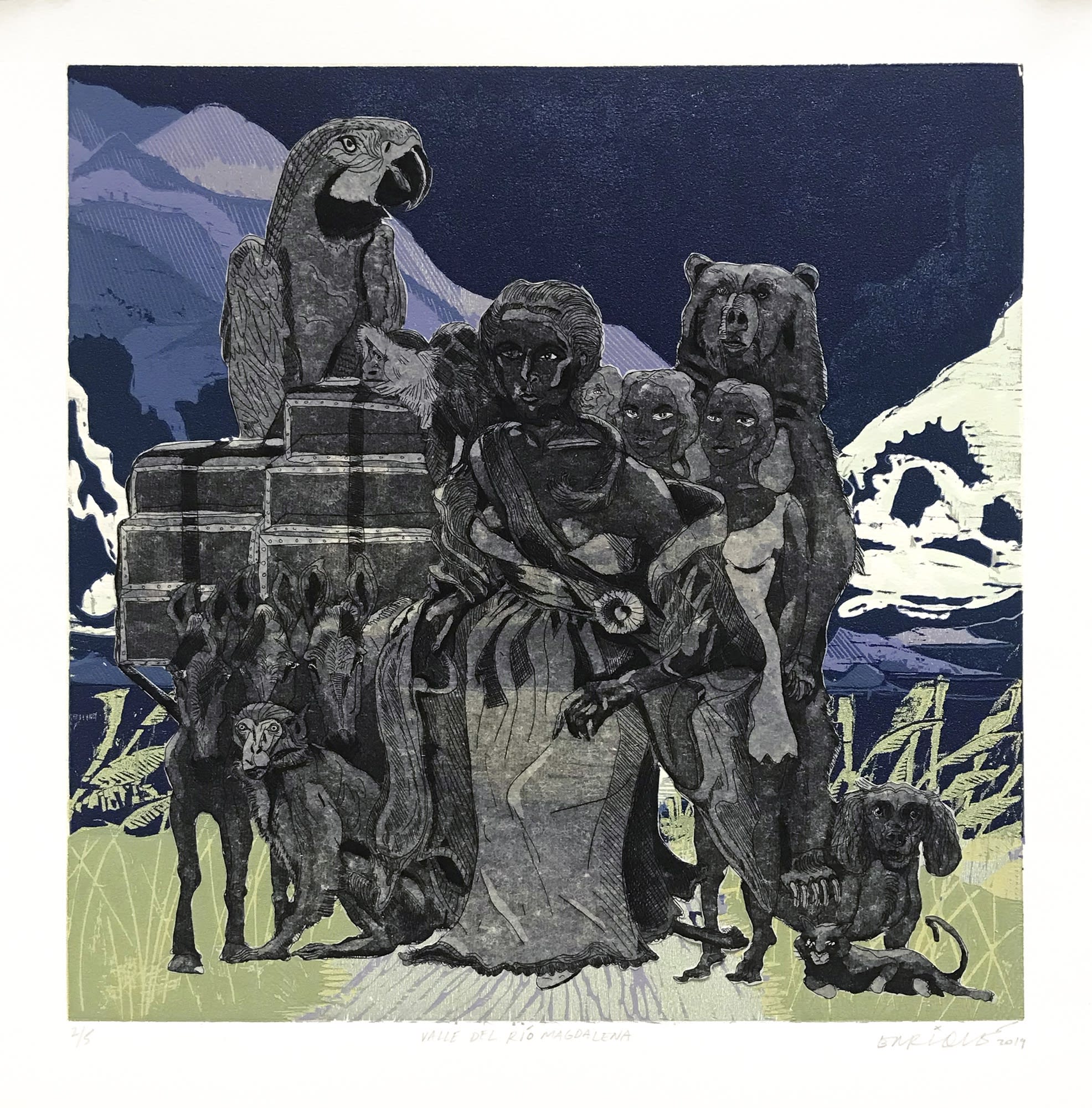 Enrique Figueredo, Valle del Rio Magdalena, 2019, color reduction woodcut, intaglio, chine-collé, 17 x 16 in
edition of 5
That's a good example of your holistic approach to artist support. It might seem like "everything but the kitchen sink," but it's hard to hack it as an artist in so many ways, especially in a really segregated city with a high cost of living.
HY: In terms of the "kitchen sink" idea, for any project we ask, "Is this going to support the creative community overall?" Even if it doesn't directly relate to the arts, it can still make an impact among local artists.
RA: The intersection of all of it is the beautiful thing that I love about art in general. It's the bringing together of different people under a common umbrella. The city is really siloed, and there's such a competitive art market. If you could connect the musicians with the painters, what sort of community and movement would be possible? For both of us, it's clear how these things could connect. This would benefit that… it makes perfect sense.
ON THE FLIP SIDE OF THAT MULTIFACETED APPROACH, JUST PROVIDING AFFORDABLE STUDIO OR EXHIBITION SPACE AND THEN TRACKING THE RIPPLE EFFECT CAN BE A REALLY POWERFUL THING. IN OTHER WORDS, YOU DON'T HAVE TO DO EVERYTHING.
HY: Yes, absolutely. That's why affordable space is still at the core of what we do. For our exhibition programming in our gallery, we tend to have a very hands-off approach. We post openings in the local calendars, we do some social media promotion, but it really is the artist's show.
RA: We're in this position where we're not a gallery, or a museum, or a school. We're figuring out how we can use our platform to bring different parts of the town, different mediums of art into these spaces. I'm a musician and I secretly gather a bunch of people under the guise of music. You like Stevie Wonder, and you like Stevie Wonder, so we're going to be in community. That can be enough.
RAASHAN, YOU STILL MAINTAIN A MUSIC STUDIO THROUGH VITAL SPACES. DO REMEMBER YOUR FIRST IMPRESSION OF THE ORGANIZATION, BACK WHEN YOU WERE JUST AN ARTIST LOOKING FOR SPACE?
RA: Mi'Jan [Celie Tho-Biaz] was a friend of mine and she had space there. She was like, "I've got this place downtown." I was like, "Is this possible? What is this magic?" I applied and it changed everything for me. Everything just took off, my imagination took off, and I could accomplish more.
Ileana Alarcon, Full Moon Lamp, 2021, Paper pulp, quartz, acrylic, vinyl, electrical parts, 12 x 12 x 24 in
YOU WERE LOOKING AT JOINING THE BOARD BEFORE BECOMING CO-EXECUTIVE DIRECTOR. WHAT MADE YOU WANT TO DIVE IN DEEPER?
RA: I was in this building with all of these artists, but we weren't connecting like I hoped we would. I was like, "Oh my gosh, this could be so amazing if I could figure out how to make the folks in this building be more in collaboration." I loved the model of it, and I was interested in joining the board to push it further. When they offered the co-executive director role, I was afraid that I wouldn't do as much art as before. It turns out that I've done even more. I've just had more to do in different arenas, and I have access to different things than I did before. It's all in alignment. I feel like I vaulted ten, fifteen years forward in terms of the work I'm doing, and that's because of all the collaboration.
HANNAH, YOU WERE PROGRAM DIRECTOR BEFORE TAKING THE CO-EXECUTIVE DIRECTOR ROLE WITH RAASHAN. WHAT'S YOUR EXPERIENCE OF THE EVOLUTION OF VITAL SPACES AND YOUR ROLE IN IT?
HY: One of the benefits, and one of the hard things, is how small it is. There was a lot that I wanted to do and didn't feel like I had the capacity to do by myself as the only full-time staff member. All in one day, I'd be shoveling snow at the Otero space, and picking things up in Midtown, and writing a press release for a show. Deciding that we were going to invest resources into having a larger team was a big shift. We're still doing all of those things, but now I not only have support from Raashan and Rica [Maestas, program coordinator], but I also get to think with them about the direction to take Vital Spaces. Working with them has been wonderful.
I'M CURIOUS ABOUT THE TRANSIENT NATURE OF THE PROJECT. BECAUSE YOU'RE USING EMPTY PROPERTIES THAT COULD EVENTUALLY BE RENTED OR SOLD BY SOMEONE ELSE, IS THERE A SENSE FROM PROJECT PARTICIPANTS THAT THEY COULD BE DISPLACED AT ANY MOMENT?
HY: On a practical level, we haven't yet lost any of the spaces that we've had studios in. That's been a pleasant surprise. I think it's working, I think it's smart. In a town like this, we couldn't afford to rent a building downtown at the market rate, but there will always be temporary vacancies around town. So in some ways, this is actually more permanent, and we are able to get into spaces that we couldn't access otherwise. Our model feels less like gentrification to me than trying to permanently lock down an inexpensive warehouse somewhere. Hopefully, the property owners we work with will see the benefit of having artists in their spaces and will let us stay longer than planned, but otherwise, these spaces are going to be what they're going to be and the artistic community can benefit in the meantime.
RA: Nothing's less than a year, and if you have a year in a space, you can start by laying out your canvas. Take a moment to think and breathe. A lot of things can come out of those moments, especially if you have at least a year to bring what you're dreaming into reality.
ON YOUR WEBSITE, YOU ALSO MENTIONED SOME CONSIDERABLE BENEFITS TO PROPERTY OWNERS.
HY: This is good not just for artists, it's also great for property owners. An empty building deteriorates much more quickly than one in use, and we guarantee that we'll return the building in the same or better condition. It's even good for neighboring businesses. Now you can say, "Oh, there are young artists working next door!"
Click here for Mi'Jan Celie Tho-Biaz's video: The Greater Pittsburgh Arts Council "After Dinner Conversation."
Going back to the intersectional nature of the project, how do you measure success?
HY: We're starting from the premise that success for the organization is not how much art our artists are selling. In that case, what does success look like? For us, success is artists saying that they have felt more freedom and creativity, that they have more time, that they've made connections. That doesn't mean that artists that have studio space with us aren't commercially successful. I'm sure many of the artists might define success in commercial terms, and some of them have gallery representation.
RA: Yes, we're definitely connected to other, more commercial parts of the creative community. Our curatorial committee has members who represent some galleries and museums. We really try to connect with the commercial art world, because that's part of our community and city. We're connecting emerging artists to established artists and institutions, which helps the emerging artists have an idea of what it takes to become a professional artist. But we also work with poets and writers, and people who aren't tied to the money or resources or influence. We really are just hyperconscious and aware of the city that we live in, all of the layers that are here.
Building bridges between disparate corners of the community is really complex work. What's your mindset for approaching that?
HY: We're slowly building community trust. We hope that there's some word of mouth, and that people come to things and feel welcome. The Community Art Closet is a project that we're hoping reaches more people and then hand out flyers about what Vital Spaces is more broadly at the Community Art Closet.
RA: If we can pull this off, a citywide art show is basically what Vital Spaces will be. We can be a city that has a free art closet, and everyone gets free art supplies. We're letting people see what's for real, what's really happening outside of just words. What the actions are, that's what is important. A lot of organizations will say, "We're serving this community." They won't say, "We're in this community." That's what we're trying to do. When I became co-executive director, I looked at the mission statement and statements from other organizations. Everyone has such good words, and we're all saying the same things. We all know what sounds good, but what is actually going on? It's a slow process. Trust takes a minute.
How have the events of the past year—the Covid-19 pandemic, the protests for racial justice—influenced your vision for Vital Spaces?
RA: We're living in a historical moment, and as artists, this is what we do. We help things reset. Things need to change, society needs to shift. With Covid-19, everyone was finally able to stop and think apart from capitalism. I've been having these conversations with people for years about what needs to happen, and it's finally happening.
HY: I think there is a sense of urgency, that we've got to figure this out right now and make stuff happen. It's also forcing us to innovate.
RA: This moment may be a time where a lot of folks can come out of the other side of it and say, "Wow, what can we create? Do we want things to be back to normal? Nobody wants that!" Things can be back to normal, or we can map out an entirely new future. We never would have thought about this unless we were in this scenario.
Are you optimistic about the future? Does leading Vital Spaces make you more optimistic?
RA: This is a really special city to be in, the possibilities, all of the art happening. There's a lot of need that's happening but also a lot of creativity. I am kind of optimistic, but I'm also Black. So I'm also pessimistic because this is America. People pay attention for a minute, but who knows how long people can care about Black folks who aren't in power. I keep waking up everyday wanting to do something, so I'm just going to keep going.
HY: I think Raashan said it all so beautifully. I have hope tempered by realism. I've studied a lot of art movements that came out of wars and pandemics and things, that changed some things but not everything. I think there is a hunger for change and connection right now. I've been heartened by how many people donated to the utilities fund. Small amounts—like $20, even $10 donations—from people who just want to help their neighbors keep their lights on. Same with the art closet, we have a weekly drop-off for donations. People are showing up in all of these ways, and that gives me hope, but also there is still a lot of work to do on the systemic big picture level.
Discover artworks from Vital Spaces.