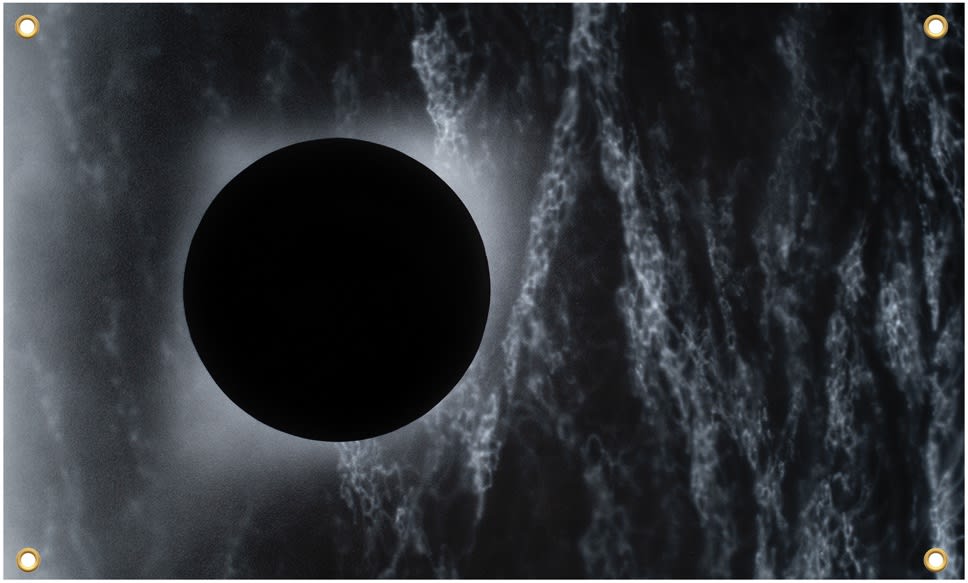 form & concept and Zane Bennett Contemporary Art are proud to announce a new edition of Flags of Resilience, a long-term, artist-run project featuring commissioned work by local and internationally-known artists in response to their unique and communal experiences amid global upheaval. The series of original flag artworks continues with a new design by Santa Fe-based artist Zac Scheinbaum, and will benefit the Immigrant History Initiative.
Read our written interview with Zac Scheinbaum below. Please support by acquiring his flag if you're able!
CONGRATULATIONS ON YOUR RECENT MOVE TO SANTA FE AND THE OPENING OF YOUR TATTOO PARLOR HERE! HOW DOES YOUR ART IN THE MEDIUM OF INK AND SKIN TRANSLATE TO OTHER ARTWORKS LIKE YOUR FLAG DESIGN?
Tattooing taught me so much in terms of artistic expression—layout/composition, follow-through, finesse, when to loosen up and how to clearly translate an image from your clients' minds onto paper and then in turn onto skin. Because of all that, it really changes how you approach your own personal artwork outside of the confines of the standard "tattoo" experience. Without the collaborative aspects of the tattooer/client relationship, sometimes approaching work on your own without anyone else's "direction" or ideas can be daunting.
When the lockdown initially hit, I felt a frenzied rush to make as much art as I possibly could because of the fear that I would only have a very small, limited amount of time to try and create work. I understand that in and of itself was a privilege—to have that emotional state going into COVID. With tattooing as a job, you are making what people consider art all day, but, same as any job, it becomes work.
That is very hard on my personal creative artistic practice. So there was this sense of, "I may only have two weeks off of work to try these new things and express this artistic desire I have had for so long." I have had an art practice since childhood and spent time in a couple different colleges for art, but I never felt I had the time to only focus on making paintings. For the first few months it was really a crazy outpouring for me...but, as we all know, the impact of COVID really took a toll on everyone both emotionally, physically, mentally, etc.
In terms of the relationship between imagery, I feel like it's hard as a tattooer to not have those pieces you've been focusing on for over a decade blend into your paintings.
THE TATTOO INDUSTRY WAS IMPERILED DUE TO THE PANDEMIC. HOW HAVE YOU FARED AND DO YOU SEE A RENEWED INTEREST IN TATTOO?
I'm no psychologist or psychiatrist but being in the pandemic led me to think a lot about people's personal need to identify themselves. I think it was really hard for so many people, on so many levels, but the one thing it did is make them scream for individualization. So because of that I see a massive influx of clients wanting to get tattooed and express themselves, to feel like they have some kind of control over their body.
So to be honest me and pretty much every tattooer I'm in contact with has never been this busy! It's a really weird thing because on one hand it's so exciting and such an honor to be asked to do work for people, but on the other hand there's the sense of not wanting to be close to anybody and not feeling safe around people, especially touching them. It makes for a very odd juxtaposition.
THE PIECE YOU MADE IS SO DARK, TONAL AND SOMBER, WITH ITS OWN CENTER OF GRAVITY. TELL US ABOUT THE SUBJECT MATTER AND HOW IT REFLECTS YOUR PERSONAL EXPERIENCE OF, OR BROADER IDEAS ABOUT, THE PANDEMIC.
The idea of the eclipse dates back to the most prehistoric of human and world histories—anything planetary, changing of the tides, comets, all of these things that symbolized different meanings in every single different culture across human history. So to me what the eclipse represents is a rebirth of a new era.
Birth always comes with death, and you can never have one without the other. Everything is moving into its next phase at all times. So this was a way to capture a simple moment of that coin toss. One moment suspended in time allows the viewer to evaluate their own personal feelings during the pandemic and decide if they were good or bad and what attachments came from those feelings and moments.
YOU DESIGNED THE NEW ALBUM ARTWORK FOR YOUR CLOSE FRIEND TODD RYAN WHITE'S NEW ALBUM RELEASE WITH HIS BAND HERETICAL SECT. WHAT IS THE PROCESS OF TRANSLATING THE THEMATICS OF A MUSICAL PIECE INTO VISUAL ART FOR AN ALBUM COVER?
The work that Todd chose to use for his album cover was actually a collaborative painting between me and my other artistic partner Stace Forand. It's interesting because we painted the image and Todd was the one who approached us asking if he was able to use it. So in a sense it could be possible that his music changed to the image? Instead of the other way around? Todd has been one of my oldest friends and collaborators and being asked for me and Stace to provide the artwork was a huge honor!
WHY DID YOU CHOOSE THE IMMIGRANT HISTORY INITIATIVE AS YOUR CAUSE FOR THE SALES PROCEEDS OF YOUR FLAG?

I chose this charity because not only do they stand for and support everything I believe in in terms of broadening the spectrum of understanding around immigration and social justice, but, more importantly, it was because of their educational outreach! I feel the fact that their curriculums are taught all over the world...there is no better way to get the word out. To quote their own wording:
"IHI's model has four key components: 1.) multimedia curriculum & course design, 2.) anti-racist resource development, 3.) community engagement and empowerment, and 4.) equitable education support."
My grandparents were immigrants from Europe, and the story of immigration and the experiences of restarting in a new place and carrying that culture with you have always been important to me. I know very little about my own personal past in terms of what went on before World War II.
So the idea of teaching and expanding educational resources for the greater good and equality of all immigrant groups and anti-racist recourses strikes deeply in my beliefs as an artist and as a person. As it should for everyone...
YOU SEEM TO HAVE A REALLY DIRECT AND CLEAR-EYED VIEW OF DEATHLY THEMES IN YOUR WORK, WHICH FEELS TOPICAL IN THIS TRAGIC ERA. WHY DO YOU THINK IT'S IMPORTANT TO NOT SHY AWAY FROM SUBJECT MATTER LIKE THAT RIGHT NOW?
Death can be such a corny and immature thing to be interested in. Yet my draw to it is as strong as it was when I was in high school. All imagery surrounding it is so heavily steeped in tattoo culture that it's hard not to want to be good at it.
After you draw something or paint something or tattoo something over and over it starts to take on a different meaning—something no one else will understand but that person making it. The skull is so important to me. And I can't pinpoint why, but I'm drawn to it.
To me, life is death...living is dying. It's acceptance of your impermanence. As I get older I always understand that every day I am aging. I see it when I look in the mirror and it pains me at times, but it also reminds me to do as much as I can with each day that I have.
Learn more about Flags of Resilience.