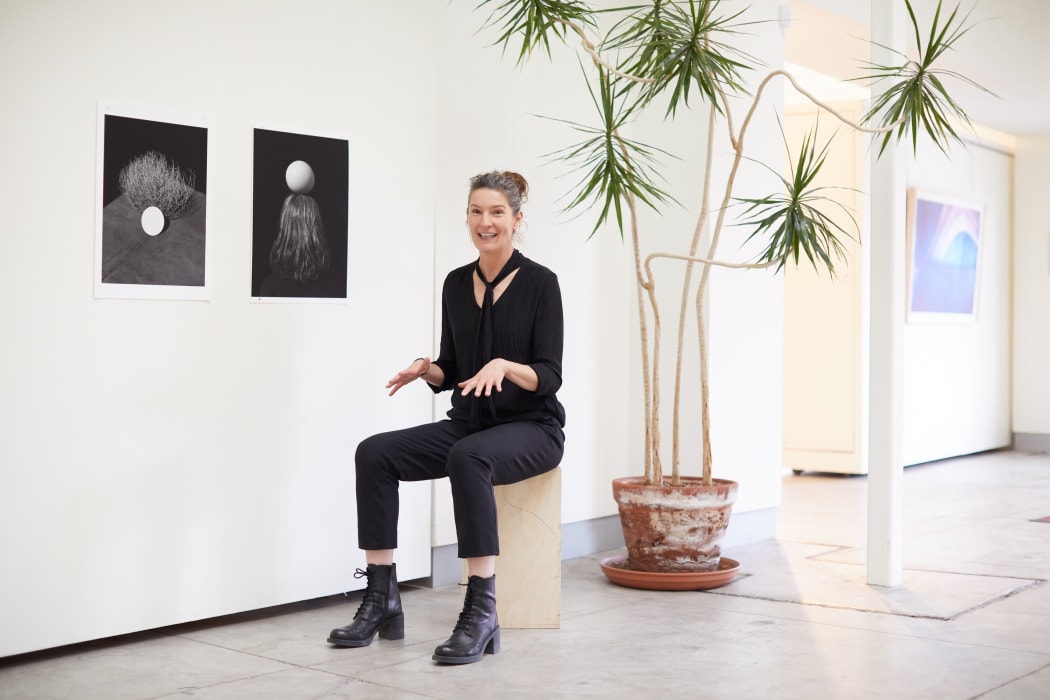 Santa Fe-based photographer Saro Calewarts debuts selections from two series for the first time at form & concept: Spells for Uncertain Times, made during the winter 20/21 quarantine, and Agency Lessons, an exploration of childhood memory and traumatic experience. We spoke with Saro following her participation in CENTER's Review Santa Fe on how her background in film studies and love of found objects and staged environments influences her dreamy work.
Saro Calewarts, The Clarity of Impermanence, 2021
We've been aware of your artwork for years, because you're such an engaged member of Santa Fe's creative community. This year's Review Santa Fe, a juried photography portfolio review, is how we finally linked up for this collaboration. What was your experience of the review? Did it inspire you to reflect on your photography career so far and where you'd like to go next?


Amazing and absolutely. CENTER works so hard to provide photographers with a rich experience and meaningful connections to forward their careers. It's an honor to be accepted to participate so I took the opportunity to elevate all aspects of my practice. Even the process of contemplating my choice of reviewers made me reevaluate how I'd like my work to function in the world. Who did I want to forge professional relationships with, what parts of the photo world was I interested in, who might [Review] help me connect to? As an emerging artist, I'm constantly refining my vision, and ambitions and events like this help expand my thinking around this.
As for where I'd like to go next, I have quite a few irons in the fire in terms of multiple ongoing projects and the different ways I see them working in the world. Agency Lessons is a project I started several years ago and I'm interested in exhibition opportunities that can provide conversation around domestic violence and childhood trauma.
I'm always pushing work forward, applying for grants and opportunities. In 2022, I'm pursuing ways I can sell prints to a wider audience. I think like most photographers today, it's about finding the right mix of pursuits that helps sustain a dynamic practice.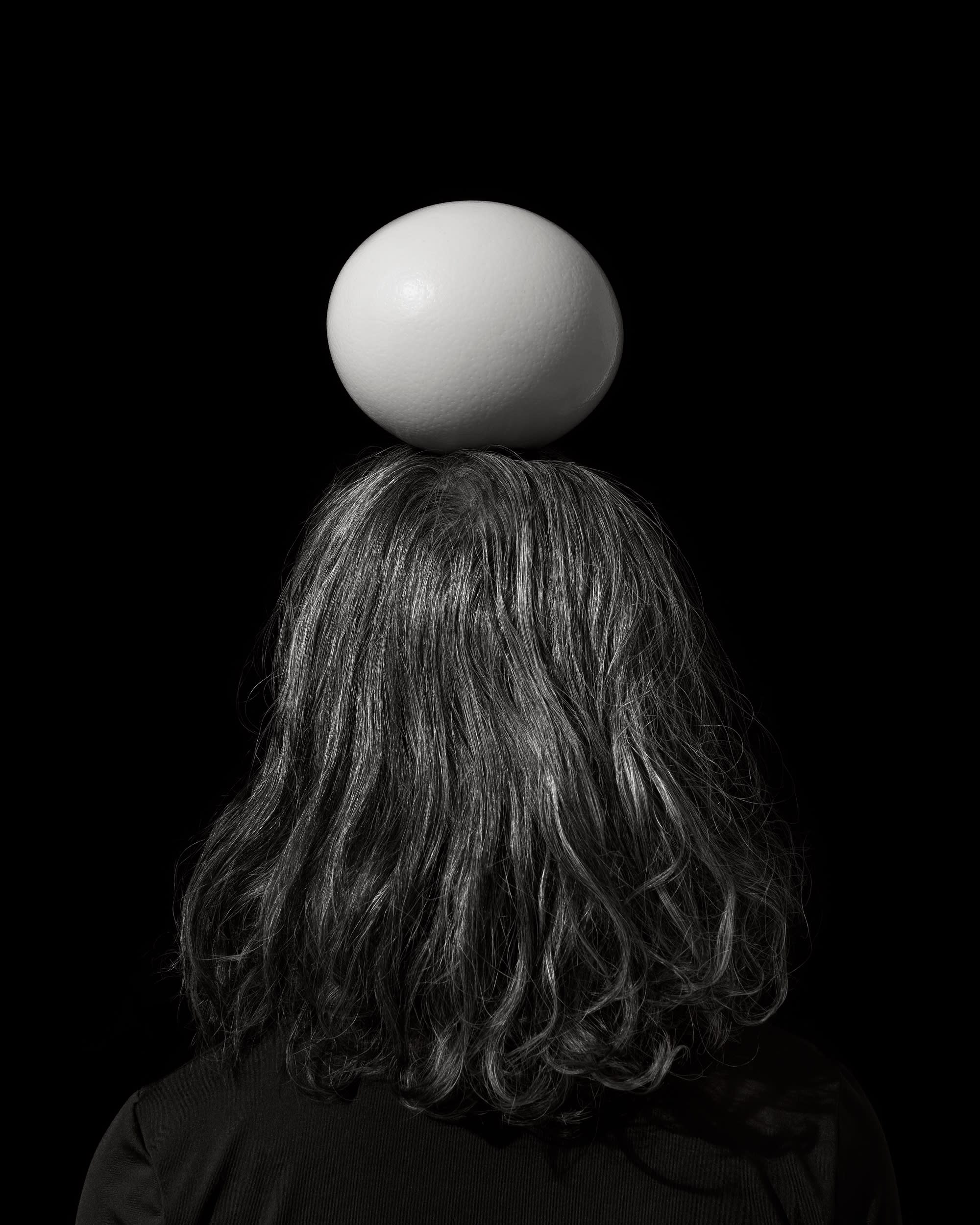 Saro Calewarts, The Balancing Act, 2021

Your background is in film studies and graphic design, which shows up really clearly in your photographic work. Your imagery sometimes resembles dark and dreamy film stills, and other times it's bold and highly symbolic. How do you harness past skills and knowledge in your creative process?


I love that you see this duality of filmic and graphic as both are foundational in my work - conceptually and aesthetically. I'm always interested in how these two dynamics work together in communicating feelings and ideas. Though this plays out in an intuitive and organic way for me. I'm an avid learner and researcher and I'll bring a specific intention, or prop, or flexible idea to the table when I shoot - and then I see how everything unfolds in the moment. I like to leave room for improvisation, for seeing things I couldn't have planned on. I find my approach is a dance between thoughtfully employing ideas and allowing freedom for experimentation and creative play. It's usually what I didn't plan for that I find most compelling in a final image, though I had to set a stage or opportunity for it to happen.
That said, while I was making Spells for Uncertain Times last winter, I was thinking quite a bit about magical realism, surrealism and the experimental films by Maya Deren, a seminal filmmaker from the 1940's. These all felt so apt for the season and the time and I steeped myself in that thinking.
Graphic design and filmmaking are both forms of visual problem-solving to convey something, so I suppose it's natural I'd employ the same approach as a photographer.
Saro Calewarts, Dragon Arms, 2021
You identify three common themes in your work: challenge, potential and growth. With the recent convergence of global calamities, challenges have felt more common than potential or growth. How have you framed and navigated these tumultuous times, in your artistic practice and in life?


There's so much to unpack here so I'll try to be succinct. For me, challenge and change are two sides of the same coin. Change is challenging and yet challenge often begets the impetus for change. I see challenge/change, potential and growth as integrated parts of a continuous cycle. So perhaps a better way to put it is: I'm interested in the cycle of challenge, potential and growth and how we feel as we navigate this continuum, collectively and individually.
The process of deep change is awkward and uncomfortable and feels tumultuous. It also holds so much potential, we grow when we rise to meet new potential, stretch ourselves to change - but it's so often a messy process. Having experienced a traumatic childhood and coming to terms with it in adulthood as I've strove to find a way in the world as a whole and fulfilled person has definitely informed these as core interests.
In many ways. It's made me feel oddly prepared for these times. Not that they are easy by any means, but that it's hard not see them as part of a cycle we all are experiencing together. And we're being changed in the process, in ways that will inform new solutions and opportunities to make impactful changes.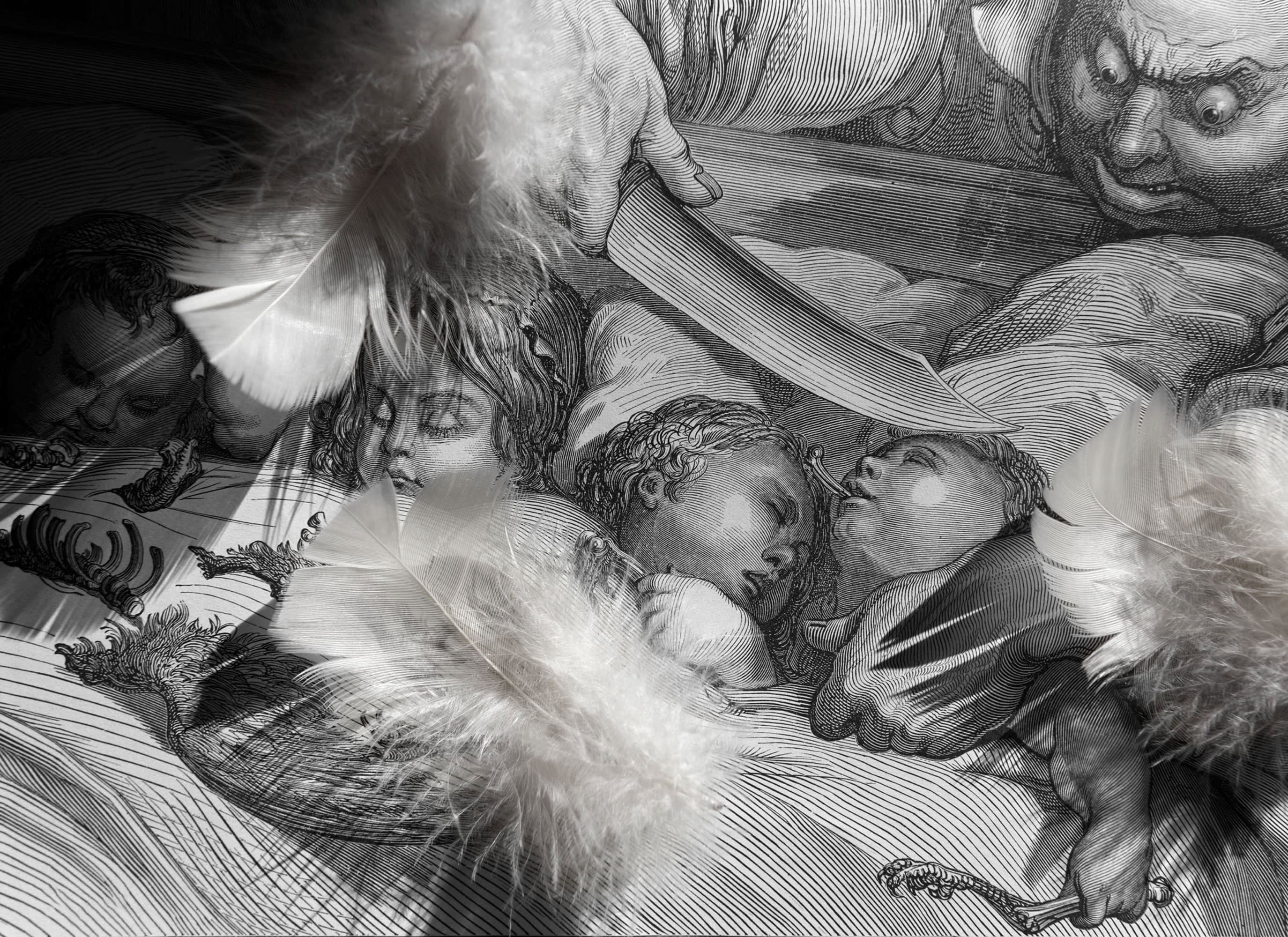 Saro Calewarts, Night Terrors II, 2019
At form & concept, we're all about the intersection of art, craft and design. You also seem to have a keen eye for complex material histories. Could you tell us about some of the objects that appear in your images? Do you hope that your viewers will dream up new links between the objects you depict?


I do. I am continually fascinated by the meaning-making and language capacities of photography to express feelings and ideas. Visual language speaks to us in both conscious and subconscious ways so I construct my work to provide associative and contextual relationships within and between images that viewers can access in a variety of ways. I'm always trying to distill complexity into minimal compositions.


As well, the forms are just as important as the embedded meanings of the objects. Their shape, texture, how they absorb or reflect light, or create shadows – these all impact how they work and can be "read" in a photo. As a photographer, I'm of course obsessed with shadow and light and consider it an object, in and of itself, in the frame.
I often return to objects many times for use in photos and I have baskets of animal bones and collections of wings, nests, large eggs, bits and bobs from my family and childhood, textiles, items I've found in the urban or natural landscape.
While I make photos that have specific meaning/s to me, I always delight in viewers' associations and the connections they make between images. Photographic meaning is not fixed in that way, and I think that makes photography so interesting.
Saro Calewarts, March of the Old Guard, 2021
Saro Calewarts is a fine art photographer based in Santa Fe, New Mexico with family roots in the Pacific Northwest. She has a background in film studies and graphic design and her photography practice focuses on poetic and symbolic modes of expressing ideas and narratives. She has a particular interest in themes of challenge, potential and growth as they pertain to both human experience and the natural world.
She works as a graphic designer and photographer for an arts non-profit organization and is active within the Santa Fe photography community. Her work has been exhibited at David Richard Gallery in Santa Fe, featured in NOICE Magazine and online at Humble Arts Foundation, Lenscratch, F-Stop Magazine and Light Leaked. Her life passion is to be always and deeply engaged with the processes of learning and creating.