"I expunge the poison from the earth to recompose it as the material with which I transfigure the grief and trauma inhabiting me, recomposing it in scenes of joyous rupture," says Adi Blaustein Rejto. The artist's work appears in Wild Pigment Project, a group exhibition that's on view at form & concept through early December.
The international show (and the project that inspired it) promotes ecological balance and regenerative economies through a passion for wild pigments, their places of origin, and their cultural histories. Read an interview between Wild Pigment Project curator Tilke Elkins and Blaustein Rejto here, and check out more words from the artist below.
ARTIST STATEMENT
Through oil painting, pigment foraging, and paint-making, Adi Blaustein Rejto expresses personal experiences of trauma, grief, gratitude, and the joy and ecstasy of boundless imagination inside the rigidity and overwhelm of political struggle.

Adi is currently an MFA candidate at Rutgers Mason Gross School of the Arts in New Brunswick, NJ, where they are foraging local earth pigments, reclaiming industrial colorants, and remediating contaminants into pigments and paints.

Combining their passions for political organizing, chemistry, and site-specific artwork, Adi uses local materials to explore material histories, as well as private and public conflicts.

ARTIST BIO
Adi Blaustein Rejto grew up in the Catskill mountains, received their BA in Organic Chemistry and Molecular Biochemistry at Hampshire College, and is currently an MFA candidate at Rutgers Mason Gross School of the Arts.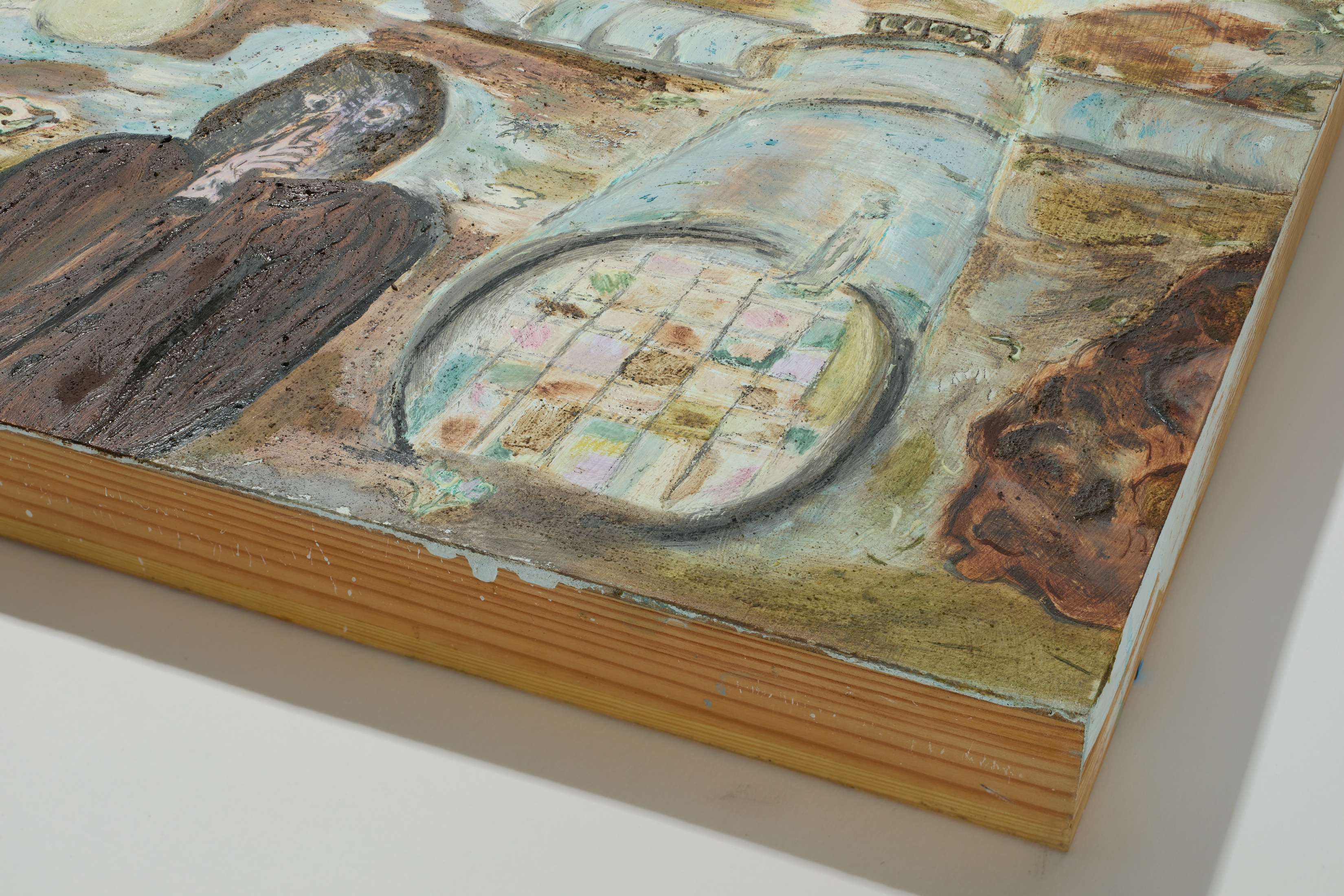 Adi Blaustein Rejto
,
July 4th, 2021
(detail), Foraged pigment, hand-made oil paint, charcoal, and graphite on MDF mounted on wood.