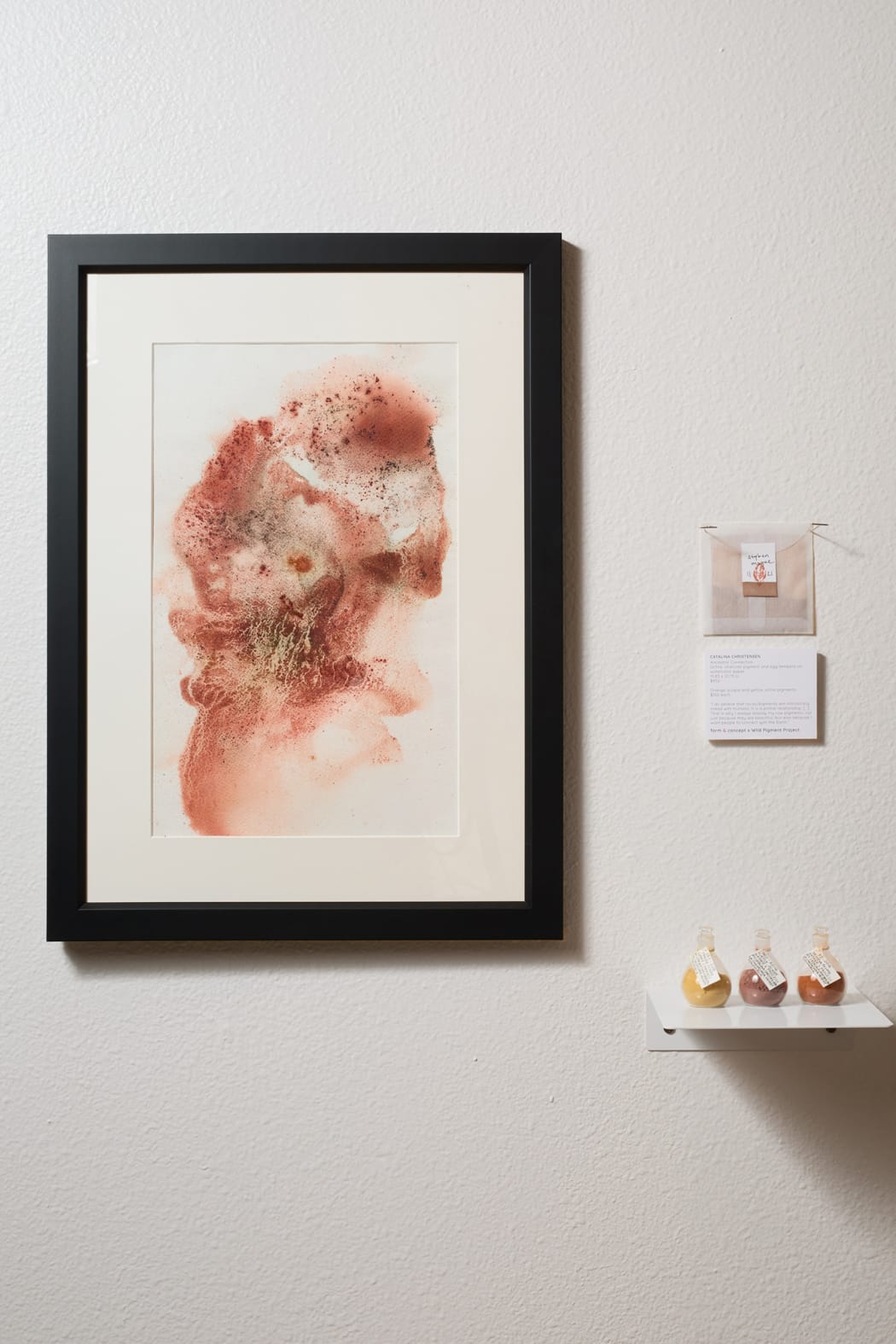 "I do believe that rocks/pigments are intrinsically linked with humans; it is a primal relationship," says Catalina Christensen. "That is why I always display my raw pigments, not just because they are beautiful, but also because I want people to connect with the Earth." The artist's work appears in Wild Pigment Project, a group exhibition that's on view at form & concept through early December.
The international show (and the project that inspired it) promotes ecological balance and regenerative economies through a passion for wild pigments, their places of origin, and their cultural histories. Read words from the artist below.
ARTIST STATEMENT
Process and materiality are at the core of my practice. Colour, surface and texture are also important. The painting process starts with an initial stain that will determine the development of the composition. I react to each consecutive mark during the process leaving traces of the history of the painting.
For me, the collection and preparation of the pigments is an artistic endeavour and therefore I like to include them in my exhibitions. I am in the process of creating a pigment collection that started with Colombian pigments and now also contains pigments from Spain and the UK, together with donations and exchanges with other pigment people around the world.
For this exhibition I am presenting a work created with a red ochre gathered and processed by myself in La Candelaria Desert, Colombia as well as charcoal created using locally found wood.
The three displayed pigments are part of the collection of pigments from La Candelaria Desert. To me these pigments are very precious, they connect me to the Earth and my ancestors, therefore they are displayed in hand made glass bottles designed by myself and blown individually by a glass blower, a craft that I like to support, but which is, unfortunately, slowly disappearing.
BIOGRAPHY
Catalina is a Colombian artist graduated with first-class honours from City & Guilds of London Art School, UK and an architect graduated from Universidad de Los Andes, Bogota, Colombia.
Her work is inspired by the natural world in relation to memories and recollections of visited places. Her aim is to portrait her experience of being in nature through an evocative language that depicts the essence and atmosphere of a place rather than its physical reality, through paintings, drawings, etchings and pigments from in situ installations.
A course on the "Alchemy of Paint": the transformation of earth, rocks, roots and berries into pigments in 2013, turned out to be a seminal moment in her artistic development which cemented her desire to dedicate herself to experimenting with colour and pigments to create her art.
In 2014 she won the Idun Ravndal Travel Award and travelled to Iceland where the serene and ethereal landscapes she found continue to be of great influence in her work. In 2016 she was shortlisted for the Clyde & Co Blank Canvas Commission Prize.
Throughout her career, Catalina has been fascinated with experimentation and the alchemy of materials. A desire to have an environmentally neutral practice saw the transition from traditional oil painting to egg tempera and natural materials. Her search for natural blues and greens brought her to experiment with metal powders inspired by the copper spires in Copenhagen. This line of enquiry continues to the present. Her practice comprises the gathering and processing of pigments which she uses to create paintings and 3D works.
Catalina is a fellow of the Royal Geographical Society (with IBG) and co-founder of the Wilderness Art Collective, a board member of Pigments Revealed International, a member of The Place Collective and ArtCan. She has exhibited at the V&A Museum, the Royal Academy of Arts and several solo and group exhibitions in London and abroad.