"Wandering Winterkill, like all pigments, is a force and a form," says Daniela Naomi Molnar. "I hope it evolves more forms in the world that are portals to radical conviviality with grief, with love, with life in all its insistence." The artist's work appears in Wild Pigment Project, a group exhibition that's on view at form & concept through early December.
The international show (and the project that inspired it) promotes ecological balance and regenerative economies through a passion for wild pigments, their places of origin, and their cultural histories. Read an interview between Wild Pigment Project curator Tilke Elkins and Molnar here, and check out more words from the artist below.
ARTIST STATEMENT
The New Earth series (2017 - present) envisions how climate change is reshaping our planet and our embodied experience of it. Using wild-foraged, handmade natural pigments, synthetic pigments, and wild-sourced waters, the shapes in the paintings map newly exposed ground near glaciers. This is land that used to be permanently covered by a glacier that is now uncovered. This new earth is like a wound, or new, delicate skin that has formed over a wound and is now (ready or not) exposed to the world.

The paintings' shapes are from NASA satellite images and, more recently, from personal exploration of glaciers. The shapes are usually overlaid to create difficulty in apprehending any one shape -- information swims together into composite shapes, colors overlap to form new colors. This reflects the fundamental interconnectedness of all life, all locales, as well as the overwhelming grief and other complex emotions many feel in response to climate change.The goal of the series is not to explain or illustrate climate change but, rather, to invite emotional engagement with the issue. Emotional responses to climate change often range from profound grief to elation to confusion to rage. I believe that traversing our emotional landscapes in response to climate chaos is a fundamental step towards truly addressing this massive challenge.

This painting, New Earth 26 (Alaska), is the newest in the series and was made soon after returning from time spent exploring glaciers in the Wrangell-St.Elias wilderness in Alaska. This experience changed me, and this painting, while sharing many qualities with the previous twenty-five works in the series, is also a departure.

One difference: some of the shapes are from NASA images (as in previous works) but others are from patterns of melting ice from deep inside glacial ice caves. Still others are from views of mountain ranges that used to be hidden by the height of the glacier a mere thirty years ago that are now visible -- a different kind of new earth.

Perhaps the main difference is that this painting is more spare, less visually crowded and intense, reflecting the eerie, pervasive calm I felt on the glaciers. The grief and confusion of the previous works has opened out into something larger, something I can't yet name. The glacial landscape felt similar to a desert landscape: suffused with a vast spirit, self-sufficient in ways that exceed human comprehension. It makes sense to me, then, that this painting has found its way to the New Mexican desert, a landscape that is close to my heart.
ARTIST BIO
Daniela Naomi Molnar is an artist, poet, and writer working with the mediums of language, image, paint, pigment, and place. She is also a wilderness guide, educator, and eternal student. Her art is about transmuting grief to wonder. Her work was the subject of a recent Oregon Art Beat profile and a front-page feature in the Los Angeles Times. Her book CHORUS will be published in late 2022, the winner of Omnidawn's 1st /2nd Book Prize, judged by Kazim Ali. Her work has been shown nationally, is in private and public collections internationally, and has been recognized by numerous grants, fellowships, and residencies.
She founded the Art + Ecology program at the Pacific Northwest College of Art and is a wilderness educator/guide and founding Board member of Signal Fire. She can be found in Portland, Oregon, exploring public wildlands, or at www.danielamolnar.com / Instagram: @daniela_naomi_molnar.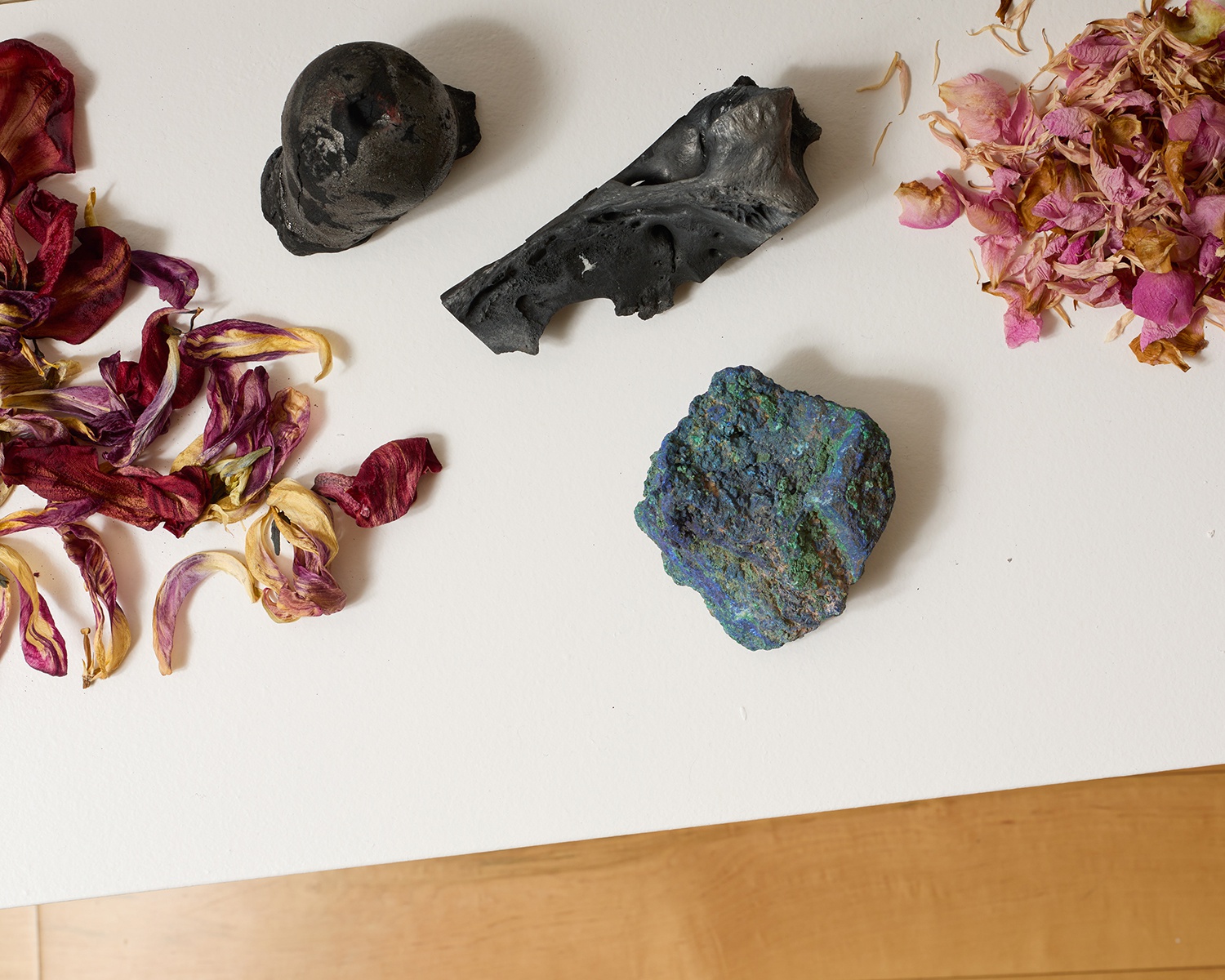 Daniela Naomi Molnar, Installation view featuring Oregon Outback bone black, Root Glacier lupine, Portland garden tulips, Clackamas peonies, Cambodian azurite and malachite gifted by Lila in Alaska.