All pigments (except the gold leaf) in this devotional image were grown or gathered by Iris Sullivan Daire, who has been making animal icons since college. The artist's work appears in Wild Pigment Project, a group exhibition that's on view at form & concept through early December.
The international show (and the project that inspired it) promotes ecological balance and regenerative economies through a passion for wild pigments, their places of origin, and their cultural histories. Read an interview between Wild Pigment Project curator Tilke Elkins and Sullivan Daire here, and check out more words from the artist below.
ARTIST STATEMENT
St. Red Winged Blackbird

I hear your song in the wet darkness of the year,
flock gathered in gregarious chaos at water's edge.
As winter wanes,
with hints of spring,
scarlet epaulettes come out -
chest heaving calls - announcing passion for place.
Ah, Red Winged Blackbird…
there is no water protector more beautiful than you.
ARTIST BIO
Iris is an installation artist, naturalist dyer, and workshop facilitator who lives with her family near the Columbia River in Astoria Oregon. She finds comfort and joy in the natural world. She is the curator of the Indigo Matrix.
Iris holds a BFA from the University of Oregon in Fibers, with a focus on natural dyes. Her personal art business is Dream Bird Studio, and she is a founder of Indigofest along with Britt Boles, which offers education experiences around natural indigo. She especially enjoys collaborating with her husband Joe Garrison, with whom she eloped in 1995. He built the boat for the Navigation installation.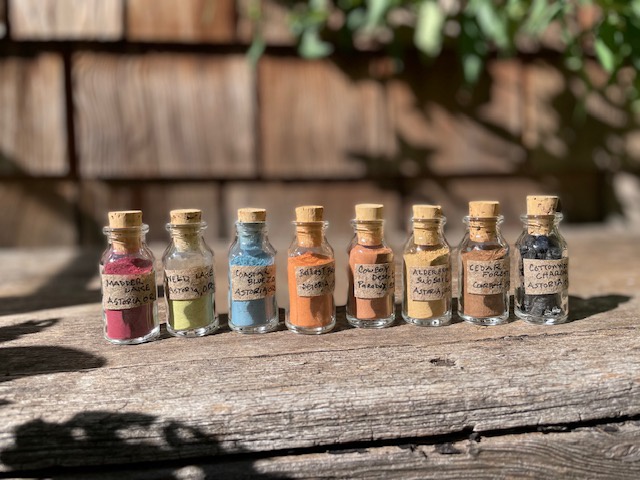 Iris Sullivan Daire, Pigment Set, 2021-2022.