Karma Barnes's installations are made from soil pigments and minerals gathered from wide-ranging terrains and pre-disturbed sites. She draws on large numbers of people to collaborate on colossal projects. The artist's work appears in Wild Pigment Project, a group exhibition that's on view at form & concept through early December.
The international show (and the project that inspired it) promotes ecological balance and regenerative economies through a passion for wild pigments, their places of origin, and their cultural histories. Read an interview between Wild Pigment Project curator Tilke Elkins and Barnes here, and check out more words from the artist below.
ARTIST STATEMENT
In Latin, the words for human and soil come from the same root as that for earth. Soil functions as an interface between the body and its environment. Soil is the source of all life, literally and metaphorically. (1) We take birth on soil, live on soil, walk on soil, die on soil and fnally vanish in soil. (2) All life comes from the mother soil and returns to her. (3)
Compounded Caldera explores how we are formed and informed by the intersections of our internal and external experiences of dramatic shifts in environmental cycles through the geomorphic medium of pigment-rich soil. Pigments and soils are produced by natural forces over aeons, a palimpsest of Earth's endless cycles of life and death, creation and destruction.
Our human experience is composed of compounded responses. The artwork draws parallels between our relationships with each other and our connection to place. Compounded Caldera is a moment in time where bush fres, droughts, foods and an ongoing pandemic have ravaged our community in Northern New South Wales, Australia with little moment to exhale a breath before the next pressing moments of concerns take centre stage. The impacts of climate change have moved from subtle shifts and perturbations towards more obvious and compounding climatic events.
The work is produced with collected pigments gathered from the most easterly point of the Australian continent, the caldera of the ancient volcano Wollumbin. Barnes is meticulous in her techniques for deploying materials from the land, sourcing from disturbed landscapes such as landslides, road cuts, and natural erosion banks. Pigment origins include igneous lava fows and pre-volcanic soils metamorphosised under the heat and pressure of volcanic events 26 million years ago.
Compounded Caldera explores how we and the land change through time and shifting elemental pressures. It draws upon the Japanese art forms of Dorodangos - hand compressed and polished soil spheres that refect a refnement of base materials into precious objects, and Kintsugi - mending breaks with gold pigments in order to highlight the beauty of imperfections through their renewal and repair. When the land that we live upon shifts and changes during dramatic and catastrophic events our internal landscapes also become dramatically altered. The work explores how experiences of fragmentation that may alter our external and internal terrains can be metamorphosised through creative practice that alchemizes life experience.
Artist Bio
Karma Barnes is an established interdisciplinary artist living and working on Bundjalung Country, New South Wales, Australia. Her work encompasses site-specifc installation, participatory and social-impact practices. Engagement and participation are integral to her practice, with her colossal-scale projects drawing on large numbers of people to collaborate.
Karma's work has explored pigments and soils for the past 15 years, co-founding the Imagine The Land a project that addresses critical relationships at the intersect of people and the land within the context of localized and global environments. The project produces large-scale installations from soil pigments and minerals gathered from pre-disturbed sites to inquire into the collective ontologies of the land.
Karma's projects have engaged over 15,000+ people in collaborative art-making through public art exhibitions and site-specifc installations. Works have been exhibited throughout Australasia, Europe, Asia and South America. Recently she was invited to The Museum of Contemporary Art- Rome where she installed a 20-meter-long interactive installation made from pigments gathered from the outskirts of Rome and Tuscany.
Karma is an ambassador for the Terzo Paradiso Rebirth-day Project - an international arts
collaboration with the founder of the Arte Povera movement Michelangelo Pistoletto. Under the project Karma's work has been presented in Azerbaijan, Cuba and Italy and most notably at the Louvre Museum, France as part of the Year 1: Earthly Paradise exhibition. In 2019 Karma attended the Terzo Paradiso Panel for the UN's 2030 Agenda for sustainable development at the MACRO Asilo in Rome. Through her soil and pigment research Karma has collaborated with Vandana Shiva and the Bhoomi Living Soil Project at the Navdanya Research Foundation for Science, Technology & Ecology, New Delhi, India.
Karma is a qualifed art therapist and has worked extensively in post-occupied and developing countries including Timor Leste, India and Indigenous communities across Australia. She has also worked in response and recovery during climatic events including bush fres, drought and foods. Throughout the COVID19 pandemic she has worked in acute mental health in hospitals and community settings. Karma's own region was devastated by two major foods just three months ago, and devastating bushfres in 2019-20.
Karma's work addresses how art practices and creativity can help communities process and understand themselves during times of crisis, change and renewal. Her work examines how we are formed and informed by our relationships with the intersections of nature and culture. Her practice is inspired by her deep fascination with the endless cycles of life and death, creation and destruction. Her work inquires into how we are shaped and changed by our internal and external experiences through primal elements and impermanence.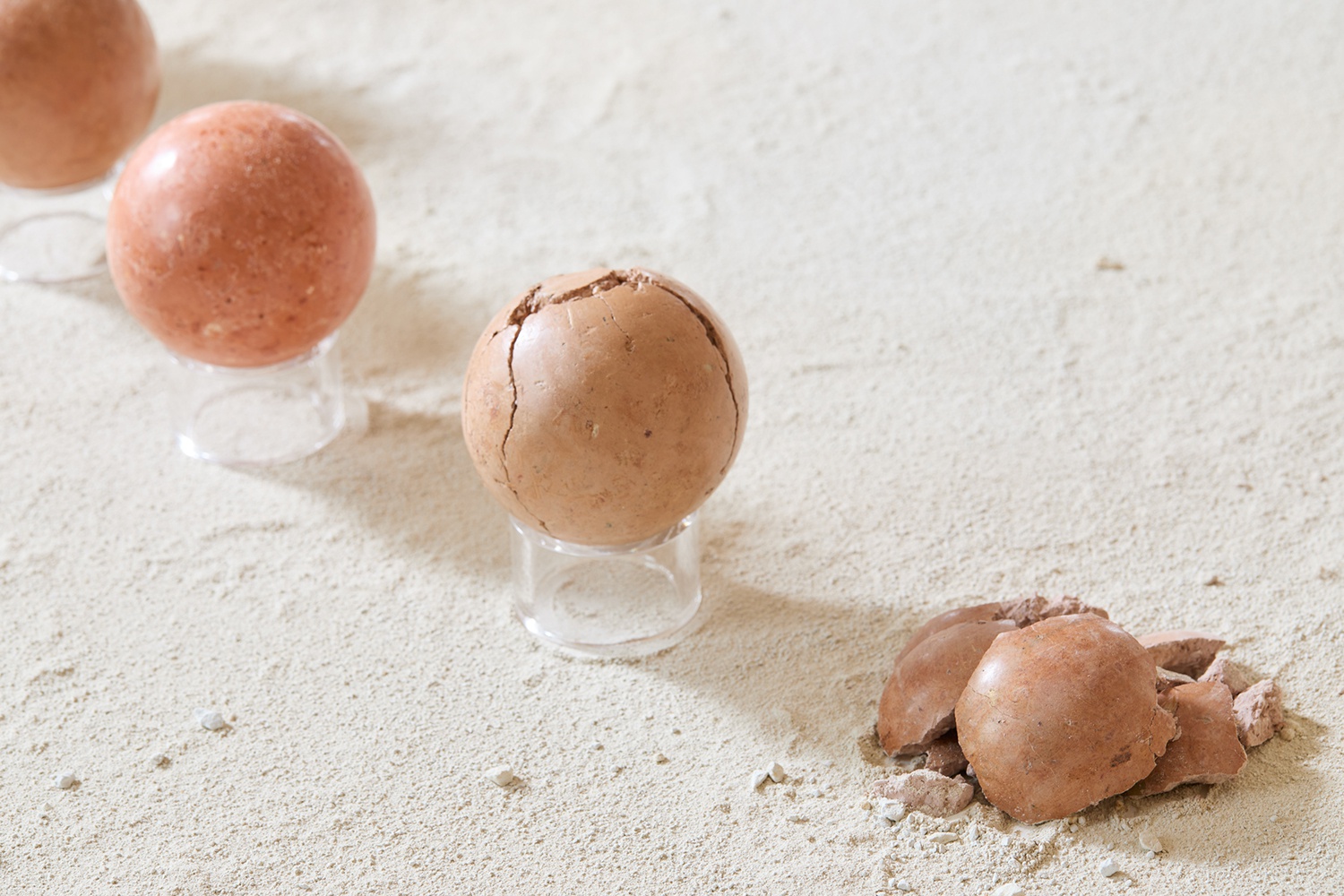 Karma Barnes, Compounded Caldera (detail), Raw earth pigments and landslides gathered on Bundjalung Country, NSW, Australia. Gold leaf, 720 sq in