"Working with handmade, natural inks integrates so many parts of myself: spiritual, scientific, artistic, environmental, culinary, magical and creative," writes Marjorie Morgan. "Collaborating with living/changing materials allows me to develop qualities of patience, compassion and adaptability." The artist's work appears in Wild Pigment Project, a group exhibition that's on view at form & concept through early December.
The international show (and the project that inspired it) promotes ecological balance and regenerative economies through a passion for wild pigments, their places of origin, and their cultural histories. Read an interview between Wild Pigment Project curator Tilke Elkins and Morgan here, and check out more words from the artist below.
Artist Statement
In my twenties, thirties and forties, I collaborated with human persons in artwork that explored movement, voice and self expression.
Now in my fifties, I collaborate with non-human persons: trees, flowers, berries, nuts, ferns and other leafy plants, and discarded minerals. We find a way to create beauty together. I am never in control of the materials or the process. And I have found that these words about the function and responsibility of art-making by experimental composer, John Cage, ring true: "To use art not as self expression but as self alteration."
In these rapidly changing times, I am grateful for this chance to alter myself through art, and for all the many lessons I am learning from my non-human collaborators: patience, flexibility, humility, gratitude and trust.
Artist Bio
Marjorie Morgan has spent most of her life creating work in a variety of media (dance, music, theater, performance art, painting and printmaking). She grew up in Southern Vermont, and then moved to Ohio to study dance at Oberlin College, where she was awarded the Louis Sudler Prize in the Arts. After returning to New England, Marjorie embarked on a 27-year career dancing, choreographing, and teaching dance and movement in Boston.
Between 1996 and 2009, she received ten "Best of Boston" awards from Boston critics, and a Tanne Foundation Award in the Arts. She was seriously injured during a performance in 2011, and since then has focused her creative skills in the field of visual arts. She has been a selected artist for the Northampton Biennial in 2015 and 2017; and had a print selected to be part of Stand Out Prints at Highpoint Center for Printmaking in Minneapolis, MN in 2018. As a master teacher, Marjorie has taught for over 35 years with students ranging from age of 2 to 87 at preschools, art schools, camps and Colleges.
She currently teaches at Zea Mays Printmaking in Western Massachusetts. Marjorie currently focuses her creative energy on working with natural and foraged dye and ink materials. She recently completed "Magical Nature Tarot," a deck of 78 cards of collaged art created from handmade ink monotypes and ecoprints. Marjorie happily resides in the beautiful hills of Colrain, MA with her wife, visual artist Whitney Robbins, and their very spunky dog, Maisy. Her website is marjoriemorgan.net and she posts on Instagram under @marjart.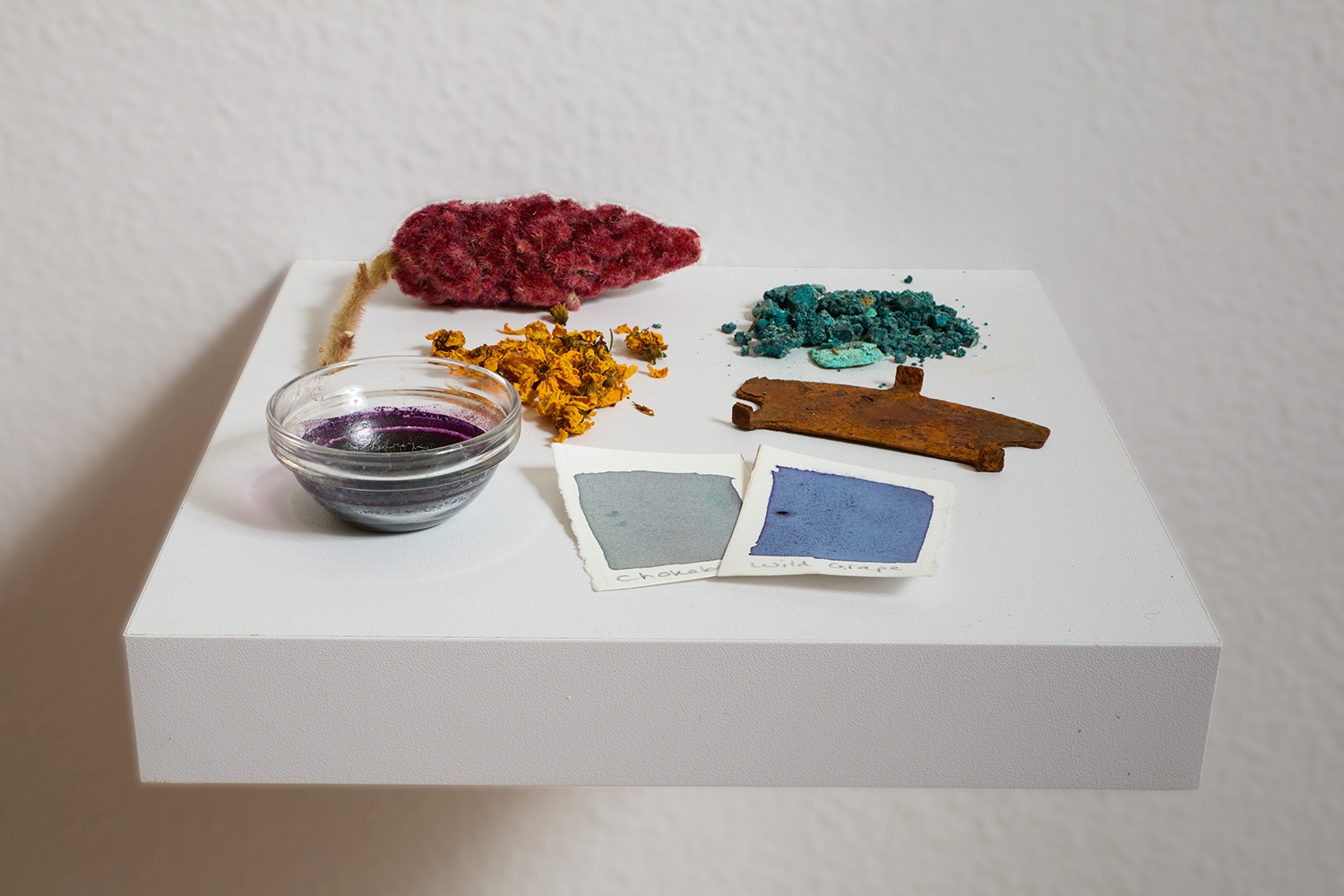 Marjorie Morgan, Natural Ink Set, Black walnut hulls, coreopsis blossoms, onion skins, copper crystals, acorn caps, berry "smears", Dimensions variable