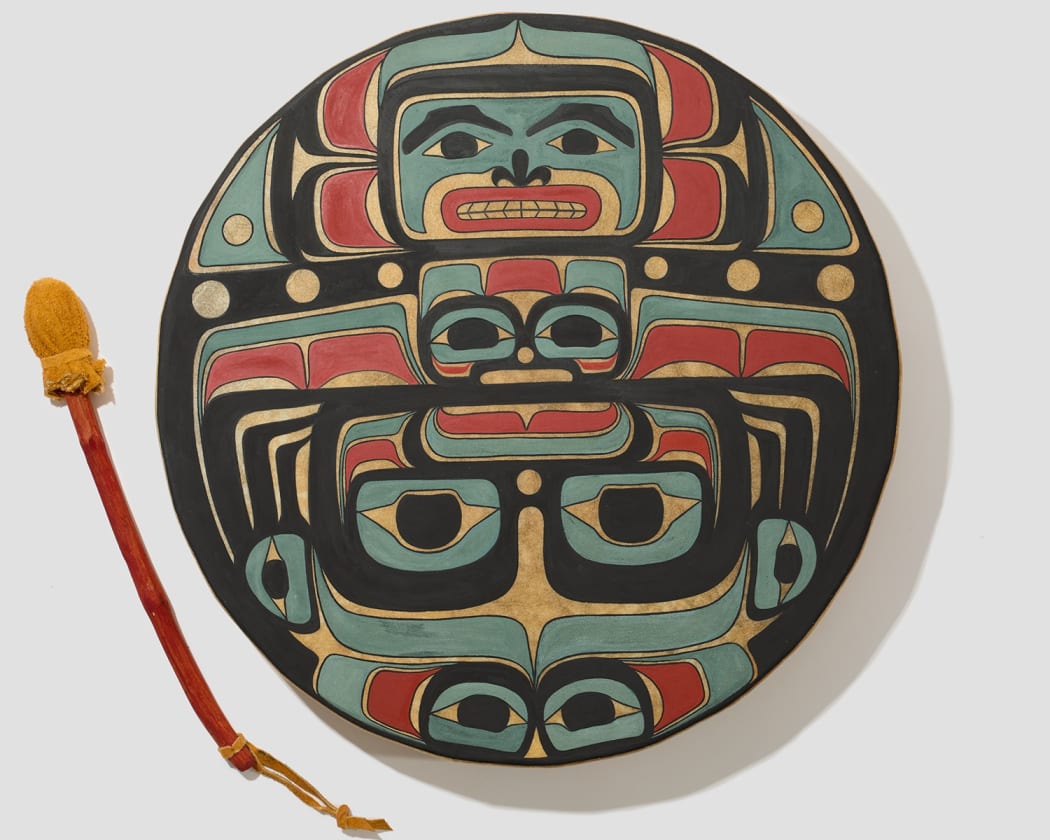 "Because I have a special affinity for xóots (Tlingit for black bear) I often dream of black bears who inspire my designs," Melonie Ancheta says. Her research has indicated the consistent use of red, black and blue (or green) pigments for more than 4,000 years among Pacific Northwest Coast Indigenous people. The artist's work appears in Wild Pigment Project, a group exhibition that's on view at form & concept through early December.
The international show (and the project that inspired it) promotes ecological balance and regenerative economies through a passion for wild pigments, their places of origin, and their cultural histories. Read an interview between Wild Pigment Project curator Tilke Elkins and Ancheta here, and check out more words from the artist below.
Artist Statement
It always feels to me like a luxury to get to use natural materials like cedar, alder, cedar bark, leather and copper, so to paint on these materials with paint made from the traditional four colors used here is a particular joy. Those four colors: black from magnetite or charcoal, red ochre, celadonite and most important, vivianite, have been used here for millennia and compliment and complete the materials and art styles.
Using these materials and practicing this ancient art form I feel an infinite connection to people long gone, I feel deeply rooted in this place and feel the history of place and the people who came before. This gives meaning to my work, gives it content and context, both of which are essential components of NW Coast art. While most pieces are based on an old story, some are simply expressions of the longevity and elegance of this art, the beauty of the materials, and the thoughtfulness of practices that stretch so far back in history we have not yet found their origins.
I often find myself creating a design out of the swoop and undulation of a single line, then bringing the five elements of northern NW Coast art together as if composing a piece of music, with rhythm and harmonies that create vitality and character to the content of a design.
It is pure joy to work with these materials in this art form.
Artist Bio
A professional artist, educator and researcher, Melonie Ancheta's work focuses on NW Coast Indigenous art, history and cultures. For more than 25 years she has produced artworks that have been exhibited at the preeminent Stonington Gallery in Seattle, Scanlon Gallery in Alaska, and many others. Her works can be found in collections across Europe, Canada, the US, and New Zealand.
Desiring to use traditional NW Coast materials, Melonie's lifelong study of pigments became sharply focused on the traditional materials used for pigments by the Indigenous people of the NW Coast prior to trade. When no one could answer her questions about traditional Indigenous pigments, she went in search of the answers on her own. More than 25 years later Ancheta is still the only person to pursue this study and is the sole authority on NW Coast traditional pigments, paint technology and color use. Her cutting-edge work has identified unknown pigments and revealed information inaccessible by any other means that are causing museums and conservators to reassess conservation, storage and exhibit techniques and methods relevant to pigment degradation. Her research has opened new avenues of study and is revealing aspects of NW Coast Indigenous cultures that cannot be learned through any other methods of study.
The author of "Coloring the Native Northwest Coast", published by the Smithsonian Institute's National Museum of the American Indian Magazine, and "Revealing Blue on the Northern Northwest Coast", published by the American Indian Culture and Research Journal, Ancheta is also a contributing author to A Totem Pole History: The Work of Lummi Carver Joe Hillaire, and has many short articles on traditional NW Coast pigments and art. She is currently working on a book about the significant relationships between pigments, pigmented materials and color and NW Coast Indigenous people.
​In 2021 Melonie founded, and with Heidi Gustafson and Tilke Elkins, organized Pigments Revealed Symposium 2021. Following the symposium Melonie founded and became executive director of Pigments Revealed International, a nonprofit, international pigment society focused on pigment education and research.
The founder/owner of Native Paint Revealed, a business that provides consultation, analysis and identification of pigments on Native American artifacts, Melonie is also the founder/owner of Copper Woman Studio, which showcases her artwork and teaches about traditional NW Coast art.
Offering private and group classes, workshops and presentations on Northern NW Coast Indigenous art, Coast Salish art and traditional paint-making, Melonie also offers internships and mentorships.
Email: copperwomanstudio@gmail.com
​Websites: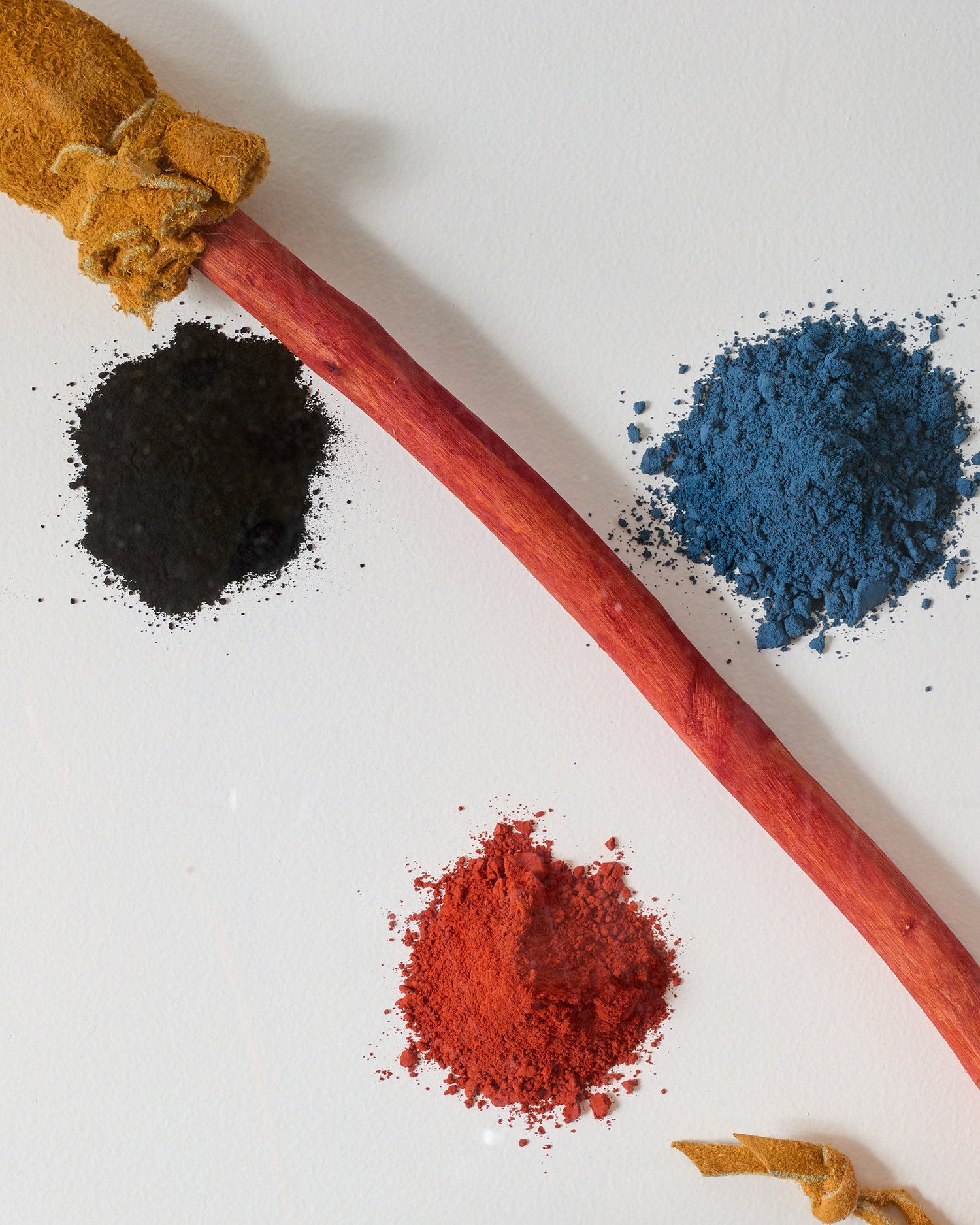 Melonie Ancheta, Carbon black, vivianite, red iron oxide (detail).