Go Figure: creating figurative sculptures with clay alternatives and found objects: June 23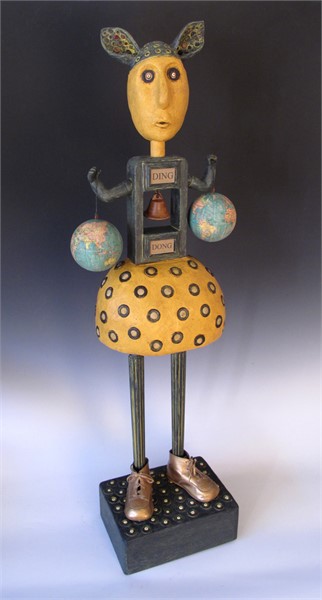 Artist: Pat Chapman
Medium: workshop
= __('Dimensions').': ' ?>

Price: $350
Description
Workshop fee: $350, Materials Fee: $35

In this workshop we will learn how to step away from the kiln by sculpting with an air dry, paper mache-clay hybrid called ClayShay©. We'll be creating sculptures of animals, figures, heads or puppets (the possibilities are endless). 2-Day workshop: Saturday, June 23rd, 10am -5pm and Sunday, June 24th, 10am - 5pm.

We will finish our creations with paints, acrylic glazes and dry brushing as well as exploring the use of image transfers. Over the course of the workshop we will have time to produce several sculptures so that you can learn about a wealth of different techniques and materials.

Limited to 8 students.

About Pat Chapman
Patricia Chapman has followed her compulsion to create art her whole life. For the past twenty years she has been blissfully scavenging for intriguing cast offs and fascinating objects to incorporate into her sculptures along with a plethora of mixed medias and air dry and resin clay. She currently lives in Boulder, Colorado where she has been teaching her workshops both locally and internationally for the past five years. Recently she co authored the book "Mixed Media in Clay" published by Northlight. She has shown her art in group and solo exhibits both nationally and internationally for the past 45 years and has been featured in several publications and was the subject of a PBS documentary series "In Context".

http://www.thepatstudio.com

Materials fee includes: Aves ClayShay, Aves Apoxie Sculpt, epoxy glue, acrylic glazing liquid, acrylic paints, wood for bases, image transfer materials, glass eyes, beads, extra found objects, wooden dowels, styrofoam, aluminum foil, waxed lined thread, resin castings of wings, arms and legs, glue sticks, hanging hardware and screws, craft wire, nitrile gloves, paper plates and cups.

I encourage students to bring whatever found objects they might want to bring.

Image: "Ding Dong" - 2018, 37" x 11.5" x 7"