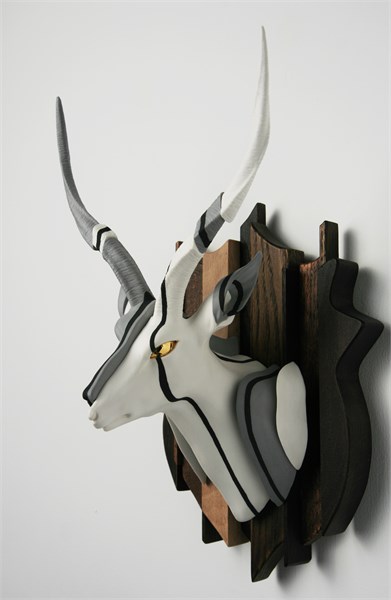 Wookjae Maeng: BALANCE
October 27, 2017 - December 23, 2017
It's easy to forget that the world is experiencing a crisis in biodiversity, one that some scientists have called a "sixth extinction." Humanity has grown ever more isolated from the rest of the animal kingdom, hiding away in climate controlled boxes and behind glowing screens. In his new solo exhibition at form & concept, Korean ceramicist Wookjae Maeng ushers animals out of the wild and into the spotlight. His detailed porcelain sculptures of deer, rhinos, lions, bighorn sheep and other creatures bring viewers back in touch with beings that are often pushed to the margins. Wookjae Maeng: BALANCE opens on Friday, October 27 from 5-7 pm.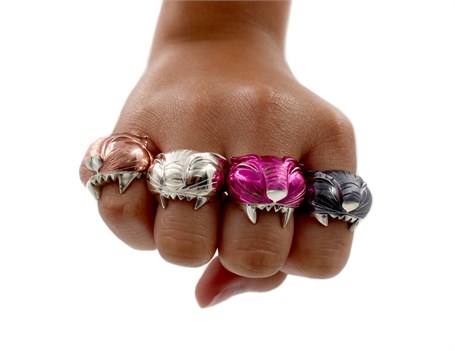 Pussy Bites Back Jewelry Line
October 28, 2017 - December 23, 2017
It's no mistake that Laila Farcas-Ionescu's launch party for the Pussy Bites Back jewelry line falls just before the anniversary of last year's presidential election. The series is filled with imagery of fierce felines, in reference to the Pussyhat phenomenon and the political scandal that incited it. Still, Ionescu would rather look forward than back. "It's more than just a visceral reaction to the political situation, it's a symbol of empowerment," Farcas-Ionescu says. "At this party, everyone will have the chance to release some pent-up energy with a good, long roar." The Pussy Bites Back launch party is on Saturday, October 28 from 5-7 pm. Ionescu will unveil rings, earrings, bracelets and pendants from the new series, along with a powerful manifesto and some fun surprises. The Pussy Bites Back jewelry line will be on view in the form & concept shop through December 23, 2017.