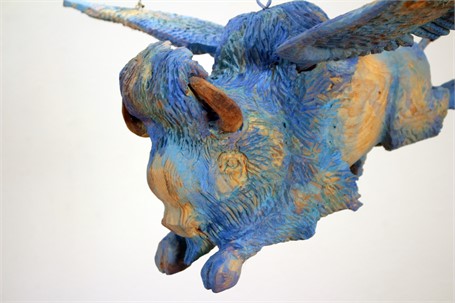 Armond Lara | Flying Blue Buffalo Installation
August 17, 2018 - November 17, 2018
Armond Lara collaborates with form & concept on this monumental art installation that tells the centuries-long story of enslaved Native American children. The Santa Fe artist will send 77 hand-painted, cast resin Flying Blue Buffalo sculptures soaring through the gallery's atrium. Inspired by his own family history, Lara dreamed up the winged buffalo as a new symbol of Native survival and resilience. Each sculpture in the suspended flock is labeled with the name of an abducted child. The installation debuts at a special reception on Friday, August 17, 5-7 pm, on the weekend of Santa Fe Indian Market. An educational event follows on Saturday, August 18 from 2 to 3 pm.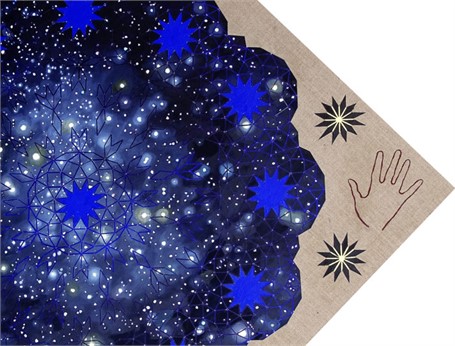 Matthew Mullins: The Sun In Our Bones
September 28, 2018 - November 17, 2018
Opening Reception: Friday, September 28, 5-7 pm | RSVP on Facebook.Artist Talk: Saturday, October 20, 3-4 pm | RSVP on Facebook.Closing Reception: Saturday, November 17, 5-7 pm | RSVP on Facebook. Matthew Mullins is an avid hiker and distance runner, and lately he's been leaving artwork behind on his adventures through New Mexico's high desert. He'll install pinhole cameras in remote areas, note their coordinates, and return for them weeks or months later. The final images reflect the shifting path of the sun and other natural phenomena—that is, if Mullins can retrieve them. Weather and wild animals have destroyed several cameras, and others have vanished without a trace. Despite the occasional lost artwork, Mullins says his far-flung creative process is worth the risk. "With these pinhole photos, I'm presenting different ways to look at nature and different ways of seeing time," the Santa Fe artist explains. "The incredibly long exposures require the cameras to be in remote locations, which always involves leaps of faith. I also want to show locations that most people don't see." For his solo exhibition The Sun in Our Bones, opening Friday, September 28 from 5 to 7 pm, Mullins presents photographs, paintings and sculptures inspired by the intrinsic links between humans and the natural world.