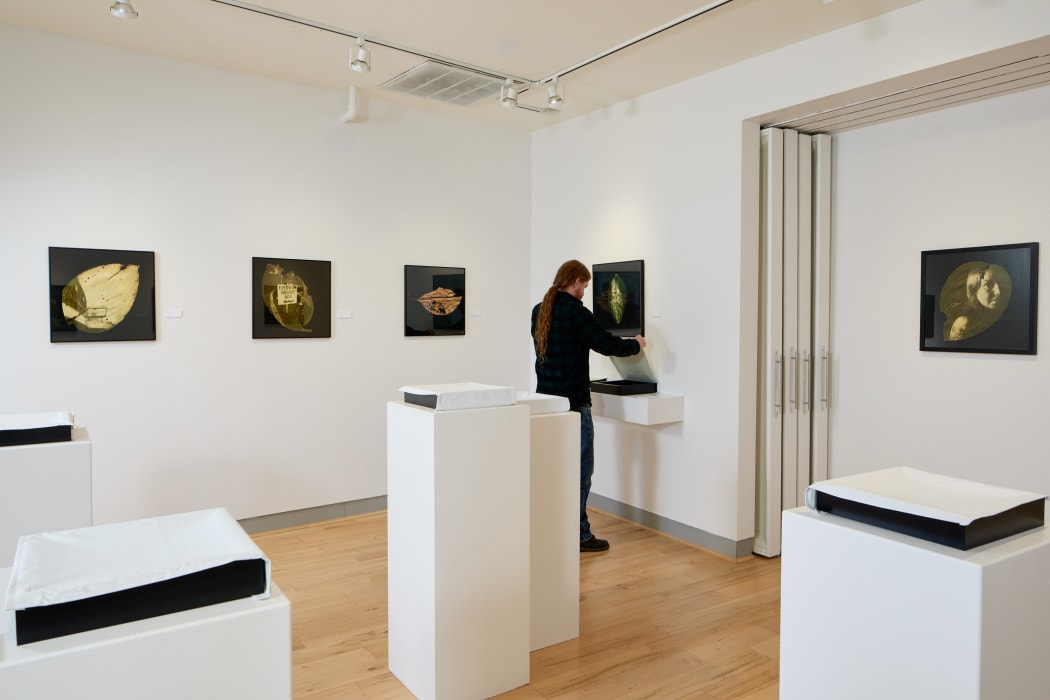 In Patient / Belongings, photo-based artist Megan Bent presents a selection of photographic meditations that center the artist's experience as a disabled person throughout the Covid-19 pandemic. Vivid reproductions of chlorophyll prints on leaves presented alongside their originals speak to exquisite and fleeting realities of human life. Read statements from Bent and our gallery director below.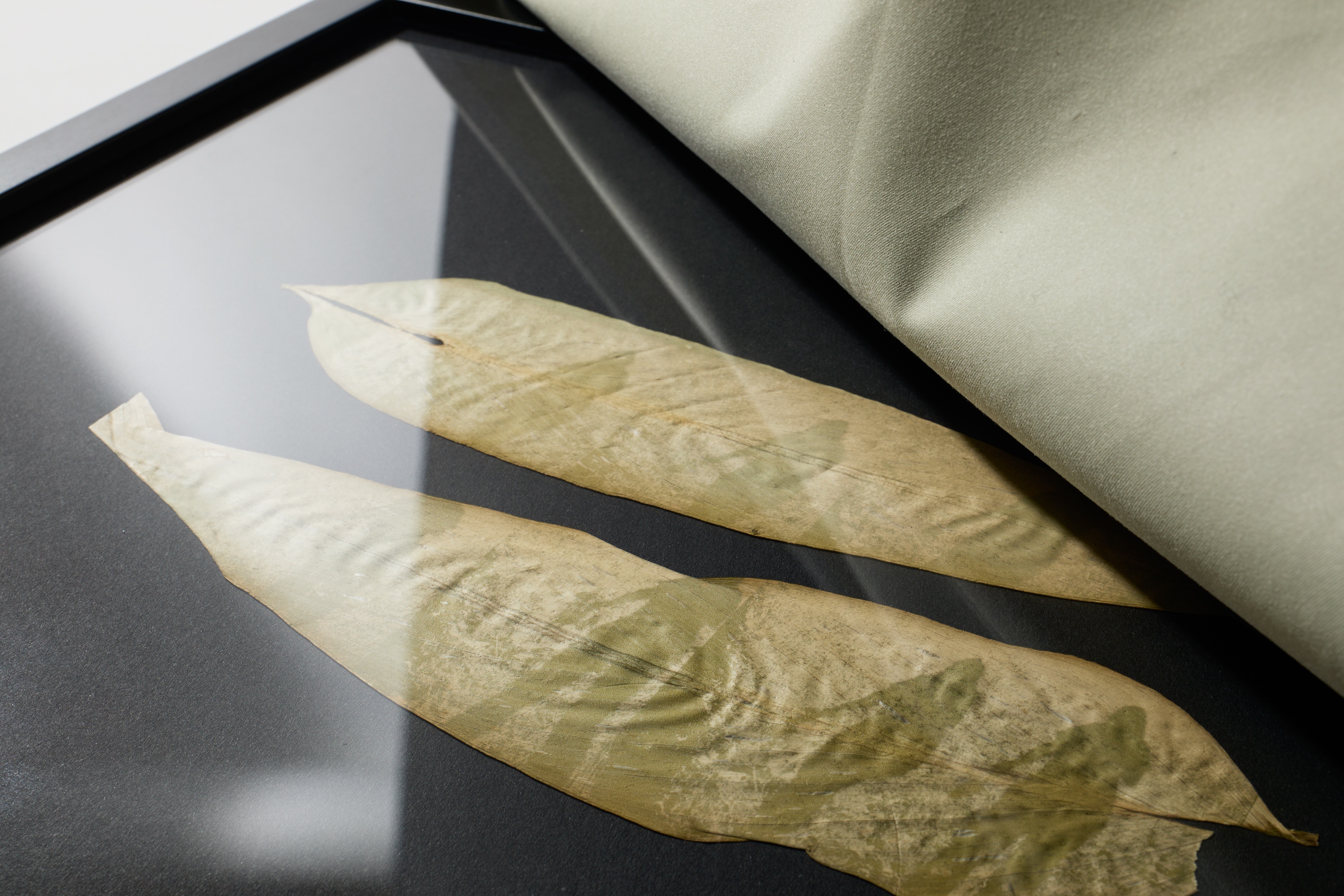 Megan Bent, Quarantine Day 450, 2021, Chlorophyll print on calla lily leaves.
DIRECTOR'S NOTE
The Covid-19 pandemic was the impetus for this exhibition—and an impediment to its creation. To produce the ongoing series in Patient / Belongings, Megan Bent has wrestled with lockdowns and isolation, insomnia and fearful distraction, supply chain issues and rising material costs. She has processed the broad social and cultural phenomena of this era with a rage that often feels all-consuming. Sometimes that anger feeds her creativity; in other moments it plunges her into despair.
Bent grew up in rural Connecticut, near an "expansive and beautiful" state park that was her wild playground. The pandemic may have narrowed Bent's universe—physically, psychologically—but through this series, she developed new modes of connecting with the natural world. Follow her movements in your imagination. A door swings open to the sunlight, and the artist ventures a few steps beyond the threshold to pluck a leaf from a lush plant. She makes careful preparations, and then settles in for a long wait. Slow and gentle motion can surface beauty, mundanity, cruelty and ferocity.
-Jordan Eddy, Gallery Director
Megan Bent, process image.
ARTIST STATEMENT
In March of 2020, my fear of catching the Coronavirus became palpable. "Don't worry." an acquaintance assured me "only the sick and elderly will die." I am chronically ill and immunocompromised.
I Don't Want To Paint A Silver Lining Around It, the series that appears in this exhibition, is my personal reflection of being high risk in the pandemic. It is also my response to the outside world's demand that disabled people be acceptable losses for personal convenience or for corporate profit.
Through chlorophyll printing, which uses UV light to print photographic images directly onto leaves, I connect disability and nature to undermine stereotypical representations of disability as tragic and reframe it as a valuable part of human diversity.
-Megan Bent
Megan Bent, process image.
THE PROCESS
The chlorophyll printing process (where one print/exposure may take anywhere from 8 to 72 hours) relies on flexibility, interdependence with nature, and echoes my experience of the disability concept of Crip Time*; living in a body/mind that values slowing down, connection, and care over speed and production.
The fact that chlorophyll prints are impermanent, and will continue to decay over time, asks the viewer to confront the interdependence and bodily impermanence we all share.
-Megan Bent