Bryan Petersen, founder and co-juror of the World Championship Belt Buckle Competition, spoke with form & concept Director Jordan Eddy about the six-year project. The 2020 winners of the competition are featured in form & concept's Belt Buckle Expo group exhibition. It's our second rendition of the show, after hosting the 2019 winners last summer. Petersen invited form & concept jeweler Robert Ebendorf to jury the show with him at Montana State University in Bozeman, where Petersen is an assistant teaching professor in metals.
1. JE: Give us the highly digestible version of the World Championship Belt Buckle Competition's origin story. What's your elevator pitch?


BP: This professor that I work with, he saw these little buckle shows that I would post outside my classroom in a display case. He would say, "What's the deal with the belt buckle, why is it an art object?" A lot of people call the brooch the painting of the art jewelry world, but I thought, wouldn't it be cool if people saw a buckle like a painting too? I consider myself a Western artist, and the buckle and the bolo are foundational within that world in terms of metals. I wanted to elevate the buckle and push the envelope. That was back in 2012, and I've done the championship almost every year since.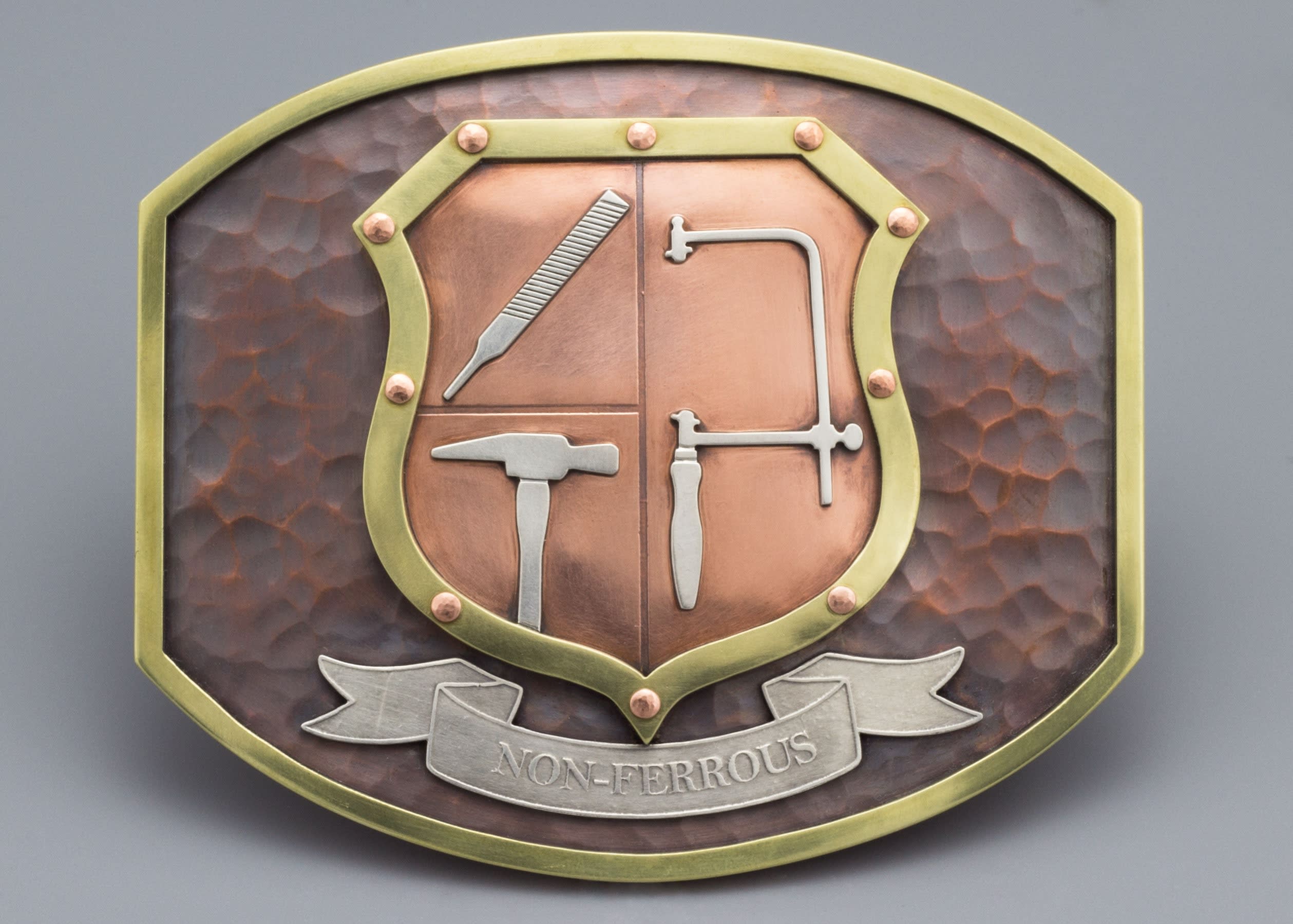 Buckle by William Vanaria (3rd Place Winner).
2. We're always impressed with the supportive spirit shared by craft artists. Has that held true for the buckle project through the years, or do things ever get competitive in this championship?
You get these artists coming out of the woodwork who have been known for buckles and Western jewelry, and I think they're elated that the buckle is getting its "coming of age," where it's getting recognition as an artform. That's what I get from it, rather than a competitive nature. They're psyched that they got in, that they get to be part of that story. It can be a competitive and contentious field, and superb technicality rules, but this competition is a little alternative to that.
3. How do you approach the question of representation in a show like this, when you're looking for very traditional metalsmiths and more experimental craft jewelers?
That's always the challenge. How can I find different participants from last year? Does it work to group Western, contemporary, fashion and conceptual works together? The cowboy artists, they look at it and go, "Wow, this is some far-out stuff. What's in it for me? Why would I throw my hat in the ring?" I don't want to leave the traditional people out, and I want to open the door to more of that.
It's also an international competition, so I'm always looking for more people in the global buckle community. I've had artists from Costa Rica, Switzerland, Spain-and the community keeps growing. It's a network-building thing for everyone who participates in it, and a lot of its expansion and diversity comes down to word-of-mouth.
4. Tell us some tales of the jurying process with your highly energetic co-juror, Robert Ebendorf.
I called it the "Bozeman Marathon." It was an intense three days! Bob got a stipend and travel and lodging, but he also had to do two demonstrations with my classes. He probably talked to the students for two or three hours, just kind of holding court. A lot of metals people call him "the priest" or "the minister." He's a rockstar in the field, but he's super humble. He'd say things like, "I'm 80 years old and still breaking sawblades."
We actually left the jurying part to the third day, and he was leaving on a plane at 3 o'clock. We sat down at a coffee shop, and it probably took us three hours. We didn't have to bicker back and forth or deliberate too much. I studied with him 20 years ago, and I've never had much time with him since. It's been 15-minute conversations here or there over the years, so to jury this with him was a really cool full circle thing for me.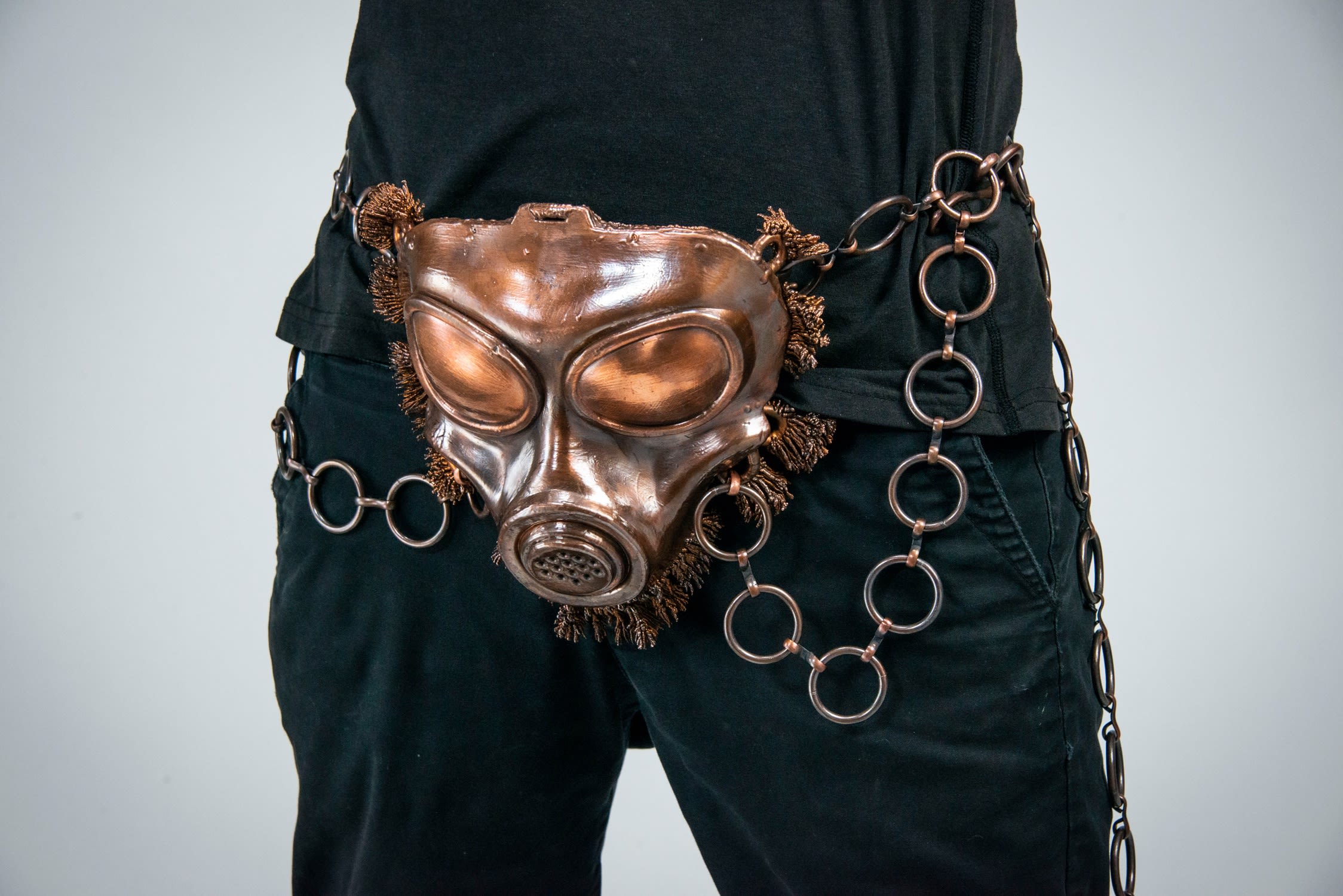 5. How does physically exhibiting the buckles change the project, which was a virtual exhibition at first?
For the beginning years, the show was completely virtual and there was no catalog. The work would stay up on the website for a year. I finally exhibited them here in Bozeman, and a lot of people came to see it. While that was up, I happened to be doing a workshop at the Society for Contemporary Craft in Pittsburgh. Someone at the center said, "Gosh, what if we did that here?" This thing vanishes into thin air when it's virtual, so to have it exhibited and published in a catalog of some kind is great.
form & concept's piece of it has become a totally different arm of the event. You guys are such a high-profile gallery in my mind, and to have them on view in Santa Fe, it's such a Western town. That's been a cool homecoming moment, in my mind. I can't think of a better location to put some eyes on it. American Craft did a blog post about the 2019 show, and suddenly it was on the radar of the American Craft Council. It's been the perfect storm.
If I'm giving an elevator pitch to some of my colleagues who think painting and sculpture are it, to have buckles in the same space as an Olafur Eliasson print, that's pretty great. Eliasson, Christo and Motherwell right next to the buckles. Those are the names I drop.
View the Belt Buckle Expo exhibition.
Related Post: Anatomy of a Buckle with William Vanaria.