"Women have always been here creating, but we're not often thought of first. A lot of people get credit or attention before powerful women are recognized."
"The time has come where we, as Indigenous people, need to share our own stories, in our own ways," write Tailinh Agoyo and Paula Mirabal in a mission statement for We Are The Seeds. "It is imperative for our survival." Agoyo and Mirabal launched We Are the Seeds—affectionately referred to as Seeds—in 2017.
The nonprofit's primary initiative is an Indigenous arts festival that unfolds in the Santa Fe Railyard District each August. It also conducts Indigenous arts programming in Philadelphia, where Agoyo lives. Those are two pillars that hold aloft a much broader mandate—one that aims to transform the Indigenous creative community at its roots by centering Indigenous women artists and arts leaders.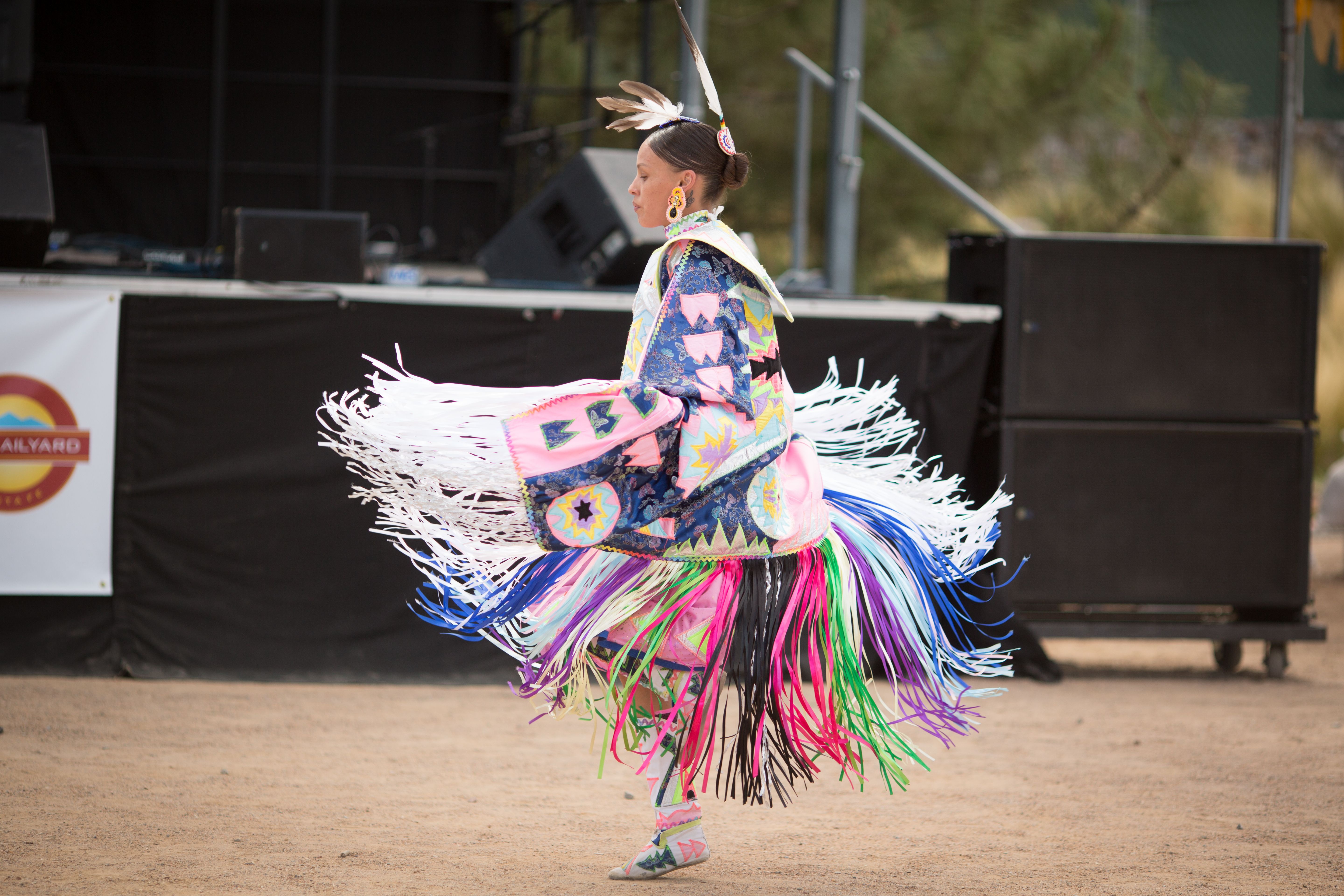 Image courtesy We Are The Seeds.
Due to the Covid-19 pandemic, Agoyo and Mirabal are moving the next Seeds festival to August 2021, which will be its fourth rendition. In the meantime, form & concept is collaborating with the duo on a companion exhibition (also debuting in August 2021) that tells the organization's story through the work of artists who've helped build the Seeds community.
In this in-depth conversation, Agoyo and Mirabal talk about how their experiences as arts organizers—and their perspectives as Indigenous women and mothers—have informed the founding and growth of We Are the Seeds. form & concept is proud to partner with We Are the Seeds through our Partners in Art program, which highlights vital organizations in our community's creative ecosystem. All proceeds from sales of featured artworks from the Seeds community go directly to the artists, so please consider supporting if you're able.
Image courtesy We Are The Seeds.
WHAT WAS THE FIRST SEED OF AN IDEA—PUN INTENDED—FOR WE ARE THE SEEDS?
Paula Mirabal: The day that we started talking about it was in August 2016. It was the first time in years that we hadn't been a part of producing a summer market. I was in my kitchen here [in Santa Fe] and I was walking up and down. Tailinh called and told me, "Sandra [Brice of the Railyard Community Corporation] asked us if we want to to take over the Railyard and do our own show." My brain just started turning. At the beginning, it was this overwhelming thing. My heart was beating.
Tailinh Agoyo: Meanwhile, I was talking to Paula from a Doubletree Hotel room in Princeton eating chocolate chip cookies. We had done EAST together [earlier that year], which was a show we produced in Mashantucket, Connecticut. That was our last production together, and we thought we were done with this work. In years past, we were pretty much trained to work through July and August. So I'm sitting there eating these great cookies and resting, and I'm like, "No, I am out. No, no, no."
WHAT CONVINCED YOU TO GO FOR IT, TAILINH?
TA: Paula pulled me back in! Just when you think you're out, they pull you back in. What movie is that from? The Godfather?
PM: With the experience that both Tailinh and I have, I knew that we could do it. I was pacing up and down in the kitchen, formulating ideas, thinking about it, making it work. I've got to call for tents, I've got to call for licenses. My brain kicked into gear, it was so automatic.
TA: Our hearts were there but we really had to think logically about jumping back in, and then we did. There was never a question of whether we could pull it off. We had been the ones pulling off so much of the behind the scenes at other shows, though other people often took credit.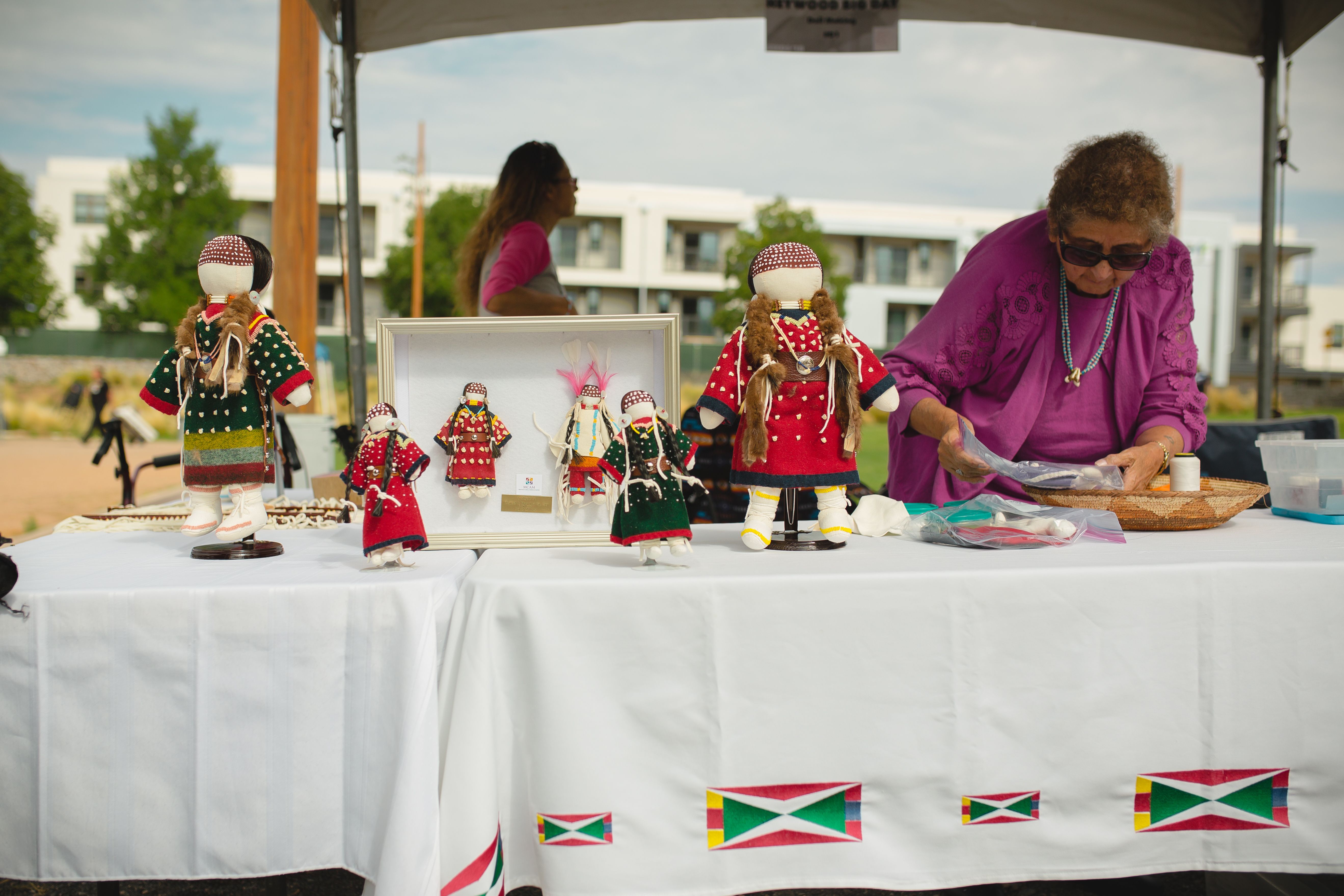 Image courtesy We Are The Seeds.
HOW DID PEOPLE REACT AS NEWS OF SEEDS STARTED TO SPREAD?
TA: We distributed a press release and people seemed divided. Some were mad at us, and others were really happy. Because of those that were supportive and wanted to be involved, I remember us saying, "This is why we need to do this." It seemed like there were all of these external forces trying to sway us one way or another—the city, the businesses on the Plaza—people seemed like they were so affected by this little show we were about to put together.
PM: At that point we were the only Native women-run show. It's become a movement, so to speak. We started that movement, so Seeds was based on the idea of being the first Indigenous women to produce a show in the heart of the Native art world, the Southwest.
AND HOW DID THEY REACT AFTER THE FIRST SEEDS?
TA: It was clear once we had our first year how amazingly receptive people were. It's a necessary show for Santa Fe and we've had so much support. We receive grants, but individual donations are our main source of income. There are so many people who believe in us and our vision and we're grateful for that.
WHAT WERE SOME OF YOUR INTENTIONS FOR HOW SEEDS WOULD BE DIFFERENT FROM SANTA FE'S FAMOUS MARKETS?
TA: I think the first big difference is that it's not a market, it's a celebration and community gathering. Other shows say things like, "We're the biggest and the best!" It's something we hear in Native arts all the time—and that applies to this capitalist world in general— but bigger is not necessarily better. More money is not necessarily better. We don't aspire to that. It's powerful that we don't have to be on the scale of, or compared to, any other event. We're completely different from any Indigenous art show.
PM: When you get bigger, you can lose touch with the people that you're doing it for. That's why I call it the Seeds family, because we're a family reunion every year. Every year we celebrate, have a meal together, support one another in all endeavors. We get to know one another. We're keeping it simple, keeping it small, and yet it's big because of what comes out of it.
TA: The flipside of that is that we started with a very small budget, but we were okay with that because we had other jobs to support ourselves. That gave us the freedom to do what was right for us and the community that we were building around us. Nobody was telling us what we could and couldn't do, and we could make decisions with integrity. People kept saying, "How do you feel being so small?" Being the largest was never our goal. Our goal was to take care of the people who are part of the circle. Seeds is not about us as leaders, we're here to provide the space and the opportunity, and to make a difference.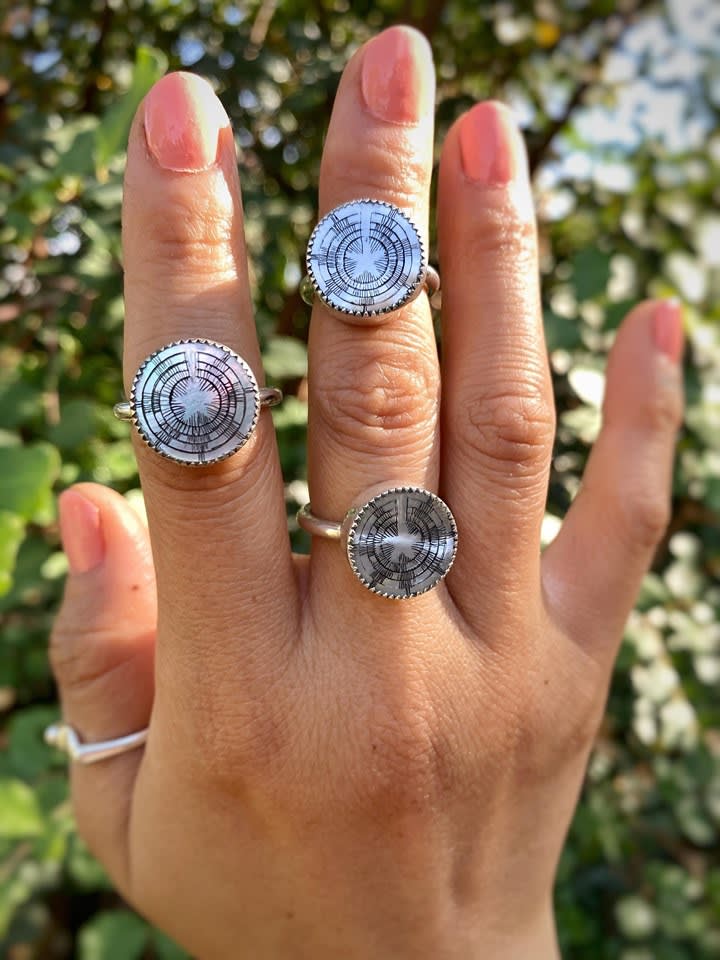 Rykelle Kemp, Made to order Navajo Basket Mother of Pearl Rings.
TELL US ABOUT THE INAUGURAL SEEDS, IN 2017. HOW DID EVERYTHING COME TOGETHER?
PM: We did it with our families, friends, and supporters. My son helped hang banners, your dad helped with the banners. We had to create our own support system during that show. It was totally hands-on. I reached out to other artists who were in support of Seeds, and even if they weren't going to participate, they were still willing to support by providing supplies or directing us in how to get those things. It was totally awesome.
TA: What I learned that first year was that things take a long time and we're not going to be in a rush. It could be ten years before we become who we are really meant to be. We're a responsive organization. As we've learned in the last three months, the world is actively changing, and we need to shift accordingly. We can't say, "This is how we do it, and everybody needs to accept that." Because we're small, we have that flexibility. That's something I really value with what we do.
YOU ALREADY HAD SUCH A STRONG COMMUNITY GOING INTO THAT SHOW!
TA: One of Paula's biggest strengths is that she's really well-connected to the community, not just in Santa Fe but across the country. She's earned the trust of the people, working with so many different museums and organizations.
PM: I knew that I could draw on that support, and the connections that I've made throughout the city for all of the licensing and logistical pieces.
TA: When we worked for other Native arts organizations, we had managerial roles and we were leaders, but ultimately we had to follow decisions made by others. With Seeds, Paula and I recap and readjust all the time. We've learned how to listen and be responsive to our community.
Gordell Wright, Wampum Earrings.
WHAT WERE SOME OF THE THEMATICS OF THAT FIRST SHOW?
PM: In the first year, the highlight was focusing on women. We were focusing on making sure that the demonstrators that we brought in were all women. We were quietly and respectfully honoring MMIW (Missing and Murdered Indigenous Women).
TA: We brought women to the center, and really made sure they were highlighted in our marketing. We're very, very conscious of that. Women have always been here creating, but we're not often thought of first. A lot of people get credit or attention before powerful women are recognized.
PM: Each year, I'm always searching for different people. For women. That's part of our main focus.
TA: I understand how easy it is to fall into the other way of thinking, too. You say, "Let's think of five artists." Off the top of your head, you think of the ones who we all see prominently out there because they're not juggling kids and a hundred things. Those people tend to be men, which is a generalization, but it's often true. Women can't always primarily focus on their art or their marketing, and they need to be lifted. We commit to focusing on that as much as possible.
IT BRINGS UP THIS IDEA THAT A LOT OF PEOPLE ARE TALKING ABOUT RIGHT NOW. CAN WE REFORM OLD SYSTEMS, OR DO WE NEED TO BUILD NEW ONES WITH DIFFERENT LEADERSHIP?
TA: It's definitely an analogy to what's going on now. You have to burn it down. I don't think you can go into an organization and just tweak a few things. For us, the way we do this work is in our blood, and it's how we think, and how we care for our families. What we bring to the table as Indigenous mothers is indicative of how we approach our organization and our programs.
Rykelle Kemp, Flower Earrings.
Could you talk about how your programming has evolved in the three years since that first show?
PM: When we first started, I invited demonstrators with different materials and techniques. There was no specific pull as long as they were women. Then we started the Basketweavers Collective. There was Jessica Lomatewama, a Hopi basket maker, Violet Elliot (First Nations), and Sally Black (Diné). These three women, women, powerful in their own right, came together as a collective to share their materials and how they collect them. Each of them have their own story that relates to their communities, how they make their baskets. For me, that was a huge step, because they have expressed the fact that they aren't always able to pass that knowledge down. It created a beautiful setting for them to be able to talk to one another.
TA: We've also brought in women-owned businesses. They're entrepreneurs creating all sorts of wonderful products.
PM: We've worked with Bison Star Naturals, Dancing Butterfly Naturals, Mudhead & Skincare Co. It's not just about the art, but the entire entrepreneurial community.
PAULA MENTIONED A SENSE OF FAMILY IN THE SEEDS COMMUNITY. HOW HAVE YOU FOSTERED THAT?
PM: I worked for another organization and I had met a few Native chefs there. One of the women was from a local Pueblo. She came to Seeds last year and catered our community meal for us.
TA: Everybody who came through was invited to eat. We had social dances. That's one of the beautiful things we do in our communities. Dance, sing, eat. We wanted to bring that to Seeds.
PM: In our families, the kitchen is where you all come together. You find food, and comfort, and laughter. That's why Seeds is so different from any other show. For us, the social and community dinner incorporated that family aspect of it. Come to our table, come join us, come have a meal with us.
TA: We wanted the meal to be open for the Santa Fe community, for the artists, for visitors, for anyone who wanted to join. It was a big step for us. It's what we always wanted to do from the beginning, but always felt confined by the finances. But then we said, "We're just going to do it!" It worked out.
PM: Every time we say that, it works out.
I Will Carry You by Colleen Farwell & Eleanor Grosch, part of the Covid Care Package from We Are The Seeds.
YOU'VE POSTPONED THE NEXT SEEDS UNTIL 2021, WHICH WAS A BIG DECISION. COULD YOU GIVE US A LITTLE SNEAK PEEK?
TA: This year was going to be the best! We were going to move from the Railyard Park to the Santa Fe Farmers Market Pavilion. The space was going to work a lot better.
PM: The parameters were just a little bit different, but it was the same armature.
TA: We'll be at the Pavilion in 2021. We'll also have the exhibition at form & concept, which will tell the story of how Seeds came to be. The story is so important to the show itself.
PM: It's the telling of our story, of how Seeds was born. I think this exhibition will push us forward: how we got Seeds going, who the people are that are associated with it. It's amazing what we've accomplished in such a short time.
What are some other ways you've adapted Seeds in the midst of the pandemic?
TA: We started two projects. We're doing Zoom interviews with artists, and then there's the Gathering Seeds project. Zachariah [Julian] is producing that, and Seeds is helping with consulting and honorariums. He really took that project and made it his own. He's working with seven artists, and every week he introduces a different theme and rhythm. Each week the beats per minute get faster. It's been phenomenal, because it's making art happen in real time. We often only see art after it's finished. We're all stuck at home and our resources are completely limited, but so much creativity comes out of that. You could either do nothing or you could explode with creativity. Native people have always been brilliantly creative, under the most extreme of circumstances, no matter what oppression we were under. I don't know where this work is headed, but it's opened up a whole new avenue for us. This is giving birth to beautiful things—it's next-level.
Explore artworks from the Seeds community.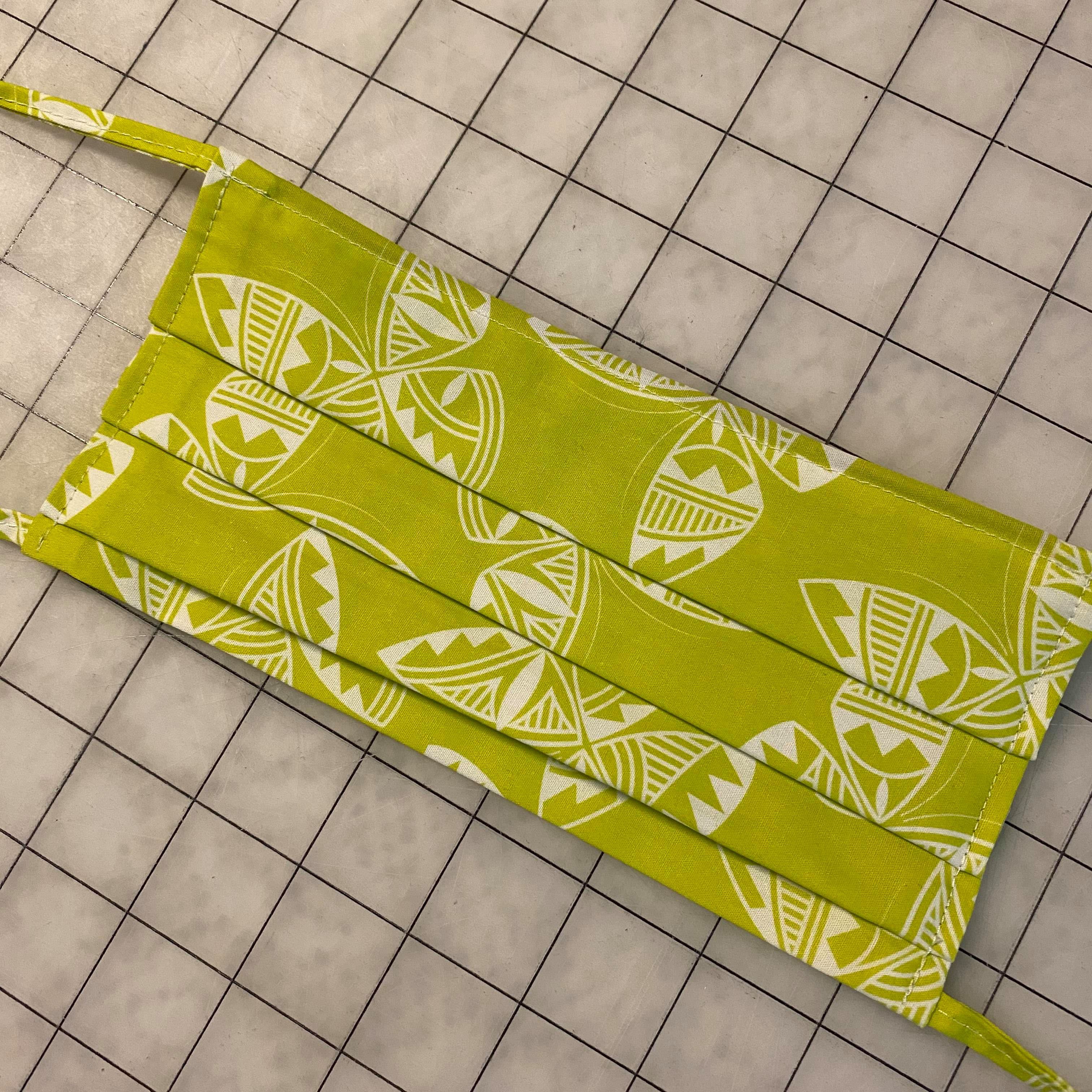 Fabric mask by ACONAV, part of the Covid Care Package from We Are The Seeds.