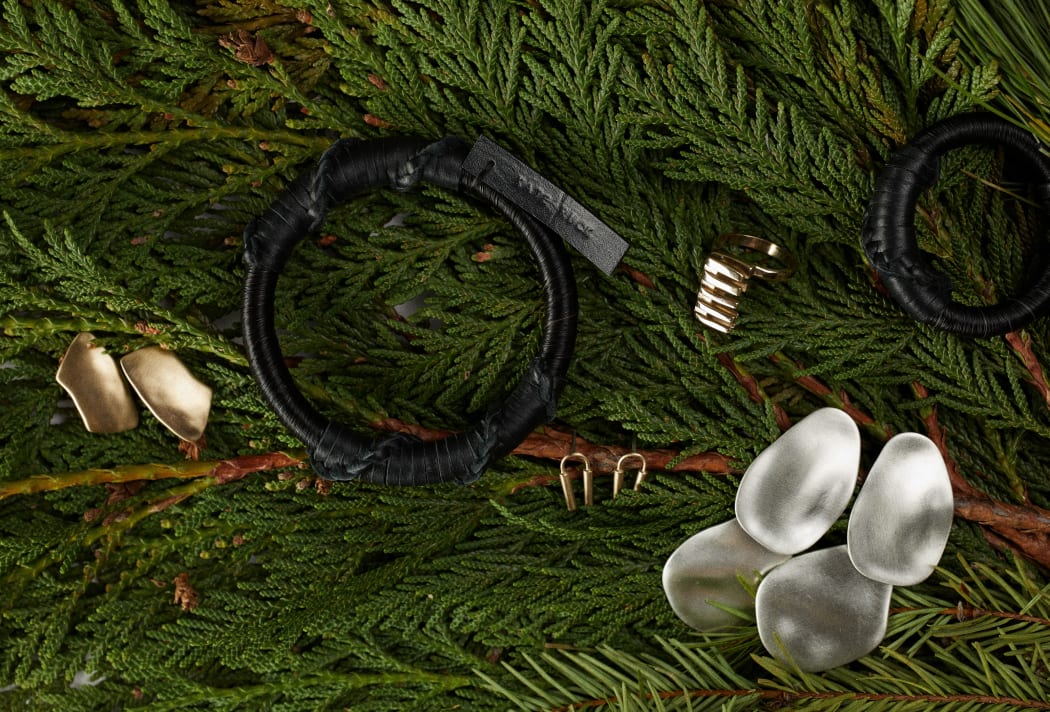 New York and New Mexico-based artist Kate Ruck debuts two new series for the first time at form & concept: a silver and brass series, titled American Remains, and her horsehair and deerskin series, titled Digital Native. American Remains is based off of the shapes of native artifacts in museum collections, while Digital Native is a series of performative objects crafted from traditional materials that began with the intention to explore archetypes and the system of objects in culture. We spoke with Kate on how both series came to fruition, and her time spent at Star Axis, where many of these pieces were first conceptualized.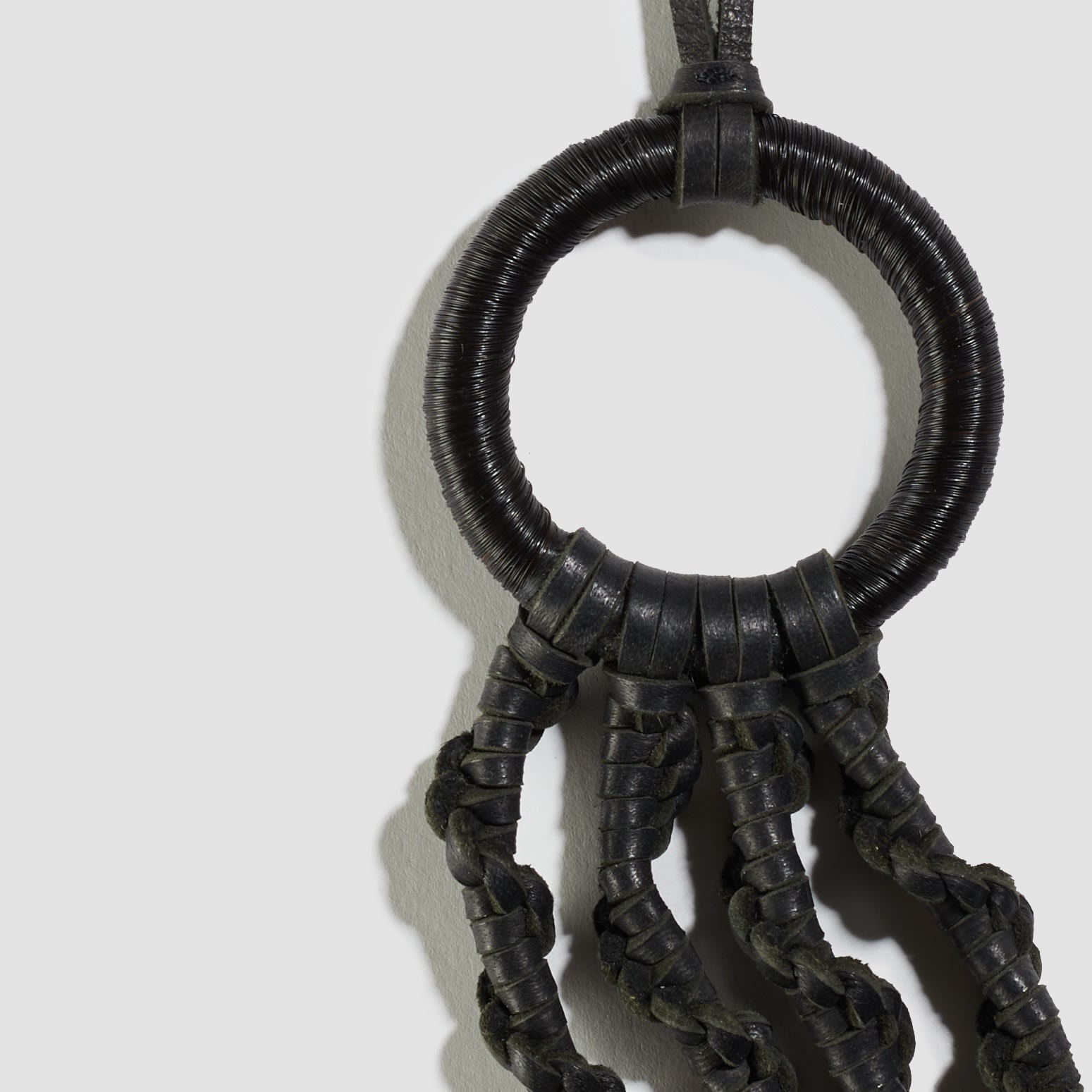 Kate Ruck, HORSEHAIR Tassell Braid Necklace
YOU'VE WORKED WITH BRASS AND STERLING SILVER IN THE PAST, BUT I BELIEVE HORSEHAIR AND DEERSKIN ARE NEW TO YOU.


Yes, horsehair and deerskin first showed up in my work around 2014. When I arrived to New York in 2011, I'd just left the gaming industry. At the time, I was looking for a way to return to a more physical approach to making work. I'd taken a welding course in college and I found that working with small metals allowed a similar medium and the neutral space I needed to go between digital and physical. When I moved into more sculptural forms with silver and brass, that's really when American Remains began. After that, I started thinking about a conceptual project based around objects that also introduced new materials into my work.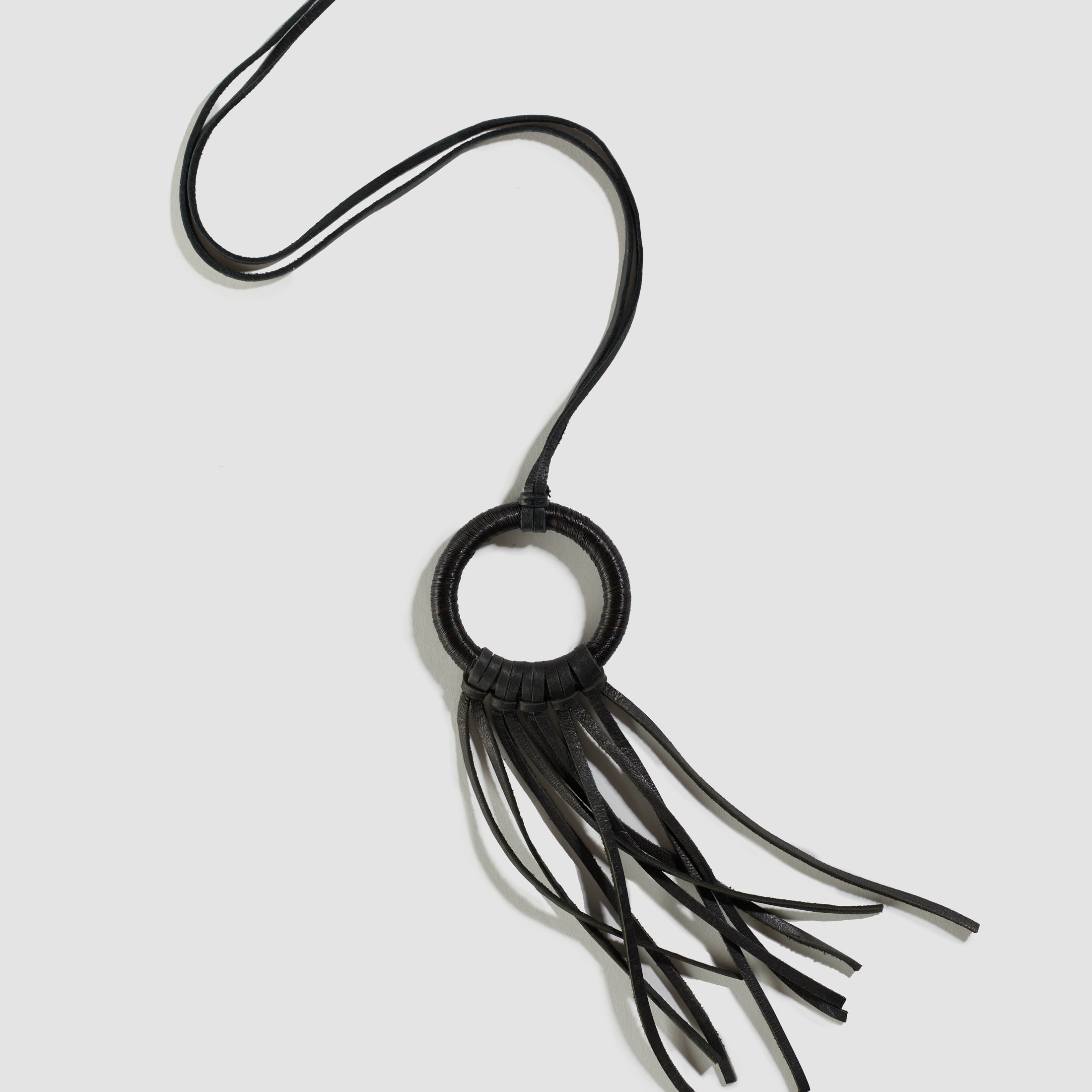 Kate Ruck, HORSEHAIR Tassel Necklace

YOUR WOVEN HORSEHAIR AND STERLING SILVER AND BRASS PIECES ARE SUCH A JOY TO HOLD. WHAT INSPIRED YOU PICK TO THOSE MATERIALS UP FOR THIS NEW SERIES? HOW DID YOU SOURCE THEM? HOW IMPORTANT IS THE TACTILE NATURE OF YOUR WORK TO YOU?


It was a number of things, but in short—a friend and a gift. With Digital Native, I felt the materials needed to be carefully selected because the work includes a performative element. The approach my friend Brad Kahlhamer had with his work, Bowery Nation, in presenting a hybrid of the familiar but with spontaneity and freedom in materials is what I was initially after. I wanted to set out with no aim for how the piece would develop in the future as well. I spent time researching and experimenting in the studio but when I received an eagle fetish from Charles Ross for my birthday, that was the moment I decided to move forward with the materials in the project. When I held the fetish in my hand, I felt an immediate deep connection and it was the perfect weight and size. For anyone not familiar with Zuni Fetishes, they are small carved sculptures depicting animals or icons, most often made of stone but sometimes shells or fossils. The fetish comes from this unique relationship between the stone and artist in which the stone really suggests what shape it should take and the artist expresses that. It's really fascinating and there is a lot to take away from that symbiosis. If you ever get a chance to see Salvador and Wilson Romero fetishes from Cochiti Pueblo, their mastery and balance with materials is apparent.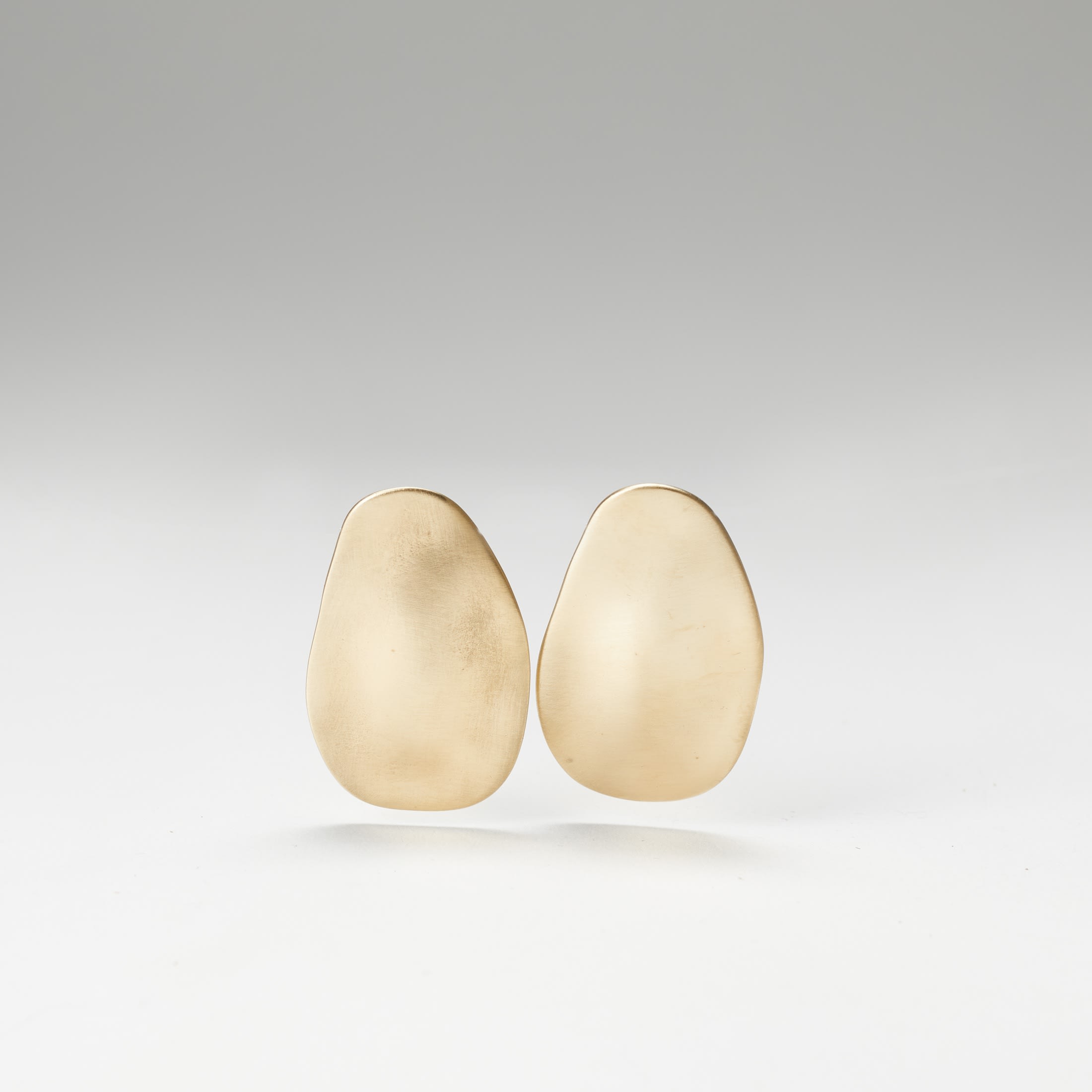 Kate Ruck, SOROYA Earring
CAN YOU DESCRIBE THE LONG HOURS AND PROCESS OF CREATING THIS NEW SERIES? IS IT MEDITATIVE AT ALL?


It is meditative, but maybe not in the conventional way. I would say it's more deliberate. Part of the work is the specific act of me using the materials. Digital Native at its core is about making work that is self-aware of cultural significance to acknowledge self-critique. If I select materials that are traditional and create an object using long-established crafting processes, is this person then actualized within that identity? For some, it adds value to the work. Of course, none of these signifiers satisfy the truth of who I am behind what I am presenting—and that's the piece.
HOW DOES YOUR DEGREE IN VIDEO GAME DESIGN INFLUENCE YOUR ART AND JEWELRY? DO YOU EMPLOY ANY GAME PSYCHOLOGY IN YOUR WORK?


I started playing games when I was around 3 years old. It definitely influenced my visual approach to digital media in general and specifically in video. Gamification is everywhere these days with our daily use of hand-held digital devices, apps, and social media. Since naming my first character before I could even spell, I have been curious about our relationships to the avatars- why we select the ones we do and how it alters our viewpoints within the environments we explore and our outlook on reality. My initial interest in Earthworks stemmed out of gaming and environmental design. Similar to a level, the viewer is able to explore a site at their own pace, but there are points of interests or specific apertures that the artist would like you to see or visit.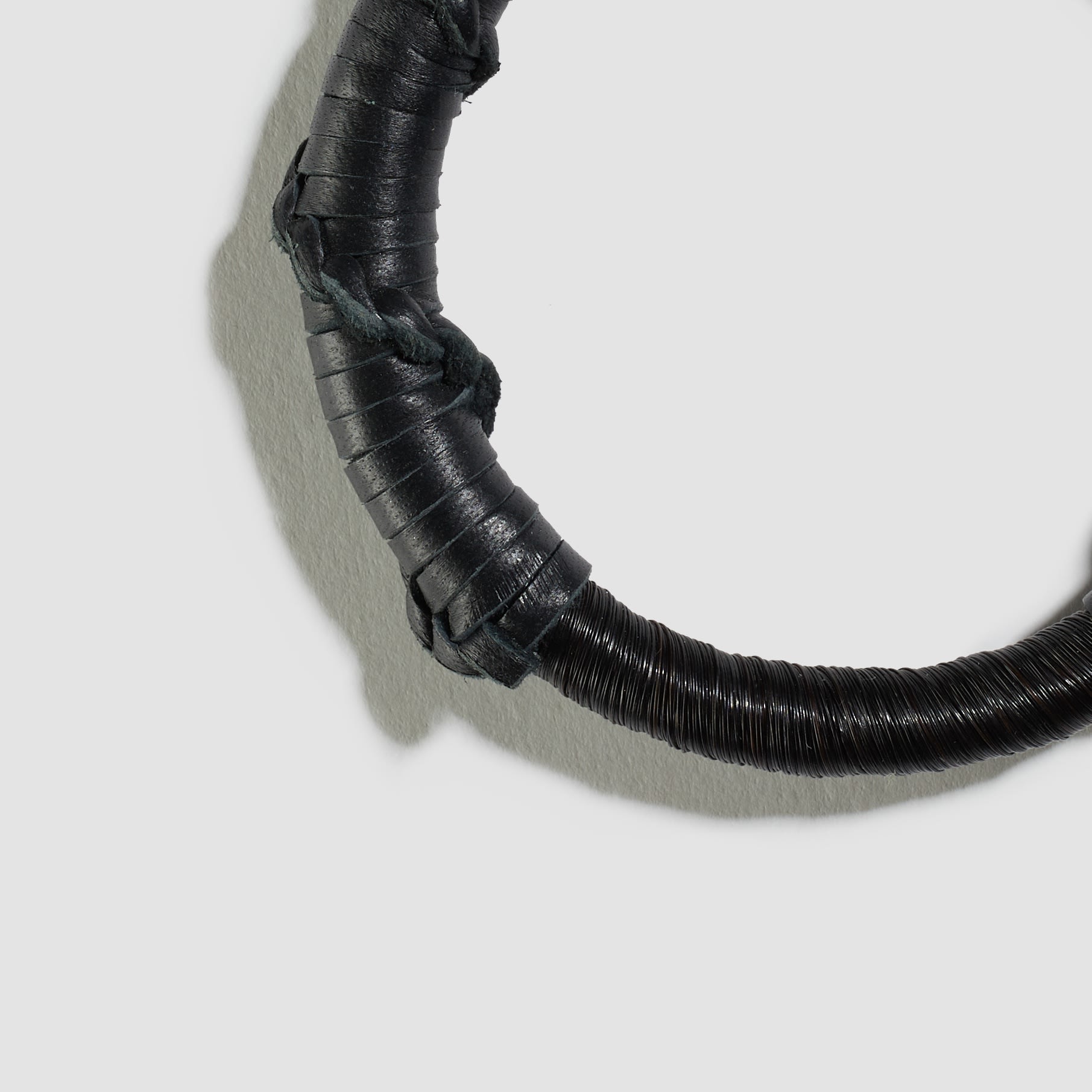 Kate Ruck, HORSEHAIR Double Braid Bracelet

How games have the power to influence people and culture is another topic I'd like to explore more. One of the first video games I worked on was a first-person series called BioShock, which utilized DLC or downloadable content. The Xbox Live platform was really the first successful system to use this for a number of reasons, including having a friends list where you name your avatar and connect with peers or friends to play online. DLC allows a user to purchase levels, for a few dollars, that were not included in the game in order to earn trophies and over time achievements. People then based the value of a player off of those statistics. Today's avatars aren't much different, but they live in social media. Our trophies are likes, and achievements shown through tags. It's a brilliant model we've continued to use, but like many structures built out of capitalism, it's flawed and the broader effects are unpredictable.
YOU MANAGED THE STUDIO OF LAND ARTIST CHARLES ROSS FOR SEVERAL YEARS. HOW HAS YOUR TIME WITH HIM AT STAR AXIS INFLUENCED YOUR ARTISTIC PRACTICE?


I did. I consider Charles Ross and Jill O'Bryan great friends and I worked with them for five years.


In the winters we worked together in New York and come spring, we would return to New Mexico for four to six months to work in the studio and on Star Axis. Actually, reflecting on it even now, it almost feels like a dream. If you've had the opportunity to work with people that closely, then you'd understand the kind of bond you build over that amount of time.

I guess, it's hard for me to put into words how being there influenced my practice specifically and what the experience has meant for me. I feel like that is still fluid.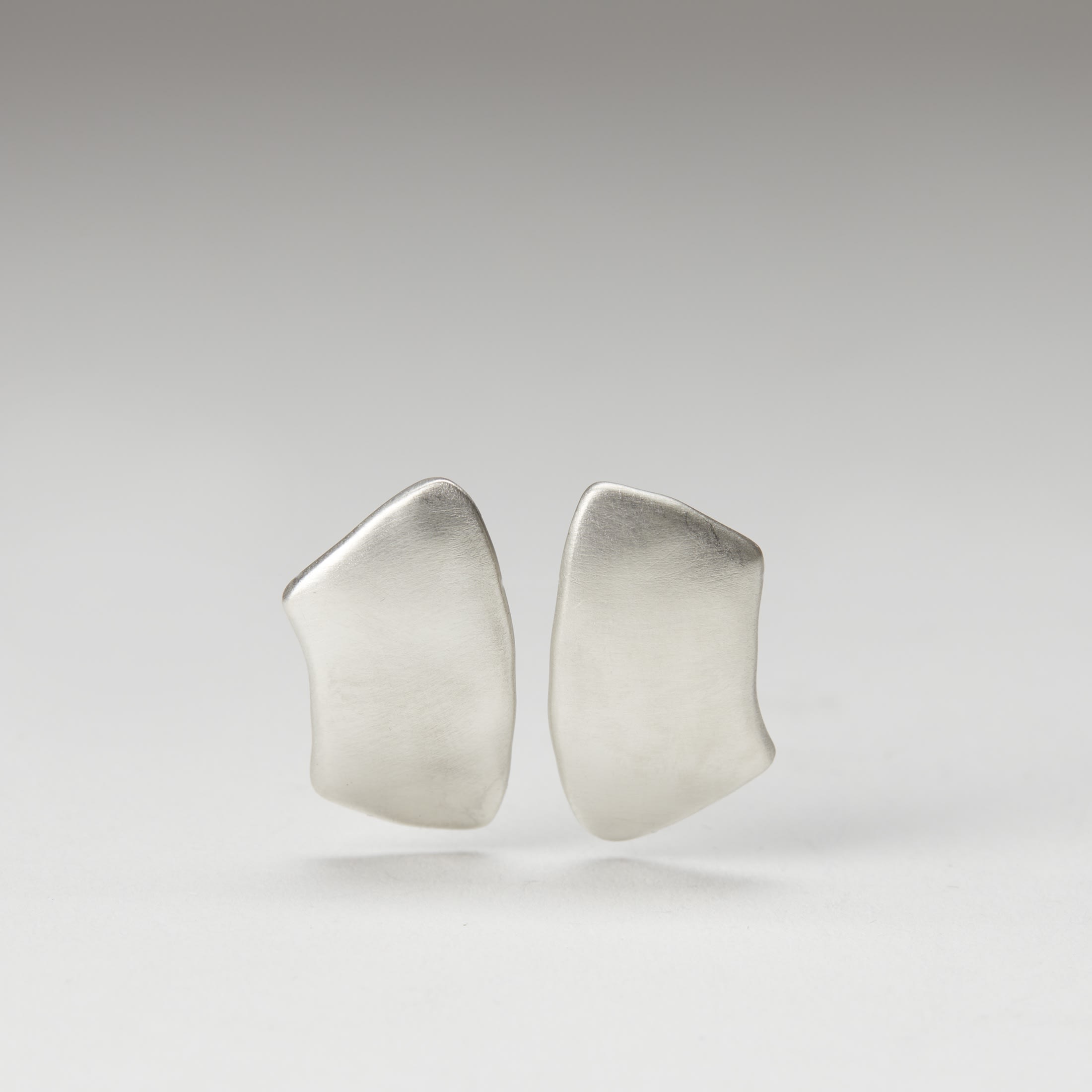 Kate Ruck, MAITE Earring
With Jill, I noticed that in all of her works, she is methodical and intentional, never rushed. She considers the forms and the act of each mark, breath or manipulation. She also works a lot with paper, which I find is a material that can't be forced. So, she has an open steadiness when she works; and that quality is something to strive for, I think.
I would say Charles and I initially bonded over the similarity in our spirits. He is a warm person, so we laughed a lot together. Over the years as I worked with him, we built an unspoken trust and understanding of working together. I think the respect we have for one another has been the most tangible take away, and it influenced how I select others to work and collaborate with. Anyone that worked successfully on the studio team there flourished if they had the drive and confidence to be free in their own abilities.
I will also say, I think Star Axis is different for each person. You have to physically be there to understand how it feels, how it relates to your body, the sounds, the earth and the sky. Even though I was on-site during many stages, what Star Axis is to me, has always been present. I've always felt the land's energy on-site, and have been able to connect to the same, almost ancestral, feeling I had when I was in the path of totality during the 2017 solar eclipse. In many ways, Charles' work reminds me of that rich symbiosis I described earlier, whether it is in partnership with the land or the sun.
The occasion of having a mentor is not lost on me, and I'd like to think I will continue to discover how his practice has influenced my own in the coming years.